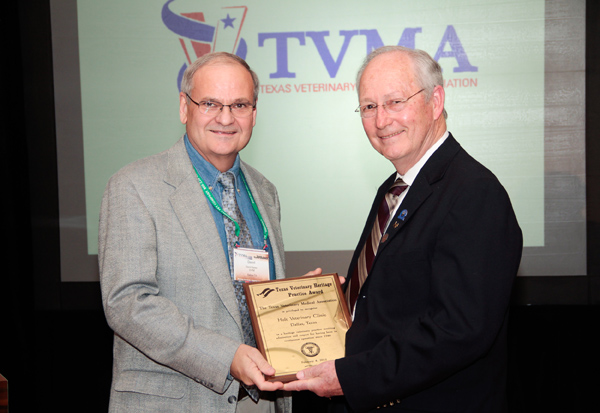 Photos by Brian O'Neill Photography
Austin–The Texas Veterinary Heritage Practice Award Program was established by 2011 TVMA President, Dr. John Morton, in 2008 to systematically recognize all practices of veterinary medicine in Texas that have been in continuous operation for 50 years or more. The daily practice of veterinary medicine is not an easy endeavor; therefore, a business with 50 years or more of sustainable medical contributions to the public and their animals is quite noteworthy.
This year, four new Heritage Practices were selected and honored at the TVMA Annual Conference Awards Banquet on Feb. 4, in College Station: Ridglea Animal Hospital, Holt Veterinary Clinic in Dallas, Sweetwater Veterinary Hospital in Sweetwater and Animal Hospital in Denison. All practices will be honored in issues of TVMA's magazine, the Texas Veterinarian.

Ridglea Animal Hospital
Ridglea Animal Hospital was founded in 1951 by A.C. Sears, a visionary who helped start the Tarrant County Veterinary Medical Association and served as its president twice. He had a desire to improve small animal care at a time when small animals hadn't quite yet moved in from the backyard to the bedroom. Until Dr. Sears sold the practice to his long-time associate, Dr. David Ellison, there were office hours for at least one hour every day. But Dr. Ellison was also a big believer in the motto "Service Above Self." In fact, he and two other clinics in the area, took turns serving as the emergency clinic for the area so that clients could always get help when needed. One client was so happy with the service from this hospital, Joe Ballard of the 7-11 fortune, that he funded the Tarrant County Research Corporation, which has helped many veterinary students and funded research through the Morris Animal Foundation and Texas A&M University (TAMU). The hospital's third and current owner, Dr. Stephen Knapp, is also passionate about client service. (Ridglea Animal Hospital was profiled in the February 2012 issue of the Texas Veterinarian.)

Holt Veterinary Clinic in Dallas
In 1945, Dr. Joseph Newton Holt graduated from Kansas State Veterinary School and moved his family to Dallas. He opened his first office on Ross Ave in 1946. After one year, Dr. Holt lost his lease and had to search for less expensive land. The cheapest was located on a dirt road near the Southern Methodist University campus. This 1946 property consisted of a small frame building in the front and Dr. Holt's home and two other structures in the back. All the material used in the clinic construction was WWII surplus.
For the first few years Dr. Holt's work mostly consisted of swine medicine, and in 1948 he hired his first employee by the name of Jim Conley. To this day, a Conley family member works for the clinic.
The area was going through growth spurts and the large animal work was replaced by small animal. During this period of urban sprawl, plans were made for a modern 2,500 square foot clinic. It opened on Jan. 2, 1951. The practice grew with the area as the streets were paved and a large central expressway was opened. Dr. Holt served as a mentor to many new veterinarians. One of these veterinarians, Dr. Lelve Gayle, was a 1964 graduate of TAMU who worked for Dr. Holt for several years. He became president of the TVMA and the Texas Veterinary Medical Diagnostic Laboratory. Dr. David Baxter was hired in 1975 and was offered the chance to buy the clinic in 1979; the deal was inked in 1982. The clinic still sits in the same location, but the name of the street was changed from Yale to SMU Blvd. Dr. Baxter continued the mentoring of young veterinarians but also started making a point of hiring local youths to work as kennel help. A high school baseball player was hired in this way who has now become the third owner of the Holt Veterinary Clinic as of 2010. Under Dr. Geoff Bratton's watch, the clinic continues to thrive and has remained a trusted member of the community.
Sweetwater Veterinary Hospital in Sweetwater
The Sweetwater Veterinary Hospital was established by Dr. Bud Alldredge, Sr., in 1946 upon graduation from TAMU, an education that was interrupted by WWII. The early days were spent as a large animal mobile practice (primarily dairy cows) and small animal surgeries performed in the basement at the home on Pine street.
Dr. Bud Alldredge, Jr., joined his father in the practice in August of 1969 to continue the commitment of providing veterinary services to the Nolan, Fisher, Taylor and Mitchell county area. Dr. Karen Hicks-Alldredge joined the practice in March 1993, bringing her equine reproductive expertise to the practice.
The original clinic was built in 1947 by Red Alston and served the community until August of 1979 when the practice moved to a new facility, adjacent to the old one, on the corner of East Broadway and Hiawatha.
The practice has seen many changes over the years. Having been at first primarily a cattle practice, it is now primarily a companion animal practice while still serving the needs of equine, cattle and exotic animal clients with all of the technologically advanced equipment like in-house lab capability, digital x-ray, ultrasound, and even in-house Coggins testing for equine clients. After more than 66 years of service, the Sweetwater Veterinary Hospital still strives to serve the Sweetwater and surrounding areas with caring and compassionate veterinary services.

Animal Hospital in Denison
On Sept. 1, 1941, Dr. W.N. Porter established Animal Hospital of Denison several months after his graduation from TAMU. From its initial 900 square-foot structure, this hospital has evolved over the last 71 years into a much larger veterinary hospital that has nobly served Grayson County and the state of Texas. Upon its inception and for many years later, the Animal Hospital of Denison was primarily a large animal ambulatory practice. Today it is a small animal only practice. Dr. Billy Martindale went to work for Dr. Porter after graduating from TAMU in 1968 and bought the practice in 1973. Five daughters were born to Dr. Martindale and his late wife Ellen. Their second born, Michelle, married 1996 TAMU graduate, Dr. Chad Cruce, who purchased the practice in 2007. Today, Dr. Martindale continues to work with his son-in-law and 2000 TAMU graduate, Dr. Alice Bradley. All of the veterinarians, both past and present, at the Animal Hospital of Denison have contributed heavily to the collegiality and community of practice in the area and have been actively involved in TVMA.
About TVMA
Founded in 1903, the Texas Veterinary Medical Association is a professional association composed of more than 3,700 veterinarians committed to protecting public health, promoting high educational, ethical and moral standards within the veterinary profession, and educating the public about animal health and its relationship to human health. For more information, call 512/452-4224 or visit tvma.org.
-###-