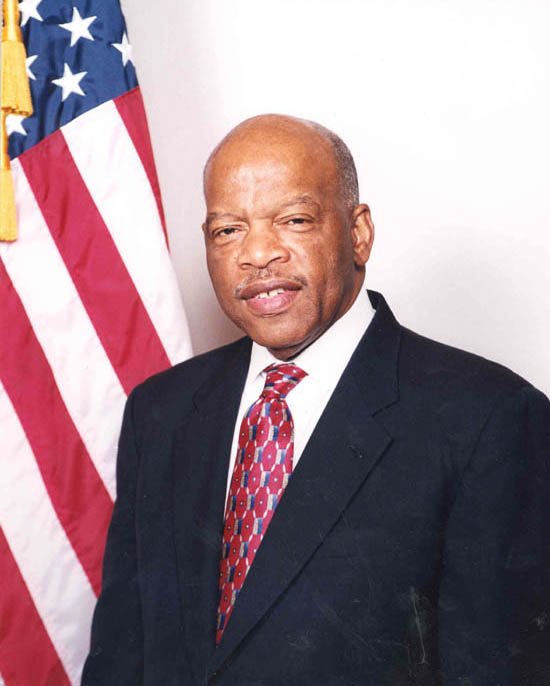 Mahwah, NJ, May 2, 2012 – The Andrew Goodman Foundation and the Office of Congressman John Lewis of Atlanta, Georgia, are pleased to announce the 2012 Lifetime Achievement Award.
Congressman John Lewis of Atlanta, Georgia (see attached statement).
Congressman Lewis will be honored at a ceremony at The Schomburg Center for Research in Black Culture in Harlem, NY on Sunday, November 18, 2012.
The Lifetime Achievement Award is part of The Andrew Goodman Foundation Hidden Heroes Award Ceremony. This award recognizes people who have achieved heroic stature through a lifetime of dedication to social justice and human and civil rights. Past recipients include Harry Belafonte and Mayor David Dinkins.
The Hidden Heroes program aims to recognize, inspire and reward people who take personal responsibility for healing the world and carrying on the spirit that motivated Andrew Goodman to travel to Mississippi in 1964. Hidden Heroes are ordinary people who are doing extraordinary things to change the world for the better. Our award honors and supports social activism that gets results.
The Hidden Heroes Award is presented each year to four individuals whose work exemplifies the Foundation's origins and mission: promoting human dignity, civil rights and social justice through actions characterized by great personal initiative, selflessness, fearlessness, compassion, imagination, and achievement.
The Hidden Heroes Awardees will be announced later this year.
Andrew Goodman, a 20 year old college student, along with James Chaney and Michael Schwerner, were murdered June 21, 1964 in Neshoba County, Mississippi, while participating in "Freedom Summer" – a voter registration project in Mississippi to expand black voting in the South. The Andrew Goodman Foundation was created in 1966 by Robert and Carolyn Goodman to honor the spirit and the purpose of their son Andy's life. Carolyn Goodman led the foundation until her death in 2007 at the age of 91. Today, Andy's brother, David, and other family and stakeholder members continue to bring the story of Andy's life and social contribution into public view with the intention of inspiring and supporting the kind of change that brings peace and justice to all.
More information about the Hidden Heroes Award is available at www.andrewgoodman.org/our_agf_award.html or on www.facebook.com/theandrewgoodmanfoundation.
John Robert Lewis
Born February 21, 1940: is the U.S. Representative for Georgia's 5th congressional district, serving since 1987. He was a leader in the American Civil Rights Movement and chairman of the Student Nonviolent Coordinating Committee (SNCC), playing a key role in the struggle to end segregation. He is a member of the Democratic Party and is one of the most liberal legislators.
Today, John Lewis lives in Atlanta, Georgia and is married to Lillian Miles. They have one son, John Miles.
In 2007, Congressman Lewis led a list of civil rights and social activists eulogizing Dr. Carolyn Goodman, the mother of Andrew Goodman, where he said that "Carolyn was a troublemaker…a good trouble maker….she got in the way". John Lewis has and continues to this day find ways to get in the way. As a student studying at Fisk University, Lewis organized sit-in demonstrations at segregated lunch counters in Nashville, Tennessee and volunteered to participate in the Freedom Rides across the south, challenging segregation at interstate bus terminals. Between the Sit-In demonstration and Freedom Rides Lewis confronted the injustice of Jim Crow segregation head on. Lewis was arrested more than 40 times, received death threats and was attacked by angry mobs, and severely beaten by the police, often for simply sitting in seats reserved for white patrons.
Congressman Lewis was born in Troy, Alabama. His parents were sharecroppers. Lewis was educated at the Pike County, Alabama Training High School, then the American Baptist Theological Seminary and at Fisk University, both in Nashville, Tennessee, where he became active in the local sit-in movement.
As a student he made a systematic study of the techniques and philosophy of nonviolence, and with his fellow students prepared thoroughly for their first actions.
In 1961 when he was 21 years old, he joined SNCC, the Student Nonviolent Coordinating Committee formed to desegregate the South and became one of the 13 original (seven whites and six blacks) Freedom Riders. In an interview John Lewis said:
"I saw racial discrimination as a young child. I saw those signs that said "White Men, Colored Men, White Women, Colored Women."..."I remember as a young child with some of my brothers and sisters and first cousins going down to the public library trying to get library cards, trying to check some books out, and we were told by the librarian that the library was for whites only and not for "coloreds."
In an interview with CNN during the 40th anniversary of the Freedom Rides, Lewis recounted the sheer amount of violence he and the 12 other original Freedom Riders endured. In Anniston, Alabama the bus was fire-bombed after Ku Klux Klan members deflated its tires, forcing it to come to a stop. In Birmingham, the Riders were mercilessly beaten, and in Montgomery an angry mob met the bus, where Lewis was hit in the head with a wooden crate. "It was very violent. I thought I was going to die. I was left lying at the Greyhound bus station in Montgomery unconscious," said Lewis, remembering the incident. The original intent of the Freedom Rides was to test the new law that banned segregation in public transportation. It also exposed the passivity of the government regarding violence against citizens of the country who were simply acting in accordance to the law. The federal government had trusted the notoriously racist Alabama police to protect the Riders, but did nothing itself, except to have FBI agents take notes. The Kennedy Administration then called for a 'cooling-off period,' a moratorium on Freedom Rides. Lewis had been imprisoned for forty days in the Mississippi State Penitentiary in Sunflower County, Mississippi after participating in a Freedom Riders activity in that state. Lewis later said:
"We were determined not to let any act of violence keep us from our goal. We knew our lives could be threatened, but we had made up our minds not to turn back".
John Lewis was an influential SNCC leader and is recognized as one of the most important leaders of the civil rights movement as a whole. In 1963, Lewis helped plan and took part in the March on Washington. At the age of 23, he was a keynote (the youngest) speaker at the historic event where Dr. Martin Luther King gave his famous "I Have A Dream" sermon.
Later in 1963, when Chuck McDew stepped down as SNCC chairman, Lewis was quickly elected to take over. Lewis' experience at that point was already widely respected. He held the post of chairman until 1966.
In 1964, Lewis coordinated SNCC's efforts with other civil rights organizations for "Mississippi Freedom Summer," a campaign to register black voters across the South, particularly in Mississippi. Well over 1,000 out-of-state volunteers participated in Freedom Summer alongside thousands of southern blacks. Most of the volunteers were young, most of them from the North, 90 percent were white and many were Jewish. Violence struck the campaign almost as soon as it started. On Father's Day, June 21, 1964, James Chaney (a black activist from Mississippi), organizer Michael Schwerner, and summer volunteer Andrew Goodman (both of whom were Jews from New York City) were arrested by Cecil Price, a Neshoba County deputy sheriff and member of the Christian White Knights of the Neshoba County Ku Klux Klan. They were held in jail until after nightfall, then released into a waiting ambush by Klansmen who abducted and murdered them. Reported on TV and on newspaper front pages, the triple disappearance shocked the nation and drew massive media attention to Freedom Summer and to "the closed society" of Mississippi. Since 1964, John Lewis and the Goodman, Chaney and Schwerner families have been inexorably linked through their work in relentlessly pursuing civil rights on a national platform.
Lewis' reputation grew and he became nationally known during his prominent role in the Selma to Montgomery marches. On March 7, 1965—a day that would become known as "Bloody Sunday" -- Lewis and fellow activist Hosea Williams led over 600 marchers across the Edmund Pettus Bridge in Selma, Alabama. At the end of the bridge, they were met by Alabama State Troopers, who ordered them to disperse. When the marchers stopped to pray, the police discharged tear gas and mounted troopers charged the demonstrators, beating them with night sticks. Lewis' skull was fractured, but he escaped across the bridge, to a church in Selma. Before he could be taken to the hospital, John Lewis appeared before the television cameras calling on President Johnson to intervene in Alabama. Lewis bears scars on his head that are still visible today. In February 2009, forty-eight years after he had been bloodied by the Ku Klux Klan during civil rights marches, Lewis received an apology on national television from a white southerner, former Klansman Elwin Wilson.
After Obama clinched the Democratic nomination for president, Lewis said "If someone had told me this would be happening now, I would have told them they were crazy, out of their mind, they didn't know what they were talking about ... I just wish the others were around to see this day. ... To the people who were beaten, put in jail, were asked questions they could never answer to register to vote, it's amazing."