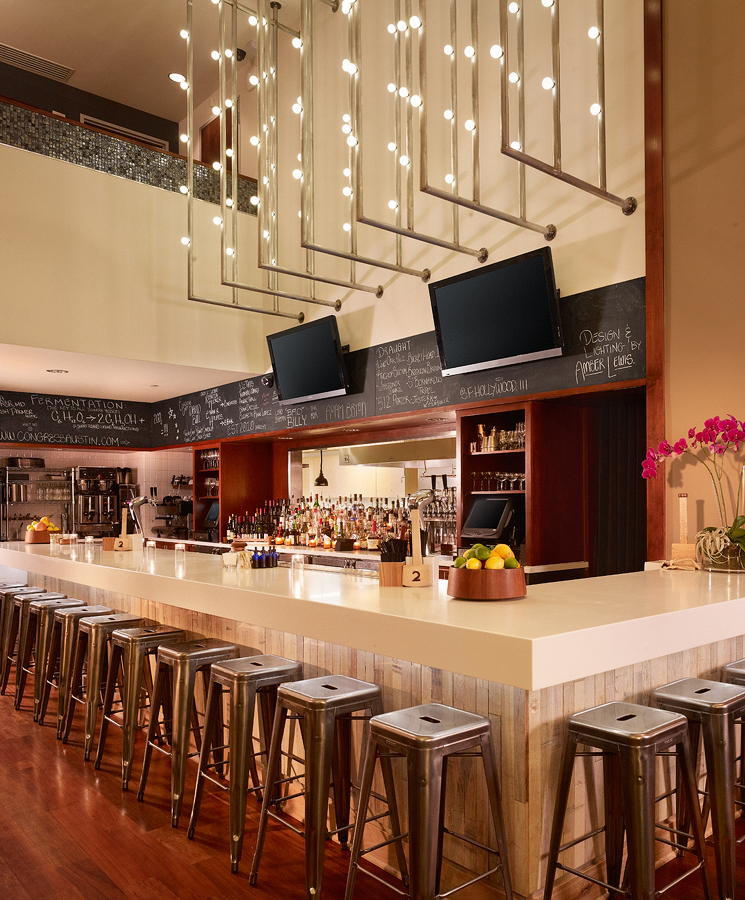 Austin, Texas – Residents of The Austonian enjoy special treatment at restaurants Congress, Bar Congress and Second Bar + Kitchen, all located on the first floor of the Austin luxury condominium. Congress, Austin's only five-star restaurant, offers a prix-fixe menu of a three-course and seven-course meal paired with a comprehensive wine list. Congress is also available to cater special events in The Austonian Club, the 55th-floor private event facility that features 360-degree views of Austin and the Texas Hill Country. With several space configurations, The Austonian Club is ideal for intimate dinners or large cocktail parties for up to 185 people.
Austonian residents are also able to host intimate gatherings at Bar Congress, which they may reserve for exclusive parties. Bar Congress is a sophisticated artisan cocktail lounge and premium wine bar with a refined menu, offering small plates, snacks and a limited number of entrees. It was featured in Esquire Magazine's "The Best Bars in America 2011" issue. For Austonian members who prefer take-out, Second Bar + Kitchen, the upscale bistro adjacent to Bar Congress, offers delivery to the luxury condo.
Chef David Bull, who competed on Food Network's "Iron Chef America," and is a "James Beard Award" nominee, is the Executive Chef at each of the three dining establishments. Bull is known for shaping The Driskill Grill into one of Austin's best restaurants. He describes his menus as "Natural American" cuisine, selecting the highest-quality seasonal ingredients.
The creative team behind the trio is La Corsha Restaurant Partners, uniting Jeff Trigger, David Bull, Scot Walker and Jeff Rhein, who were all key players behind the award-winning restoration of the Driskill Hotel. Although Congress, Bar Congress, and Second Bar + Kitchen are still relatively new to the scene, Chef Bull's team is not. The team is comprised of Rebecca Meeker, the Chef de Cuisine of Congress, and Ethan Holmes, Chef de Cuisine of Second Bar + Kitchen. Meeker had recently opened L'Atelier and Salon de Thé in Taipei and Holmes worked for Snap Kitchen and La Taverna prior to joining the team.
The restaurant trio in the base of The Austonian have redefined luxury dining in Austin. Additional accolades for the restaurants include the recognition of Congress hostess Hannah Mary Marshall as "Hostess of the Year" by Esquire Magazine, Congress landing recognition as one of the Top 10 New Restaurants of 2011 by Bon Appétit and Sommelier for all three spaces, June Rodil, being named one of the "Best New Sommeliers of 2011" by Wine & Spirits magazine.
Austonian Assistants are available to support all special events at The Austonian. They will assist with catering and event coordination, providing a resource list of hand-selected service providers. The Austonian Club is exclusive to residents of the building. Events hosted by non-residents are not permitted.
The Austonian rises above downtown Austin, as the city's tallest residential building. The luxury high rise features an array of services, 40,000 square feet of private amenities and views of downtown Austin and the surrounding Hill Country. It offers a higher level of living in one of the country's fastest growing cities. Visit the Austonian website to view available condos for sale.