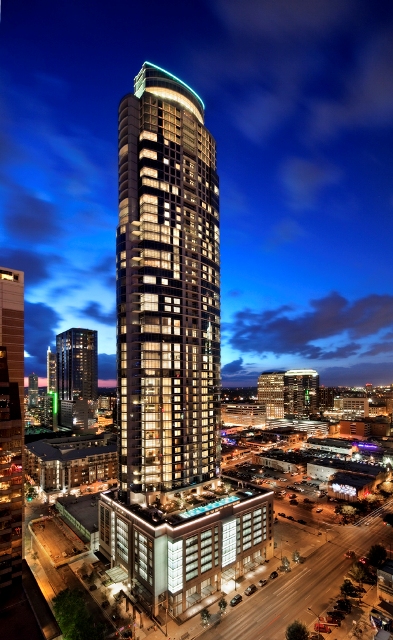 Austin, Texas - The Austonian Club, the namesake sky lounge atop the tallest residential building in the western U.S., is one of the most coveted spots in Texas for entertaining, offering residents and their invited guests 360-degree views of Austin and the Texas Hill Country from the highest point in the city.
Encompassing 6,000 square feet of entertaining space on the 55th floor of The Austonian
luxury condos,
The Austonian Club is a private club that is appropriate for uses ranging from quiet drinks for two to a cocktail party for 250 and includes a private dining area seating up to 16, a large lounge area, and an adjacent open room for large receptions.
Each end of the elliptically-shaped level accesses a windscreen-protected outdoor terrace with stunning daytime and nighttime views of the Texas State Capitol, the Colorado River, the city landscape and the Hill Country beyond.
The interior design of
The Austonian Club
maintains The Austonian's signature style - one of comfortable luxury - with mohair and velvet upholstery and suede lounge chairs. Bronze and limestone cocktail tables also adorn the space. Warm walnut millwork and an eye-catching iron chandelier frame the private dining room, which is adjacent to a warming kitchen.
Pieces from The Austonian collection of local and regional art are on display in The Austonian Club. Work installed on the Club level includes two paintings by Jimmy Jalapeeno, three fused-glass platters by Adeline Rem, two paintings by William Wahlgren and four pieces by Margo Sawyer.
The most stunning aspect of the 6,000-square-foot reception space is the view, which stretches from downtown Austin for miles to the surrounding Texas Hill Country.
To serve the needs of residents and their guests at The Austonian Club, event planning services are available from
Austonian Assistants,
who provide concierge services to building residents 24 hours a day, seven days a week. These personal concierges are available to assist with event planning and have a resource list of hand-selected service providers including event planners, caterers, bartenders, florists, and equipment rental companies. The Austonian onsite, around-the-clock valet service offers extended services to support large events.
The Austonian Club serves to extend the entertaining experience for all residents outside the home, offering amenities on a grand scale. Recognizing that the spaces for entertaining, relaxing and dining shared among residents are extensions of one's individual home, events in The Austonian Club hosted by non-residents are not permitted.
More information about The Austonian is available from Cile Montgomery, cmontgomery(at)giantmediallc(dot)com.