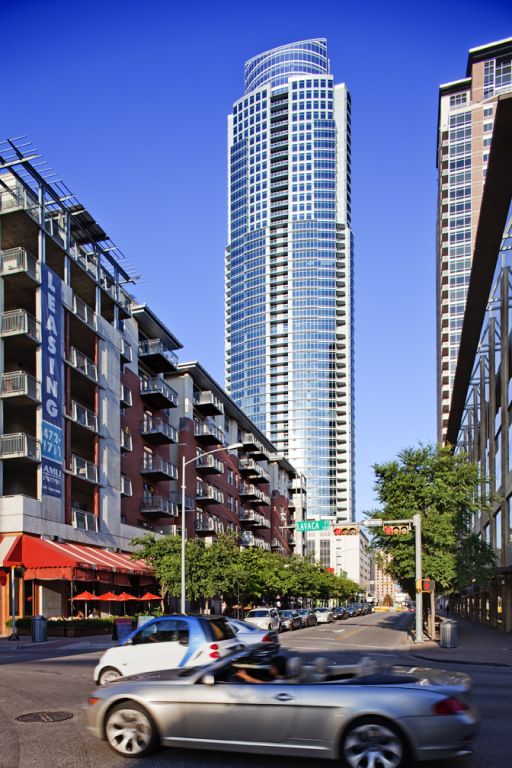 Austin, Texas – Each year, tens of thousands of people flock to Austin, Texas for the annual SXSW interactive, music and film festival and conference. From March 9-18th, the capital city is bustling with visitors checking out the latest and greatest in technology, music and film. Additionally, SXSW serves as a networking hub for venture capitalists, investors and CEOs.
While the streets of Austin are abuzz with attendees and decision makers, many upper level execs find solace in the luxury condominium building, The Austonian and its private event spaces.
Located on the corner of 2nd and Congress, The Austonian residences are in the heart of downtown. At 56 stories tall, the elliptical tower of The Austonian rises above the city. Many CEOs and former CEOs have opted to move to the luxurious residence in downtown Austin. The glass-encased residences are complemented by more than 40,000 square feet of amenities and a location in the heart of Austin's central business district. Atop The Austonian, on the 55th floor, is a private club that hosts up to 185. The space - and all other amenities in the building - is available exclusively for the use of homeowners and their invited guests.
During the SXSW festival and conference, residents of The Austonian will host events for colleagues and visiting guests. The events will range in size, from intimate luncheons for 12 to corporate receptions for 185. These functions are attended by power players in their respective industries and serve as a place to see and be seen, network, and enjoy the view from the highest point in the city. SXSW events at The Austonian are often attended by high level executives and investors. One start-up software company's event will not only attract venture capitalists, but also major business media.
The 167-unit Austonian condo tower serves as a vertical community for its residents located in the center of downtown Austin. The property is less than five minutes' walk from the Austin Convention Center, which serves as the headquarters for SXSW. To close out the SXSW happenings, Austonian residents are throwing themselves a private SXSW Party on the 10th floor Lawn, which features a 75-foot saltwater lap pool, a spa, cabanas, fire pits and grills, and a secured dog park. The low-key affair will include food, drinks and live music.
For Austinites and visitors not attending SXSW events at The Austonian, they can still enjoy the ground floor retail space of the building, which is occupied by frozen yogurt shop Berry Austin; the recently-opened Urban Wine and Liquor; Caffé Medici, a coffee shop and espresso bar; and the award-winning restaurant and bar trio Congress, Second Bar + Kitchen, and Bar Congress.