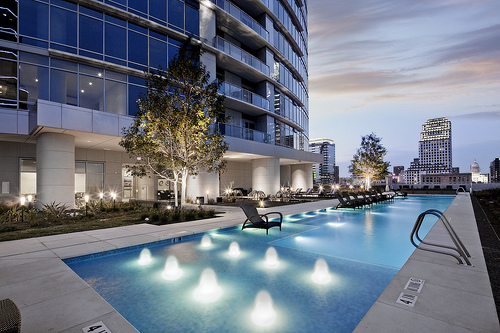 Austin, Texas – Adult residents of The Austonian aren't the only ones who benefit from the luxury condo's 40,000 square feet of amenities. Homeowners' children and grandchildren also enjoy an exceptional lifestyle in the 56-story condo tower in the heart of downtown Austin.
"The Austonian is a very kid-friendly property," says Terry Arterburn, The Austonian General Manager. "We have three high school children and a grade-schooler living here, and many residents have grandchildren who visit." Arterburn oversees everything from homeowners' daily lives to condo maintenance and security. He's supervised a number of the child-friendly, in-house events that not only stave off youthful ennui, but also make The Austonian a place where kids want to go.
Arterburn fondly remembers one child's sleepover at The Austonian Club on the 55th floor. "The kids brought sleeping bags and had contests. They were more than 600 feet in the air, looking out on the city lights and eating pizza," he says. "That was a big hit."
In May 2011, the same space was the venue for one young resident's Junior/Senior prom. More than 200 kids and their chaperones danced the night away from the tallest point in the city.
Parents and grandparents may reserve many of the shared amenities on behalf of their young family members. Instead of going out to a movie with friends, kids can host a night in The Austonian's private theatre, treating their friends to a movie or sporting event screening, and, of course, popcorn and candy. On the 10th-floor Lawn, two outdoor areas may be reserved for poolside cookouts for birthdays, graduation events or family get-togethers. Music from the outdoor sound system, which supports iPods, completes the setting. There's also a dog park where kids can play with their family pooch. The indoor amenities on level 10 include three wide-screen TVs, a billiard and game room, and a library.
There are additional amenities that are equally appealing – though perhaps for different reasons – to young residents and their parents. At The Austonian Fitness Center, parents may bring in trainers that cater to their children's particular interests, such as ballet and gymnastics. Five days-a-week, to help ensure that the young drivers make it to school on time, The Austonian valets bring their cars out front before the students' regularly scheduled departure time.
For children, The Austonian's location is an amenity in and of itself. The condo is only two blocks from the Lady Bird Lake Hike and Bike Trail, is next door to the Austin Children's Museum, and it sits atop a frozen yogurt shop, Berry Austin 2Go.
Austonian Assistants are even on-hand to prevent obscure-pet-related meltdowns. "We once took care of frogs while a resident and her family traveled to Mexico for ten days," says Arterburn. "We had to feed them less than appetizing things and the girl was nervous. The frogs were part of a science project and she had to keep them alive."
Relaying a resident's testimonial to the child-friendly amenities, Arterburn cites one family's decision, upon moving in, to hold onto to their suburban home. "They didn't know how their grandkids would like the downtown lifestyle," he explains. "The couple sold that house two weeks ago."
For more information about The Austonian, visit the luxury condo website.