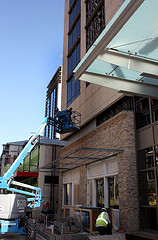 AUSTIN, Texas - The Austonian, Austin's tallest residential high-rise in the heart of downtown, has received a "Going Green Award"
green building
award from the Austin Business Journal for its commitment to green living. The Going Green Awards, announced on January 26, honors those in Central Texas who make efforts to incorporate environmentally sustainable practices.
From its initial planning stages, The Austonian set out to create a new standard for
luxury condominiums,
redefining the term so that it's synonymous with green living. The project has received a Four-Star rating from the Austin Energy Green Building program and is the only Austin high-rise condo to achieve such a rating. The award-winning Austin Energy Green Building program meets and often exceeds the standards of the U.S. Green Building Council's LEED Rating System.
The building, which functions as a vertical neighborhood, occupies just one-third of a city block, providing
luxury homes
for 166 families on less than three-quarters of an acre. In contrast, a suburban residential community housing the same number of families on one-acre lots requires at least 27 acres of asphalt and concrete. Compared to a 166-family Hill Country community, The Austonian will also save up to 33.2 million gallons of water each year in landscape watering. This is due to The Austonian's minimal land-use and its unique irrigation system, which uses condensation from the cooling system to irrigate a rooftop garden. The building's landscape architecture also utilizes native plantings to create a cooling effect at the street level and on the green roof terrace.
Each residence was designed to allow for natural lighting in at least 75 percent of the space, minimizing electrical lighting requirements. In common areas, sensors and dimming ballasts will also reduce the amount of lighting used when the areas are unoccupied. Specially coated, insulated glass and a reflective roofing system also provide year-round energy savings.
The Austonian partnered with local green power provider Austin Energy to ensure that energy use is as efficient as possible. The building's heating and air conditioning (HVAC) system, which includes climate control in each residence, is connected to the City of Austin chilled water system. Using chilled water for air conditioning in lieu of individual condensation units results in a more efficient production of cool air and a lower overall impact on natural resources. Also, low-flow lavatories in each home reduce the use of potable water by at least 30 percent compared to typical fixtures.
All construction materials used at The Austonian adhere to the strict VOC standards required of the LEED Green Building Rating System. These low-emitting materials achieve energy savings through reduced ventilation requirements and improve indoor air quality. Additionally, the ongoing maintenance plan for The Austonian includes green housekeeping and green pest control, which further protects the air quality within the building.