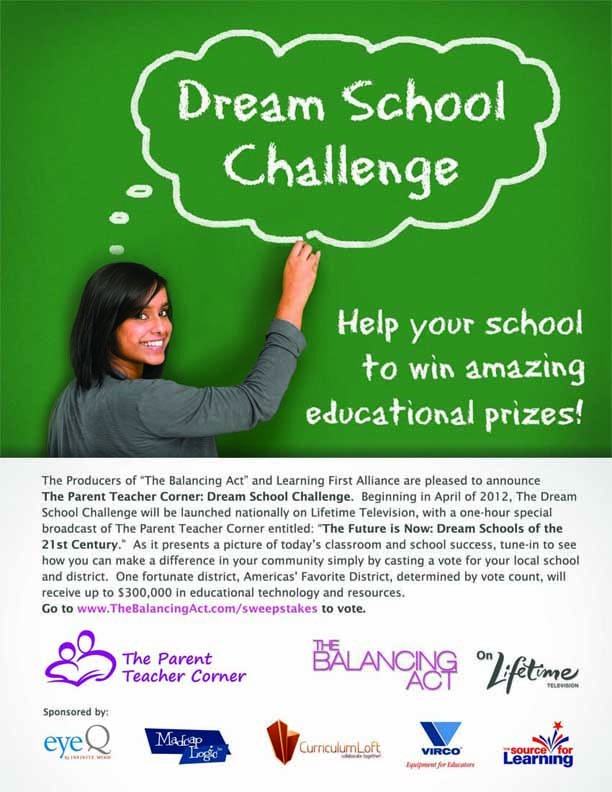 The landscape of modern education has changed dramatically. 21st century interactive, wired-in educational tools are becoming the best way to engage the young minds of the next generation and empower the educators entrusted in bringing out the best in their students. Too many schools do not have the financial means to bring these resources to their students, so "The Balancing Act" on Lifetime, in collaboration with top educational partners has decided to set out to change that!
The Dream School Challenge Contest allows ANYONE to enter their school and district for a chance to win educational prizes valued at over $300,000!
This is an incredible opportunity for people in every community to take action towards the improvement of education in America. We are giving everyone a voice and a chance to change the lives of students in their hometown by simply casting a vote between now and June 8th for their School and District at: www.thebalancingact.com/sweepstakes.
Five schools will win $30,000 each and one school district will win $150,000 in cutting edge educational tools and prizes from the producers of "The Balancing Act" and participating sponsors: CurriculumLoft, KUNO, Infinite Minds, Virco, Inc., The Source for Learning, and Madcap Logic as well as a chance to appear on Lifetime Television.
Don't miss this incredible opportunity to turn YOUR school into a DREAM school! The Dream School Challenge makes it possible; all you need to do is rally your community to vote! Step up and declare that we will no longer we sit back and allow other countries to surpass America in math and reading! We will no longer tolerate school systems that allow our students to fail drop out or give up! Empower the future generation, and generate change for the future of education
. VOTE! www.thebalancingact.com/sweepstakes.