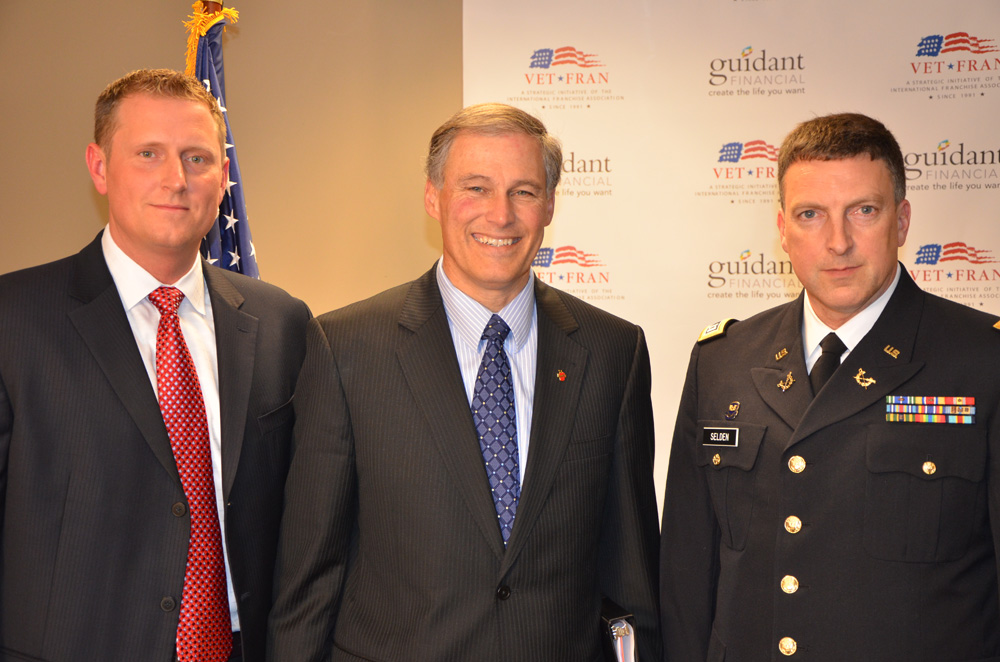 Bellevue, Wash. – November 11, 2011 – To help honor our nation's veterans, Guidant Financial has announced today that it will sponsor one veteran each month for the next year to use its services free of charge. The company will also offer a 10 percent discount off of its services to all U.S. veterans.
"Our goal is to help veterans start to live their American dream and the lives they want," said David Nilssen, who co-founded Guidant Financial with Jeremy Ames in 2003. "These people have given themselves to our country and it is now our turn to give something back."
The announcement comes a day after a speech at the U.S. Chamber of Commerce in Washington, D.C., at which First Lady Michelle Obama announced a major private sector veteran employment commitment as part of her Joining Forces initiative.
At the press conference, the First Lady and the International Franchise Association (IFA) announced a call for the private sector to offer jobs and career opportunities to veterans and their families. During the announcement, the IFA revealed that they will recruit or hire 75,000 veterans and their families, plus 5,000 wounded veterans by 2014.
"Guidant's decision to step up and give our nation's veterans the support that they have earned reflects on the type of positive action that we hoped to see when the First Lady and Dr. Biden first launched Joining Forces earlier this year," said Brad Cooper, Executive Director of Joining Forces in the First Lady's office.
Businesses need competent people who can solve complex challenges and issues. Guidant believes veterans possess the discipline and skills to become great entrepreneurs. The company has already invested time into helping hundreds of veterans achieve their entrepreneurial dreams. Of its more than 6,000 clients, Guidant has helped more than 735 veterans start their own business (about 11 percent of its client base). These veterans have invested more than $132 million of their retirement funds in themselves (approx. $179,000 average rollover) and in the process it has helped create 6,209 jobs (average of 8.4 jobs per business).
"Guidant is in full support of this and is acknowledging the call for the private sector to offer jobs and career opportunities to veterans," said Nilssen. "We ask our Seattle and Puget Sound community to think of additional ways we can support our veterans and their families."
For more information about the Guidant Financial Veteran program visit http://www.guidantfinancial.com/veterans.
International Franchise Association Launches "Operation Enduring Opportunity," a Campaign to Recruit and Hire Veterans for Careers in Franchising
Responding now to veteran unemployment rates of 11.7 percent (22 percent for veterans under 25 years old), the IFA announced yesterday it is launching "Operation Enduring Opportunity" to offer returning veterans career paths in franchising including employment and ownership on a broader scale.
The franchise industry includes more than 825,000 franchise establishments, which support nearly 18 million jobs. Veterans have a proven track record of success in franchising. According to a recent study based on U.S. Census data, there are more than 66,000 veteran-owned franchise establishments in the United States, providing jobs directly for 815,000 Americans. Over 2,100 veterans have become franchise business owners through the IFA's VetFran program, originally established in 1991.
"As tens of thousands of service men and women return from deployment in Iraq, Afghanistan and Southwest Asia, expanded opportunities are needed to ensure veterans and their families are able to transition into the civilian economy. Not only is this critical for the economic and social stability of veterans and their families, but it is an important component of the U.S. economic recovery," said IFA President and CEO Steve Caldeira. "With its rapid training opportunities, defined structure and systems, and need for operational excellence, franchising provides an ideal structure to enable returning veterans to become leaders of and productive participants in the U.S. economy."
About Guidant Financial
Guidant Financial helps people create the life they want through small business ownership. They are the premier provider of rollovers as business start-ups (ROBS). Guidant's services allow aspiring entrepreneurs the freedom to invest their existing IRA or 401(k) funds into a small business or franchise without taking a taxable distribution or getting a loan, in addition to offering traditional funding options such as SBA loans and unsecured credit. For more information on Small Business Financing, visit Guidant online at http://www.guidantfinancial.com, http://www.twitter.com/guidant or http://www.Facebook.com/GuidantFinancial.