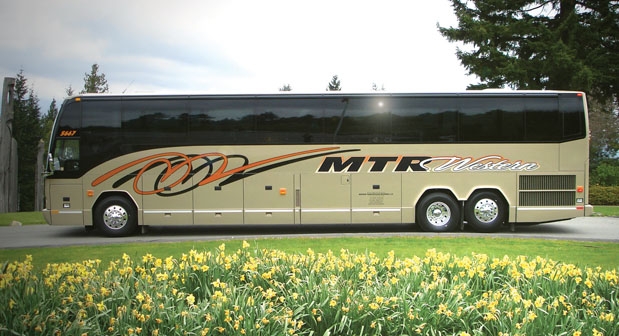 One of the region's premier motor coach providers will be making new inroads into the Spokane, Coeur d'Alene, eastern Washington and north Idaho markets. CEO H.S. Wright, III said his team is excited to bring its best-in-class service to new customers in this growing region.
The move into these new markets signifies the company's growth following its reorganization earlier this year. MTR Western plans to hire local drivers and will move as many as five vehicles from its 90-vehicle fleet to the area to support its business. The company already has some presence in the area, and has an extensive history managing transportation needs for college sports teams, including Gonzaga University, Washington State University and all of the inbound PAC-12 and WCC teams that compete against those schools. "We are excited to bring our one-of-a-kind service to eastern Washington and northern Idaho," said. Wright "We see a lot of opportunity for residents and visitors to the area to take advantage of our services and we're excited to be in a position to offer our services to them."
MTR Western is a Seattle-based company with service in Oregon, Washington, California, Idaho and Canada. Services provided by MTR Western include charter buses, organized tours, convention service and movements of major sports franchises in the NHL, NBA, NFL, MLB, WHL and NCAA. Part of what makes MTR Western successful is its focus on rider experience. This includes everything from the high-quality of the motor coaches themselves to the drivers who are the "best in class" in terms of customer service and driving ability.
"We are excited to hear that MTR Western has decided to bring their services into Eastern Washington," said Shawn Deeds, Director of Football Operations at Washington State University. "They are one of the best companies on the West coast when it comes to professionalism, quality and customer service."
In January 2011, MTR Western was purchased by Wright, a Seattle native and hospitality entrepreneur with a lifetime of experience in the industry. Since the purchase, the company has maintained all of its top clients nationally, successfully building on the strengths of the company with a focus on customer service that has led to expansion and growth.
About MTR Western
The premier luxury motor coach company, MTR Western was purchased by Seattle Hospitality Group in 2011. Seattle Hospitality Group (www.shgllc.com) specializes in Corporate Hospitality, including hotels, destination venues and convention planning. Visit shgllc.com. MTR Western focuses its operations in the Western U.S. and Canada and provides group charters, sightseeing tours, driver-narrated tour programs, and on-call emergency transportation. Customers include Fortune 500 corporate clients, touring entertainers and athletic teams, and tour and event management associations. Find MTR online at www.mtrwestern.com.