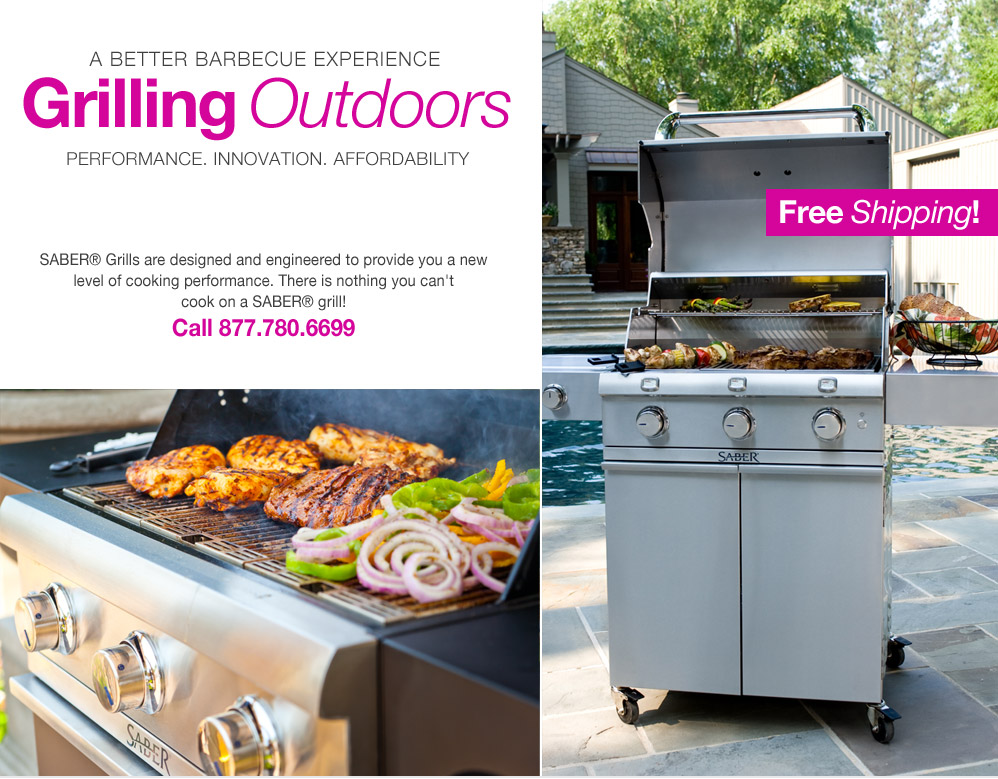 The
Saber Cast 500 Grill
is an infrared grill. For those of you who do not know what an infrared grill is I will give you a short description in the next sentence. Infrared grills work by igniting propane or natural gas to superheat a ceramic tile, causing it to emit infrared radiation, trust me this radiation isn't bad, which the food is cooked by. The thermal radiation is generated when heat from the movement of charged particles within atoms is converted to electromagnetic radiation in the infrared heat frequency range. The advantages of infrared cooking is that the food is heated directly. The benefit of this is that there is a reduction in pre-heat time and less drying of the food. Many say that the food cooked on infrared grills seems to be juicer than other grills. As well the ignition is instantaneously, there is better heat control, and a uniform heat source.
Saber Grill Review
on Product Specifications
The Saber 500 is built with 304 stainless steel which is commercial kitchen grade but not magnetic. The cart that the Saber Grill is made from strong, stable, durable, construction with welded tubular cart and firebox frames. It also contains shelves bolted to a tube frame, which provides solid work surfaces. The burners on the grill are stainless steel 304s, grate system, and emitters. The grill has a independent zonal control, allowing for temperature variation along the board. Underneath the grill is a great tray, mounted on the front of the cart, which catches grease and very easy to clean. Cleaning the grill is just requires burning off and then brushing away food debris. The Saber Grill has a feature which has a natural gas convertor with Saber's exclusive EZNG technology, for all you Earth lovers out there. More importantly, This grill has 675 square inches of cooking area (500 primary and 175 secondary). 34,000 BTUs , even though this sounds like a small number for the 500 square inches of primary cooking space would like to keep in your mind that this is a infrared grill, which utilizes heat better than a traditional fire grill. The grills grate level temperature gauges and great for accurate heat settings. There is three burner zones on the grill which can all heat to different temperatures for multi-cooking. There is also a single die-cast side burner with cast brass cap. An electronic ignition at each burner for reliable start-up each time. Adjustable porcelain warming rack with storage and roasting positions are also a great help. Then they have the heavy duty 30inch locking casters. The Saber Grill also comes with a grate cleaning tool and the assembly was fast with this grill. It has 26 common fasteners for top notch speed on the assembly time. The specifications of the Saber Cast 500 are the weight, being 216lbs, 3 main burners, primary burner BTU's are 24,000 and the side burner BTU's is 10,000. Infrared cooking system, 500 sq. inch cooking surface, secondary cooking surface, 175 square inches. The natural gas convertor is not included with the Saber Cast 500. After using the Saber Cast 500 Grill it gets my highest approval rate. It is an outstanding grill and has never failed me yet.