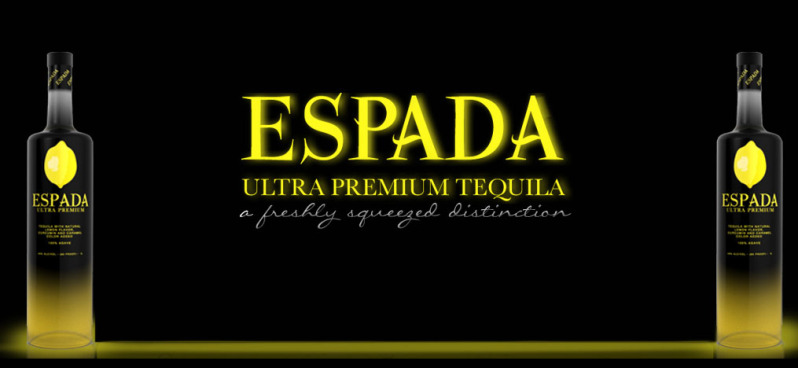 The Espada Ultra Premium Tequila Liquid Luxury Series Showcases Inspired Cocktail Recipes and A Unique Lifestyle Experience


Atlanta | Dallas (www.pitchengine.com) November 2011 - Espada, an ultra-premium tequila uniquely flavored with natural lemon, is redefining the premium experience by partnering with Modern Luxury Publishing for a unique, experiential brand introduction series titled, Liquid Luxury. The Liquid Luxury series will cause tequila enthusiast and new comers to re-think the elements that comprise the luxury lifestyle and re-define premium mindset. The introductory events will take place in partnership with Modern Luxury Dallas Magazine at Park Place Volvo on November 10th and with The Atlantan Magazine at Bentley Atlanta on November 14, 2011 from 7:00pm - 10:00pm.

Liquid Luxury will infuse the pillars of luxuriousness by combining unique tastings, food parings, philanthropy and artistic renderings. Noted as a Modern Luxury, "Top 5" tequila in its category, guests will experience a new take on the perfect balance of sour and sweet mixes that has made tequila a staple spirit. "Espada appeals to a newer generation of discerning sippers, a demographic that seeks a quality experience in every bottle and appreciates our uniquely smooth taste," states Marion Skinner, President of The Espada Group. Recipes were developed carefully considering the composition of the unique citrus undertones achieving a well balanced ultra premium variety.

The Luxury Liquid Series will include a unique flavored salt bar, custom mixology experiences, global infusions and innovative paring offerings and will introduce national social responsibility partnership with the Bartenders Against Drunk Driving (B.A.D.D. - www.baddusa.com). "The Espada brand is unique in its proactive approach to encouraging responsibility with our product experience. We have decided to partner with B.A.D.D. on a national level as the organization is an advocate of drinking responsibly and serving responsibly, displaying the two-way partnership between the bartender or server and the consumer of alcohol," states Shinobi Muhammad, Espada Group Vice President. This event series will introduce the award winning Espada packaging and unique brand concept to a mix of influencers and hospitality enthusiasts who will experience palette sensory explosion. For more information on the Liquid Luxury series visit www.EspadaTequila.com and to join the conversation the twitter handle is @EspadaTequila and
#LiquidLuxury .

Media Contact:
The Garner Circle PR
Nicole Garner
pr@TheGarnerCircle.com
-&-
Daniel Dickey
Daniel@TheGarnerCircle.com
@TheGarnerCircle
[ABOUT ESPADA]

Espada Ultra Premium Tequila distills the finest Blue Agave, Imported from Mexico, flavored with a hint of lemon.


Espada leverages a patented distillation process for maximum taste and smoothness. The Espada Ultra Premium Tequila's distinction is in the unique process. The patented purification process, removes harsh-tasting congeners-remnants from the distillation developent, as well as acidic free radicals for a smoother refined taste. By creating ultra premium tequila purified for maximum palette pleasure, the Espada Ultra Premium Tequila brand is emerging as a unique alternative to other 100% blue agave tequilas on the market.
With most 100% agave tequila is aged in wood casks for a period of time, from less than two months to more than three years, the Espada flavor distinction is the base ingredient. Developers utilize a higher vegetable ratio than grain spirits, achieving a more complex body. Tequila aged for a short period of time is harsher in taste with the bold flavors of the distilled agave as the leading notes. Tequila aged for longer periods, like reposado and añejo, take on the flavor of the wood casks and allow for the harshness of the alcohol to mellow, which creates a smoother and subtler finish. Espada achieves the same smooth, subtle results of well-aged tequilas in a fraction of the time with advancement in technology completely knew to the spirits world. Committed to providing an exclusive, specialty brand of ultra premium quality products for a multi-cultural, aspiring and affluent class of tequila drinkers, Espada, a freshly squeezed distinction, encourages partakers to drink responsible and endure boldness. www.EspadaTequila.com

[ABOUT BARTENDERS AGAINST DRUNK DRIVERS]

Our MISSION is to aid in the fight against drunk driving and reduce alcohol related injuries through educating bartenders and cocktail servers on how they play a critical role in minimizing irresponsible and or irrational behaviors by preventing intoxication and being responsible and accountable. For more information visit www.baddusa.org

Introducing the brand's national social responsibility partnership with the
Bartenders Against Drunk Drivers