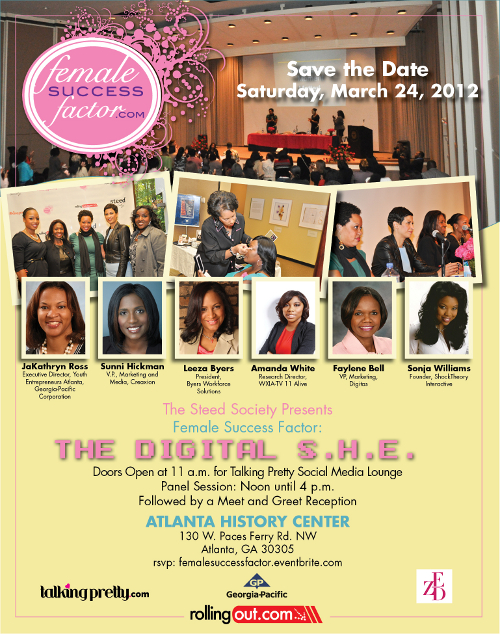 The Steed Society Inc., in Conjunction With Rolling Out Magazine, Announce the National 2012 Female Success Factor Seminar: The Digital S.H.E. Tour
Atlanta, Ga (pitchengine.com) March 2012 - The Steed Society Inc. and Rolling Out Magazine kick off the national Female Success Factor: The Digital S.H.E. Tour. The Atlanta stop will feature JaKathryn Ross(Executive Director of Youth Entrepreneurs Atlanta, Georgia-Pacific Corporation), Sunni Hickman (V.P.of Marketing and Media, Creaxion), and Leeza Byers (President and Co-Founder, Byers Workforce Solutions), Sonja Williams (Founder of ShockTheory Interactive),Faylene Bell (VP of Marketing, Digitas) and Amanda White (Research Director, 11Alive) on an intimate panel at the Atlanta History Center on Saturday, March 24, 2012, from noon to 4 p.m. Female Success Factor will also feature the TalkingPretty.com Pop - Up Store and Social Media Lounge at 11:00 a.m.
This free seminar attracts participants and attendees from the corporate, civic, literary, media, independent and academic worlds to discuss professional growth and personal empowerment as it pertains to women. Female Success Factor sets the stage for panelists and guests to be open and honest about their particular paths to success, sharing the challenges and triumphs of their rise through the ranks, insight into how they stay focused and motivated, the skills and lessons they have found most valuable, and goals that still lay ahead. Moderated by Steed Media Group's senior vice president of strategy and development, YvetteCaslin; and urban lifestyle blogger Tammie Reed, TV host of Talking with Tami, the Female Success Factor experience guarantees that attendees will find revelation, kinship and courage in the journey of this dynamic ensemble of powerful women. "We admire these women for their level of service which is why we have labeled them titans in the industry and community. Their leadership allows others to follow the well- blazed trail they have marked," states Munson Steed, CEO, Steed Media Group.
The tour will continue on to the markets of Detroit, Dallas, Chicago, Houston and New York. This year's TalkingPretty.com Pop-Up Store & Lounge featuring Destiny Jewelry, Shy Shy Wear and LAMIK Beauty. Special thanks to Georgia-Pacific and ZED Moscato Rosé. To find out tour dates visit www.rollingout.com and to join the conversation the Twitter handle is @RollingOut, the event's hashtag is #FemaleSuccessFactor and Facebook is /FemaleSuccessFactor.
TO RSVP FOR THIS FREE EVENT:
femalesuccessfactor.eventbrite.com
Media Contact:
The Garner Circle PR
Nicole Garner
Pr@thegarnercircle
Daniel Dickey
Daniel@thegarnercircle
For Steed Media Inquiries:
Yvette Caslin