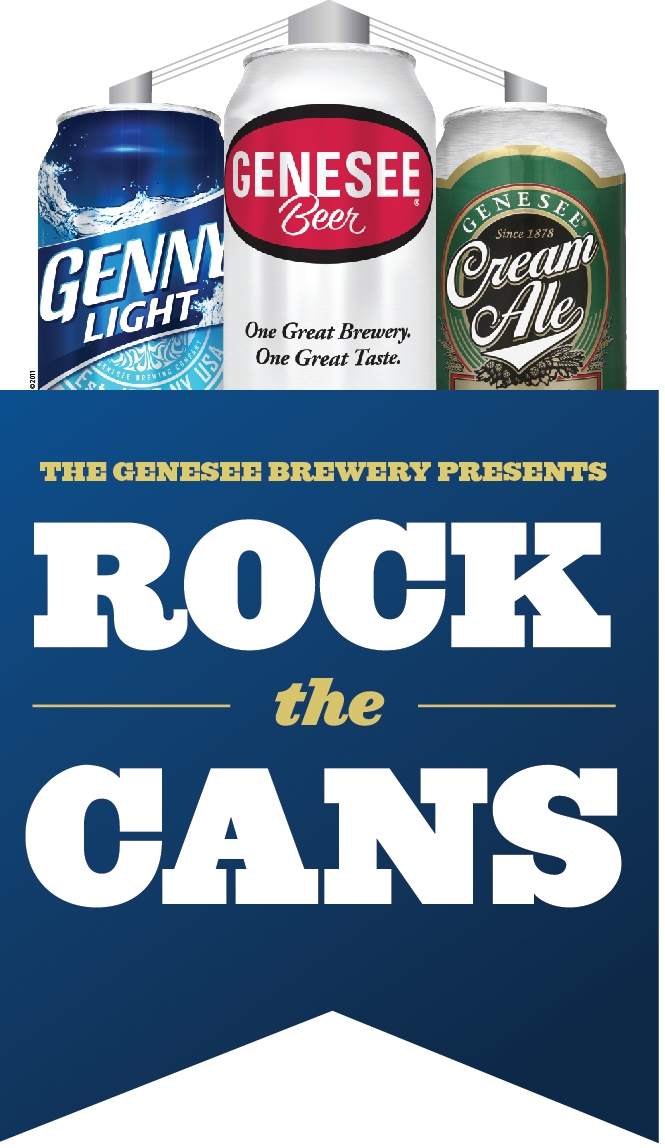 ROCHESTER, NY - Fans asked, and the Genesee Brewery listened.

The Brewery announced today that its popular concert - "Rock the Cans" - is coming back in a big way. This year's concert features the Rock Allegiance Tour, a seven-band show that will treat fans to a night of American rock and roll. On Friday, Sept. 16, fans will experience live music from:

Buckcherry
Papa Roach
P.O.D
Red
Crossfade
Drive A
Special Guest Act

The Brewery plans to make a special announcement in early August regarding the addition of a seventh band to the line-up and a new exciting event taking place Sept. 17.

"The Genesee Brewery has been American-owned and operated since 1878 and we can't think of a better way to celebrate our hard-working employees and passionate community supporters than with an American rock and roll concert. This is our way of saying `cheers' to those crafting our products and those enjoying them responsibly," said Rich Lozyniak, CEO of North American Breweries, Genesee's parent company.

Papa Roach and Buckcherry are co-headlining this year's show. Having sold roughly 14 million albums worldwide, Papa Roach is best known for its triple-platinum album Infest (2000) and its latest album, Metamorphosis (2009). Buckcherry rose to fame with its crossover Billboard Hot 100 Top Ten single, "Sorry."

"'Rock the Cans' is by far the most-requested Brewery event. This year, we are taking it to the next level with seven nationally known rock bands, plus a new brewery event on Sept. 17," said Matt Goldman, Marketing Manager, North American Breweries.

General admission tickets to the show are only $25 and can be purchased online and via phone through the Ticketfly (www.ticketfly.com, 1-877-4-FLY-TIX), and at all Ticketmaster locations. Tickets are also available locally in Rochester at Aaron's Alley (622 Monroe Ave) and at the House of Guitars (645 Titus Ave).

"We've worked hard to keep ticket prices low, making this a great rock show for a great price," said Goldman. "We hope to see everyone at the brewery for an evening of fun, good music and great beer as we `Rock the Cans' again."

Gates open for the show at 4 p.m. at 445 St. Paul Street in Rochester and bands take the stage at 4:30 p.m. Concessions will serve food and all products from the Genesee Brewery's lineup including: Genny Light, Genesee, Genesee Cream Ale, the original Honey Brown Lager, Dundee Ales & Lagers and Seagram's Escapes.

About The Genesee Brewery
The Genesee Brewery, based in Rochester, New York, is one of the largest and oldest continually operating breweries in the United States. The brewery makes the historic Genesee line of beers, Seagram's Escapes, the Original Honey Brown Lager as well as Dundee Ales and Lagers family of craft beers. Additionally, through its Allied Brands division, the Genesee Brewery is America's exclusive distributor of Imperial Cerveza from Costa Rica. The Genesee Brewery also manufactures beer and other alcoholic and non-alcoholic beverages under contracts on behalf of other companies.

About North American Breweries
North American Breweries, headquartered in Rochester, New York was formed in 2009 by KPS, a private equity fund. The company owns and operates four U.S. breweries and six retail locations in New York, Vermont, California, Oregon and Washington. Its Rochester, New York brewery makes and sells the historic line of Genesee beers, Dundee Ales & Lagers, the Original Honey Brown Lager and Seagram's Escapes. The California and Washington breweries handcraft Pyramid beers, while Magic Hat is headquartered in Vermont. North American Breweries also owns exclusive rights to import and market Labatt Blue and the Labatt family of beers, and the Imperial brand of beer in the U.S.

Along with its own brands, North American Breweries contract brews dozens of beers and malt beverages for other companies. For more information about North American Breweries, please visit www.nabreweries.com.


Always drink responsibly.