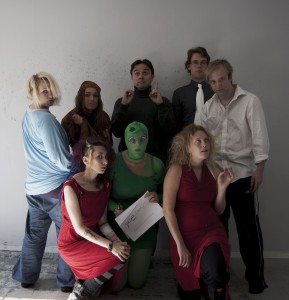 The Ensemble Free Theater Norway (EFTN), an independent company based in Oslo,Norway, beginning on August 30th 2010, launched a 28-week international theater immersion program.

EFTN will be in New York first and then come here to Chicago beginning September 20th for a 12-week residency with The The Institute for Arts Entrepreneurship. When EFTN comes to Chicago, all of their classes will be held at The Greenhouse Theater Center. Greenhouse Theater is one of The IAE's new strategic partners as well as a sponsor.

Currently, EFTN is helping to co-produce the Norwegian premiere of Discover Love, created & performed by the Belarus Free Theater of Minsk, and performing at Det Norske Teatret in Oslo. This event is being co-produced by the Norwegian Helsinki Committee's presentation of its Andrey Sakharov Freedom Award 2010.

In addition, EFTN is writing and developing 6 original site-specific theater works in Aaron Landsman's Appointment series, which will they will be performing with drama students of New York University's Tisch School of the Arts. Appointment is a unique approach to theater which is designed for viewing by a single audience member. This performance at NYU was featured in an article in the New York Times in July of this year.

Additionally, EFTN as an ensemble is going to create an entry for The IAE's 1st Sustainable Creativity Visual Arts Competition.