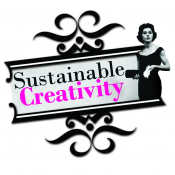 In memory of Lea Argiris, the mother of the Executive Director of The Institute for Arts Entrepreneurship, The IAE's 1st Sustainable Artist Competition will launch Saturday October 9th at Flourish Studios, 3020 N Lincoln Avenue, Chicago. "Lea's talents as an artists were enormous and yet she was never able to sustain her creativity in a way that gave her the rudder she needed to live a happy, successful, meaningful, creative life," says Lisa Canning, founder of The Institute for Arts Entrepreneurship. "In her honor, I would like the artists who enter our competition to incorporate the beautiful designer clothes she left behind in the art they will create for this competition."

Over $100,000 worth of designer clothes are being offered as materials to utilize in the development of participants artwork. Items include jackets, pants, skirts, belts and scarves from designers that include: Gucci, DKNY, Channel, Christian Dior, Valentino, Yves Saint Lauren and more. All artists interested in participating must schedule an appointment between 10am and 3pm and bring a business card.
http://sustainablecreativity.eventbrite.com/

One grand prize winner will receive a $5,000 scholarship to attend the IAE's 2 year program. Second and third place winners will receive a $3,000 scholarship. Additionally, all participants work will be auctioned off at a fundraiser for The Institute for Arts Entrepreneurship in the spring of 2011. All proceeds of each piece will be split 50/50 between the artists and The Institute for Arts Entrepreneurship.

All entries must be delivered to Flourish Studios at 3020 N Lincoln Avenue, Chicago, no later than Tuesday January 18, 2011 at 5pm. All competition designer clothing will be selected by participants by appointment only on Saturday, October 9th from 10 am to 3pm at Flourish Studios. Clothing items can be previewed on Thursday October 7th from 7-9pm at Flourish Studios 3020 N Lincoln Avenue, Chicago.

You must register in advance at http://sustainablecreativity.eventbrite.com/

Read the story behind the school and competition:http://blog.entrepreneurthearts.com/2010/06/19/our-dirty-little-family-secret-2/

About The Institute for Arts Entrepreneurship
The Institute for Arts Entrepreneurship is a two-year graduate level certificate program.Our mission is to help our students be able to answer one essential question: How can I develop the knowledge and skills I need to create a successful, meaningful and sustainable life in today's world?

Our curriculum combines experiential learning, individual mentorship and a personalized classroom learning environment that provides one-on-one time with our faculty of successful arts entrepreneurs.

Founded by 25-year business veteran and serial artistic entrepreneur Lisa Canning, The Institute is based on her enthusiasm for the new wave of whole-brain thinking and the firm belief that the arts -and artists-can and must be allowed to contribute to the world's financial recovery.