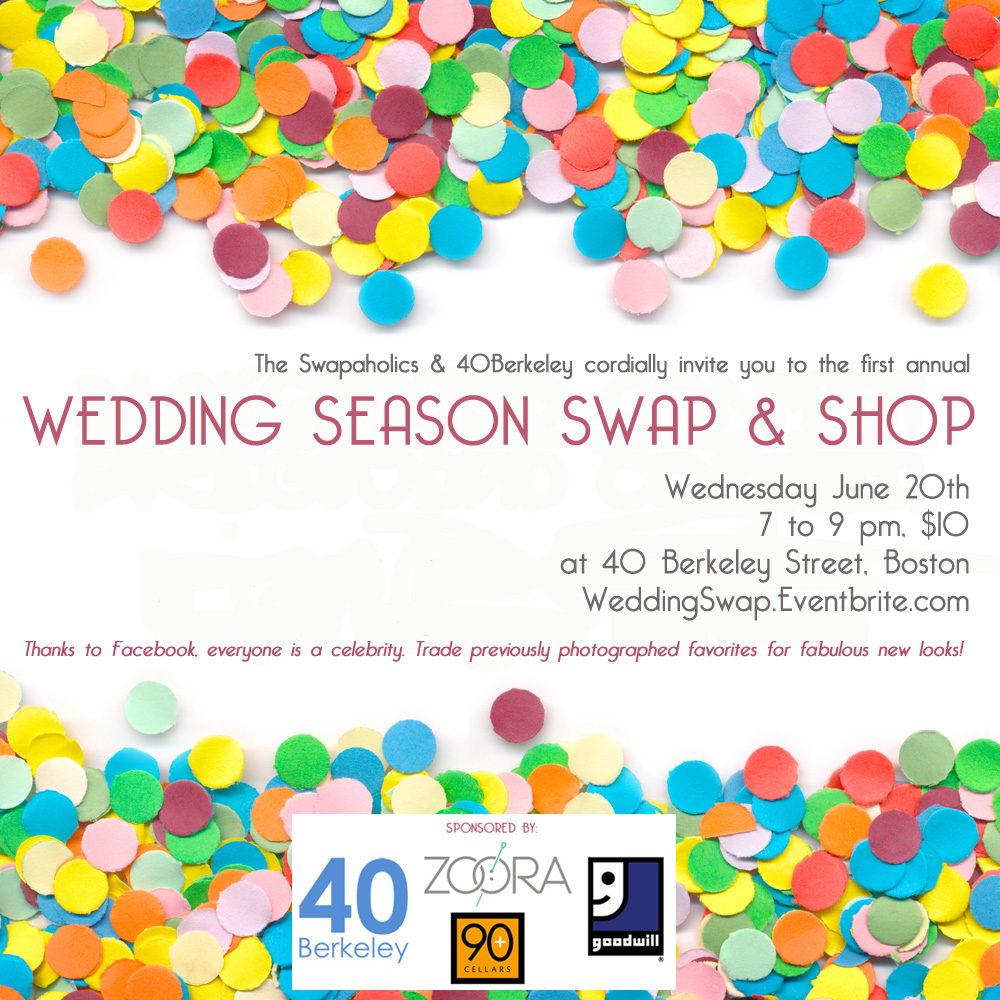 Wedding Swap & Shop Boston 2012 (official poster/flyer)

Wedding Swap & Shop Boston 2012 (official poster/flyer)
BOSTON, MA -- The Swapaholics,
America's favorite swap event planners, return to their hometown to host Boston's first ever
"Wedding Season Swap & Shop"
-- a beautifully budget- and eco-conscious way for women to survive summer's wedding events during the economic downturn by turning last year's cocktail frock into a fabulous new-to-them formal ensemble.
On Wednesday June 20th,
The Swapaholics
-- Melissa Massello and Amy Chase -- will host the third event in their residency series of themed monthly clothing swap events in the courtyard and lounge at
40Berkeley
, Boston's newest and hottest hostel, at the corner of Berkeley and Appleton Streets in Boston's historic South End. June's event will focus on swapping cocktail dresses, formal wear, and festive separates perfect for surviving "wedding season" (or the spring, summer, and fall months packed with a seemingly constant stream wedding-related events for any twenty- or thirty-something) without sacrificing style or racking up a huge credit card bill.
"Sharing daily photos on Facebook and other social media outlets has made made everyone a 'celebrity' in the way that it's become harder to wear the same outfit twice -- especially when it comes to the etiquette of wedding attire," says Melissa Massello, co-founder of
The Swapaholics
and editor-in-chief at
Shoestring Magazine
. "Amy and I have been asked by our swappers and fans nationwide to host a wedding-themed swap for years, and when we were given the opportunity to host this event in
40Berkeley
's gorgeous courtyard here in our hometown, coupled with a recession that continues to level our clothing budgets, especially for black tie attire, it all added up to the perfect time to try it out."
Admission for each monthly clothing swap is $10, with advance tickets available online at
WeddingSwap.Eventbrite.com
, which includes swapping, bubbly (for those 21+ with proper ID) from Boston's own
90+ Cellars
, and desserts. For June's event, each attendee is asked to bring one to two dresses or formal ensembles plus three or four cocktail-appropriate pairs of shoes, accessories, pieces of jewelry, or handbags (3-5 items total).
June's event will also include an opportunity to shop from the capsule collection of bespoke cocktail dresses under $100 from
Zoora
, an independent Boston-based bespoke fashion marketplace and MassChallenge competitor, and opportunity to purchase one of two brand-new discounted designer wedding gowns donated to
Goodwill in Boston
, hand-selected by The Swapaholics and available for between $99 and $199 during the swap as part of Goodwill's "Brides on a Budget" series.
"We love working with
The Swapaholics
because they make new ways of approaching fashion easy, affordable, and fun. They have made swaps more accessible in the same way that we hope to make custom clothing more accessible," says Aubrie Pagano, founder & CEO of
Zoora
.
For example, designer brands regularly found "for free" at The Swapaholics' events include: Manolo Blahnik, Nanette Lepore, Diane von Furstenberg, alice + oliva, Tracy Reese, ASOS, three dots, Chanel, Jimmy Choo, Betsey Johnson, Free People, Theory, Stuart Weitzman, Max Studio, Laundry by Shelli Segal, and Nicole Miller. In addition, swaps regularly feature items from J.Crew, Banana Republic, Nine West, Zara, Forever 21 and collectible items from designer diffusion lines like those for Target, H&M, TopShop, Payless and Kohl's.
ABOUT THE SWAPAHOLICS (www.TheSwapaholics.com)
The Swapaholics are America's favorite swap event planners and sustainable lifestyle experts based in Boston, MA who are dedicated to making swapping cool again, spreading the love for secondhand style, and sharing their trendsetting take on budget- and eco-friendly living. Co-founders Melissa Massello & Amy Chase are leading the sharing movement among the style-obsessed, and have been featured in USA Today, FastCompany, Nightline News, US News & World Report, The Boston Globe, The Los Angeles Times, The Dallas Morning News, Daily Candy, Mass High Tech, WalletPop/AOL, Racked LA, ABC, NBC, CBS, FOX, and other fine media outlets.
ABOUT 40BERKELEY (www.40berkeley.com)
Located in the heart of Boston, 40Berkeley is one of the leading budget traveler destinations on the East Coast, and the largest hostel in New England. 40Berkeley has over 200 private rooms, approximately 400 beds, and attracts over 24,000 visitors every year from all over the world, proving that it's one of New England's hippest and most affordable places to stay. Formerly the YWCA Residence for Women, 40Berkeley was purchased in 2010, and is still firmly committed to providing members of the community with a safe place to stay - be it short or long term. 40Berkeley partners with the non-profit organization, FOCUS: For Our Communities, ensuring that the remaining long term residents of the YWCA are still able to call 40Berkeley home. 40Berkeley has received widespread recognition for its hostel and the services it offers, including an award from HostelWorld for being one of the Top 10 Hostels in the US. You can also
follow 40Berkeley on Twitter
and find
40Berkeley on Facebook
.
ABOUT ZOORA (www.zoorafashion.com)
Since launching in January 2012, Zoora has become a a members-only online boutique and community offering women's custom clothing to a population historically excluded from affording bespoke fashion. Zoora launched its first private label capsule collection in April 2012, all the pieces in the collection are customizable and retail between $66 and $98. Customizations include fit, hemlines, color and choice of metallic tassel belts. Zoora currently features over a dozen designers selling customized clothing on its e-commerce site, including Project Runway finalist Althea Harper, Betsey Johnson interns Lily & Migs, and celebrity favorite Alana Hale.
ABOUT MORGAN MEMORIAL GOODWILL INDUSTRIES (www.goodwillmass.org)
Founded in Boston in 1895, Goodwill provides job training programs and partners with the business community to provide meaningful work opportunities for individuals with disabilities and other barriers to self-sufficiency, in addition to youth programs that foster academic achievement and career preparation. Goodwill Stores provide jobs and on-the-job training opportunities. They offer quality, low-cost goods to individuals and families looking for value and support the programs and services fulfilling Goodwill's mission.
ABOUT 90+ CELLARS (www.ninetypluscellars.com)
90+ Cellars is an American négociant that purchases finished wine from highly acclaimed wineries around the world. The company avoids the traditional overhead required to produce, market and sell wine and passes these cost savings onto both the retailers and consumers. 90+ Cellars offers savvy wine consumers the luxury of world-class wine priced so they can enjoy it anytime. For more information, go to www.ninetypluscellars.com.