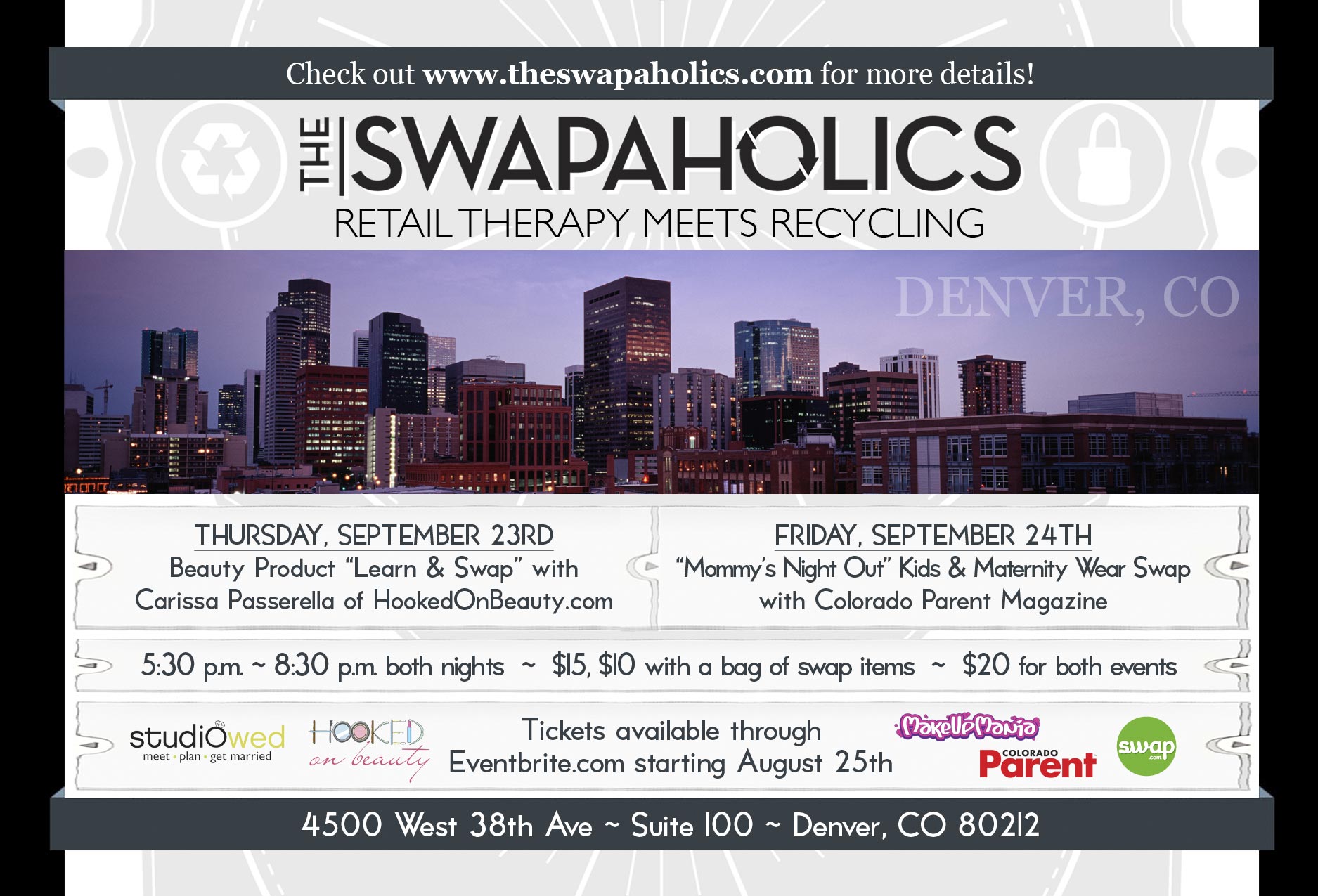 DENVER, CO - The Swapaholics, pioneering the fashion-forward and eco-friendly trend of modern clothing swaps, have announced the upcoming dates for their Denver events. Since 2009, The Swapaholics have traveled the country from New York to Los Angeles, bringing together thousands of people to exchange literally tons of top-quality clothing and beauty products, grab free swag and raffle prizes, and mingle with other fashionistas, vintage lovers, and sustainable style shoppers.

On September 23rd and 24th, The Swapaholics will host events at StudioWed Denver on 4500 West 38th Street, marking the company's first swaps in Denver and introducing their mix of retail therapy and recycling to Colorado for the first time. On Thursday, September 23rd from 6:30 to 8:30 p.m., The Swapaholics will co-host a beauty product "Swap & Learn Happy Hour" with Denver-based celebrity makeup artist Carissa Passerella of HookedOnBeauty.com. On Friday September 24th from 6:30 to 8:30 p.m., The Swapaholics will co-host a "Mommy's Day Out" kids & maternity wear swap with Colorado Parent magazine. Both events are sponsored by Swap.com (formerly SwapTree.com), the leading online swap marketplace.

"Swap.com is very pleased to help expand the swap movement with our sponsorship of the Denver Swapaholics events. We have a large community of swappers in the Denver area and are pleased to support the growth of swapping there," says Jeff Bennett, CEO of Swap.com.

Admission for each Denver event is $15 or $10 with a bag of items to swap, and The Swapaholics are also offering a 2-for-1 deal of $20 for admission to both swaps. Attendees will also receive free reusable swap bags, which they can fill to the brim with new-to-them items, all for the cost of admission, plus exclusive deals from Denver-based businesses and the chance to win fun and fashionable raffle prizes.

When it comes to modern clothing swaps, nobody has more experience than the Boston-based duo of Melissa Massello and Amy Chase. As The Swapaholics, these ladies have hosted more than three dozen clothing swaps across the country in the last two years. At a typical Swapaholics event, swappers bring a bag of their best new or like-new clothing or beauty products and then The Swapaholics use those donations to create a pop-up boutique for the day. Attendees are given reusable shopping bags and then set loose to shop and fill that bag with new-to-them items from the "Swaptique." From vintage and classic items to the latest trends, swaps have become the new budget- and eco-friendly alternative to purchasing designer fashions and beauty products.

"Secondhand really is the new "new", and we're stoked to bring The Swapaholics to Denver for the first time," said Swapaholics co-founder Amy "Punky" Chase. "We always find that people take more risks and have more fun with their fashion and beauty choices at swaps, since they're getting the items for so much less. It's a great way to pursue your passion for fashion and keep your style up to date without breaking your budget. Most swappers find at least one item at our swaps that they fall in love with and give a new home."

Designer brands regularly found at Swapaholics events include: Citizens for Humanity, Diane von Furstenberg, Seven, alice + oliva, Plenty by Tracy Reese, James Perse, Adriano Goldschmeid, Chanel, Kiehl's, Free People, Theory, Stuart Weitzman, Max Studio, Nicole Miller and Joe's Jeans. In addition, swaps regularly feature items from Gap, J.Crew, Banana Republic, Nine West, Zara, Forever 21 and collectible items from designer diffusion lines like those for Target, Kohl's, Payless and H&M.

To learn more about The Swapaholics events in Denver or the company, visit http://www.theswapaholics.com or find The Swapaholics on Facebook at http://www.facebook.com/pages/The-Swapaholics/301084492011 and on Twitter at http://twitter.com/theswapaholics.

ABOUT THE SWAPAHOLICS

The Swapaholics is an event planning company and national blog based in Boston, MA dedicated to reviving the age-old clothing swap and spreading the love for secondhand style. By fusing each event with a fresh and fashion-forward take on recycled clothing and beauty products, co-founders Melissa Massello and Amy Chase are leading the retail revolution of swapping before shopping, and have been featured in USA Today, US News & World Report, The Boston Globe, The Los Angeles Times, The Dallas Morning News, Mass High Tech, BostInnovation, WalletPop/AOL, Racked LA, ABC, NBC, CBS, FOX, and other fine media outlets for their sustainable style expertise and trendsetting take on budget fashion.

ABOUT SWAP.COM?
Swap.com is the easiest way to swap your stuff--books, music, movies and video games. An award-winning website that brings people together to swap the stuff they have for the stuff they want, Swap.com helps users feel good knowing they are saving cash and the planet. With millions of people listing millions of things, the swap opps are staggering. Swap.com is a privately held company headquartered in Boston, MA. For more information please visit www.swap.com. Follow us on Twitter @swap or visit us on Facebook at http://www.facebook.com/swapcom.

ABOUT STUDIOWED

StudioWed Denver is stylish boutique wedding studio filled with the best Colorado wedding inspiration and vendor resources available. Engaged couples can visit the studio for design ideas, planning advice and vendor recommendations without pressure or any type of sales pitch. Our exclusive collection of wedding vendors represents the finest wedding professionals that service the state of Colorado. Brides can meet with a photographer in the morning then enjoy a glass of wine while chatting with a florist in the afternoon. Best of all, there's no cost to use StudioWed's services, so you can feel free to spend an entire day--or as many as you need--planning your big day.