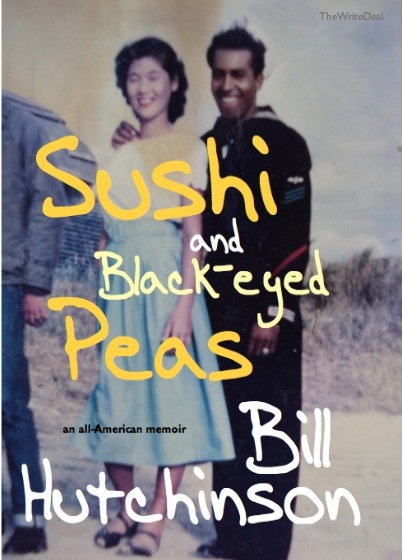 New York, March 28, 2012 --- New York Daily News reporter Bill Hutchinson's rollicking coming-of-age tale, Sushi and Black-eyed Peas, takes us into Steinbeck country in the era of Cesar Chavez. Here Bill began life as the youngest son of an Okinawan mother and a Black, Irish, Cherokee father who sometimes masquerades as Mexican. His fire-and-brimstone grandparents had their work cut out saving the souls of his Shinto mom, alcoholic dad and two renegade brothers. In a darkly humorous and fiercely unique narrative voice, the author explores how one American boy makes it out of the melting pot alive.
The publication of veteran newsman Hutchinson's memoir into TheWriteDeal's e-leaf series marks underlines the upstart publisher's growing popularity among writers and readers alike. The company defines e-leafs as "digital excerpts from original unpublished works".
"An e-leaf is a digital missive from writers directly to their readers — a recently living, breathing work in progress or part of a whole," says Managing Editor Kyra Ryan. "TheWriteDeal releases e-leafs to support the creative process of talented writers, delighting readers with writing that's fresh, energetic, and close to the source."
A New Literature for the 21st Century
TheWriteDeal operates as a talent discovery platform for the digital age. It publishes exclusively electronically, and sells its original e-books and e-leafs on its own independent retail platform, www.thewritedeal.org. It presents works of any length and at any stage of completion, to be read at leisure or on the go on a reading device or computer. There are no print options.
Just as the novel was born in the 19th century out of serialization, TheWriteDeal offers the e-reading audience superior e-books, extending the reach of authors and their audience into the digital landscape in a way that the mainstream self-publishing model only rarely accomplishes. It introduces traditional print publishers to writers of the highest quality and appeal. Basic membership in TheWriteDeal is free and allows members the unique privilege of joining a living, breathing, fast-growing community of cultural creatives from all over the globe.
TheWriteDeal publishes in both English and Spanish. It integrates innovative technologies and book registration standards to present an array of new commercial opportunities and lasting public exposure for original writing talents.
With Sushi and Black-eyed Peas by Bill Hutchinson, the company's radical publishing model is blazing a new trail in book production and is setting the tone for the future of mass-market digital book publishing.
Bill Hutchinson was a Pulitzer finalist for the New York Daily News' breaking news coverage of the 9/11 attacks. He has appeared on national television and radio networks, including MSNBC, CNN, ABC and FOX News. He has worked for the Boston Herald, the Fresno Bee and the Daily Ledger-Post Dispatch. Now a senior writer for the Daily News, he is a graduate of San Francisco State University.
ENDS
For media inquiries, please call 646 862 2858 or send an email to media@thewritedeal.org
For partnership inquiries, please contact partnership@thewritedeal.org
For more, please visit www.thewritedeal.org
Source::THEWRITEDEAL.ORG
----------------------------------------------------------------------------------------------------------------------------
About TheWriteDeal: TheWriteDeal, LLC is an online publisher of exciting new talent and professional authors. We publish a wide range of genres in both English and Spanish, in all popular e-book formats. TheWriteDeal operates as an independent e-book retail platform, www.thewritedeal.org. We market curated e-books and digital book excerpts, or e-leafs, from original unpublished works. We present works of any length and at any stage of completion, to be read at leisure or on the go on a reading device or computer. There are no print options.