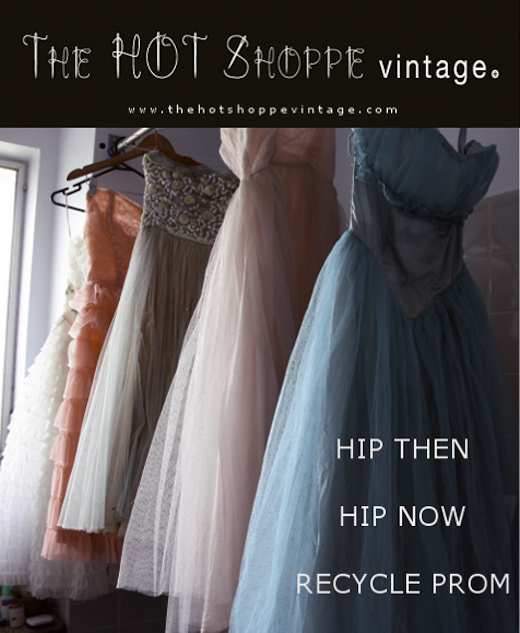 (Brooklyn, NY)- This prom season,TheHOTShoppeVintage.com, an exclusive members-only online vintage boutique, is asking the public to clean out their closets, and pass on their good memories to others by recycling their gently used formal dresses.
"We think it is a perfect time for all women, sisters, girlfriends, aunts, nieces, cousins, former students, and neighbors to see what they have in their formal wear collections- dresses that they will never wear again, and help make a girl's prom dream come true," said Bridget Williams, President of TheHOTShoppeVintage.com.
From now through June 17th, 2012, TheHOTShoppeVintage.com will accept dresses by mail, and donate them to local High Schools throughout New York City, and its surrounding boroughs. In turn for doing good, each donor will receive one (1) THSV rR-Gift Certificate valued at $25.00! Click here to fill out a donor form.
This comes at a time, when proms are getting more expensive. According to a survey by VISA, teenagers in the northeast spend an average of $1,944 for Prom night.
Donors will be asked to fill out a simple form of what they are sending, and once TheHOTShoppeVintage.com receives the dress, a rE-Gift certificate will be in their in-box within 24 hours.
The following dress donation guidelines have been established to ensure local High School students get great dresses for their big night:
* ALL SIZES are needed; 0-14 and PLUS sizes especially
* Acceptable dresses: evening & formal dresses, sweet 16 dresses, bat mitzvah dresses, bridesmaid dresses (think enchanted evening)
* Dresses should not be older than 5 years old. Please consider they will be worn by girls ages 16-18
* Please No velvet or winter dresses, No pants suits
* Please No stained dresses or ripped dresses
This is the first year, TheHOTShoppeVintage.com is doing the give back, and appreciates all public donations and thanks in advance for their generosity.
For more information, please visit www.TheHOTShoppeVintage.com
###
EDITOR'S NOTE: INTERVIEWS AND PHOTO OPPORTUNITIES ARE AVAILABLE.