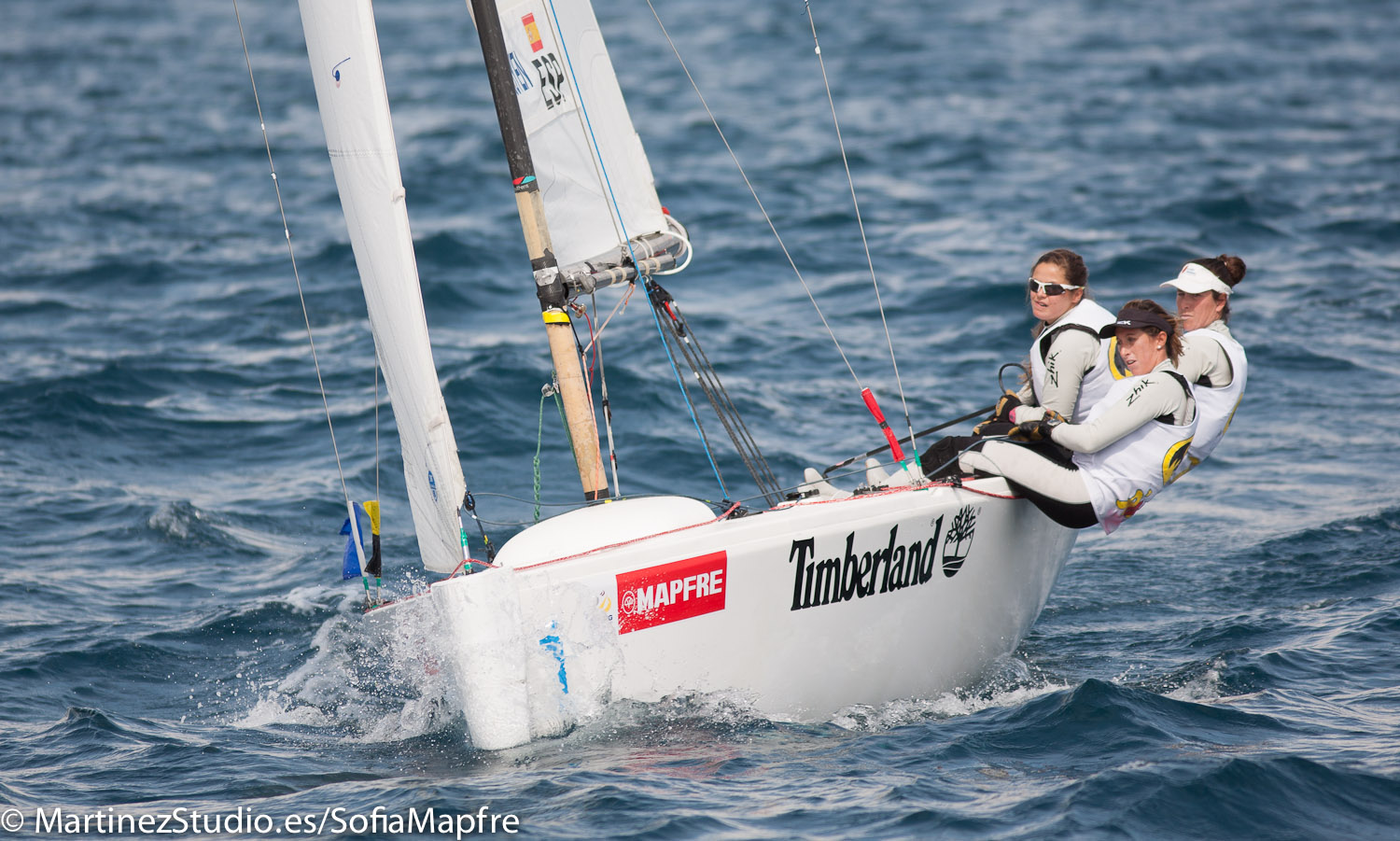 The Match Race Team with Támara Echegoyen, Sofía Toro and Angela Pumariega

The Match Race Team with Támara Echegoyen, Sofía Toro and Angela Pumariega
As proud technical sponsor of the Royal Spanish Sailing Federation, Timberland has been providing the team with equipment since April 2011, both with Earthkeepers® gear (made out of recyclable materials) and more recently with Formentor footwear and apparel.
The Formentor range has been uniquely engineered for summer sailing, with an emphasis on style and sustainability. Drawing influence from Timberland's New England heritage, the styles incorporate a number of pioneering technologies, created for the voyager in us all.
"We are an Outdoor brand that values those who live the outdoors. Our partnership with RFEV is very exciting. It has taken us to the water and helped us make a more innovative product collection for our consumer, leveraging the number one sailing team's expertise" says Argu Secilmis, VP Brand EMEA & Distributors Markets at Timberland Europe.
"The Royal Spanish Sailing Federation would like to thank Timberland for its collaboration with the team. We are pleased to be ambassadors of a brand we share many values with, including the respect for the environment (remember that our sport takes place in nature, the sea), teamwork and constant desire for improvement," says Alejandro Abascal, Director of the Royal Spanish Sailing Federation.
The most awarded Spanish sport in history with 17 medals (11 golds, 5 silvers, one bronze and 23 diplomas) holds hopes for a triumphant performance in London with at least two medal chances. Seven crews have already been selected while the qualifying process continues in other three classes. The selected sailors hold a total of 14 World Cup medals (6 gold, 5 silver and 3 bronze), 16 European medals (9 gold, 3 silver and 4 bronze) in Olympic categories along with a gold, two silvers and three diplomas from previous Olympic Games.
Following the success in Hyères, France with Rafa Trujillo silver in Finn and Echegoyen, Toro y Pumariega qualification in Match Race the expectations are high. Although still early to make final predictions, the team's Director, Alejandro Abascal feels confident that they may return home with at least two medals. The grounds to such expectations come from the results obtained in Weymouth (silver medals in RS:X with Marina Alabau and Iker Martínez and Xabi Fernández in 49er along with three diplomas – Finn with Rafa Trujillo, 470 M with Onán Barreiros and Aarón Sarmiento and 470 W with Tara Pacheco y Berta Betanzos) and Perth (gold in 470W with Tara Pacheco and Berta Betanzos, bronze in RS:X with Alabau and diploma in Finn with Trujillo) last year.
Current qualification
Spain qualified in seven out of the ten Olympic categories following the World Cup 2011 in Perth, Australia, with final confirmation on the teams that will be representing Spain in Weymouth, England. The three remaining categories have yet to be confirmed and Star has not qualified Spain yet.
The next key events in the qualifying process are:
Star World (2-11 May, Hyères, France)
Laser Radial World (May 15 – 20, Batenhange, Germany)
Sail for Gold (June, 4-9 Weymouth, Great Britain)
London 2012 Olympic Games (July, 28 – August, 12 Weymouth and Portland, Great Britain)