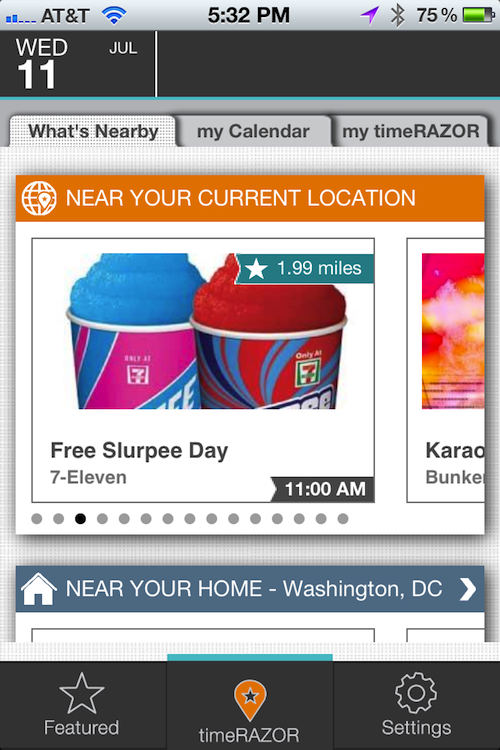 LEESBURG, VA– Do you want to know the closet location to get a free, refreshing and beat the heat 7-Eleven Slurpee®? As the national convenience store celebrates '7-Eleven Day,'
timeRAZOR
, the free, dynamic hyperlocal events app, will provide its users with 7-Eleven store locations across the U.S. that will be offering free Slurpees this Wednesday, July 11.
Every summer, July 11 is an especially 'cool' day thanks to a frozen freebie from 7-Eleven stores. This summer on July 11, 2012, from 11 a.m. to 7 p.m., approximately 8,200 participating 7-Eleven stores in across the U.S. will give away free 7.11-ounce Slurpee drinks. timeRAZOR has an entire list all of the participating locations of 7-Elevens within the app, so thirsty customers can easily discover the closest 7-Eleven so they will not miss out on this cool, annual event.
When people download timeRAZOR, they will see the closest participating 7-Eleven to their home or work or current location. Users will also receive an alert letting them know the drive time based on current traffic – how awesome is that?
Thanks to timeRAZOR, this will no longer be an annual tradition of something fun (and free) that people tend to miss out on, or find out about too late. By downloading the app, timeRAZOR will show you the 7-Eleven locations closest to where you live, work and play so you don't miss out!
No one ever wants to miss out on other hot & happening experiences like this! The free timeRAZOR app can show you millions of events near where you live, work and play everyday! From Cirque du Soleil in Boston, MA to the Miller Lite Filthy 5k Mud Run in Richmond, VA- it is the fastest and easiest way to ensure you never miss out and is a fun, free and easy way to stay connected to cool events.
To download the free app, please visit
http://app.net/timeRAZOR
ABOUT timeRAZOR:
timeRAZOR is the free, dynamic hyperlocal events app that gives users the scoop on tons of cool events near where you live, work and play. timeRAZOR's bleeding-edge knowWHERE technology is smart enough to find cool events based on where you are, and where you will be. The app is available for free on iOS and Android. The company was founded in June 2011 and is headquartered outside of Washington, DC.