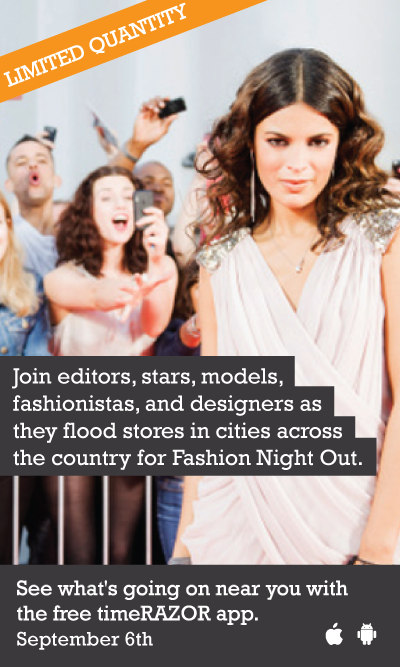 Slip into your most stylish stilettos, give a wink to your shiny credit cards, grab your most trendy and hip BFF's and join thousands of fashionistas, celebrities, models, designers, and fashion editors across the country to participate in Fashion's Night Out on September 6, 2012.
To make sure that no one misses out on this iconic extravaganza,
timeRAZOR
, the hyperlocal events app that gives users the scoop on tons of cool events near where they live, work and play, is serving up the hottest, participating stores and events for this year's fashion forward event.
With special limited-edition products, celebrity appearances, and unforgettable performances, no one should miss out on FNO 2012 as it promises to be even bigger and better than ever. From Manhattan to Boston to Washington D.C., there are a number of cities where this fashionable event will be celebrated, including 1,178 retailers in New York City alone!
With a star-studded lineup on the most craved brands in the fashion industry participating, including everyone from Saks Fifth Ave, Tiffany & Co., Juicy Couture, to Gucci, MAC and Sephora, you will need timeRAZOR to serve up all the juicy locations of participating stores and exciting events for amazing FNO gifts, discounts and more.
To download the free app, please visit
http://www.timeRAZOR.com
Some brands, just to name a few, that are doing cool stuff throughout the U.S. for Fashion's Night Out that can be found within the timeRAZOR app include: Bergdorf Goodman, Macy's, Saks Fifth Avenue, Tiffany & Co., Kate Spade, Burberry, Marc Jacobs, Gucci, Oscar de La Renta, Michael Kors, Steve Madden, Jimmy Choo, Juicy Couture, Oscar de la Renta, Victoria's Secrets, ALDO, Ann Taylor,Talbots, Target, GAP, MAC, Sephora.
ABOUT timeRAZOR:
timeRAZOR is the dynamic hyperlocal events app that gives users the scoop on tons of cool events near where you live, work and play. timeRAZOR's bleeding-edge knowWHERE technology is smart enough to find cool events based on where you are and where you will be. The app is available for free on iOS and Android. The company was founded in June 2011 and is headquartered outside of Washington, DC.