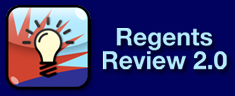 Time Warner Cable is again offering Regents Review 2.0 for free On Demand throughout upstate New York State, the Hudson Valley and New York City area. The company will offer Regents Review 2.0 tutorial series through January 2012 as a helpful resource for students preparing to take the Regents exams later in the year. Time Warner Cable is a statewide sponsor of Regents Review 2.0.
The shows are presented in a fast-paced, interactive television format and hosted by master teachers. This comprehensive television and web-based series features one-hour, in-depth review programs on 13 different subjects. Regents Review 2.0 is a series of test-prep programs for high school students who plan to take New York State Regents exams.
The Regents exam preparations will focus on the following topics: Spanish, French, English, Italian, Integrated Algebra, Geometry, Algebra2/Trigonometry, Earth Science, Living Environment, Physics, Global History & Geography, US History & Government, and Chemistry. For a complete schedule and to learn more, visit
www.regentsreview2.net
.
Time Warner Cable customers can view Regents Review 2.0 on the following On Demand channels:
* Albany/Capital Region - 1007
* Buffalo - 997
* Central NY - 1000
* Hudson Valley - 1111
* NYC / Staten Island - 1111
* Rochester - 111
"Time Warner Cable is dedicated to delivering local content relevant to the people and communities we serve and is proud to sponsor Regents Review 2.0. Time Warner Cable's free local On Demand channels provide the perfect place to showcase this educational programming, making it simple and easy for students to prepare for the New York State exams," said Terence Rafferty, RVP Operations, Northeast Region."