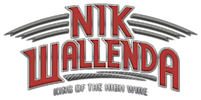 Buffalo, N.Y. area students from LaSalle Preparatory School in Niagara Falls, St. Peter's R.C. School in Lewiston, and the Community Charter School and Elmwood Village Charter School in Buffalo are joining daredevil Nik Wallenda and his team Thursday, June 14, at 10:30 a.m. for a unique, behind the scenes look at the science behind his historic walk across Niagara Falls. The event is taking place at the walk site, Terrapin Point on Goat Island, and also includes a student question and answer opportunity with Wallenda and representatives from the companies that built and set up the walk's rigging.

Time Warner Cable is hosting the event as part of its Connect a Million Minds (CAMM) philanthropic focus to reignite interest in the science, technology, engineering and mathematics (STEM) fields of study through creative expression and innovation. In line with Time Warner Cable's CAMM strategy, the discussion will also highlight how one creative idea can spawn innovation, and how traditional fields of like science, technology, engineering and mathematics can play roles in very untraditional ways in finding solutions.

"I'm thrilled to be able to share my process with area students. My family and I are very big supporters of having a solid skill set, both physically and mentally, prior to taking on any new challenge. Innovation happens when students are equipped with the studies they need to create opportunities that others may not have considered," commented Nik Wallenda.

Time Warner Cable's participation comes as part of the company's larger sponsorship commitment to Nik Wallenda's walk across Niagara Falls.

Following Wallenda's walk, Time Warner Cable will carry student and walk event coverage on local on demand channels across Upstate New York. Digital video customers will be able to access and watch additional exclusive content throughout the Buffalo, Rochester, Syracuse and Albany service areas at no additional charge.

"Time Warner Cable is a local company that continues to support our community," said New York State Senator George D. Maziarz. "Providing the kids a behind-the-scenes view of this extraordinary event coincides perfectly with our need to emphasize the value of solid STEM skill development in our local youth. Time Warner Cable knows that an event like this will pay long-term dividends to our area, and as a local company and employer they have stepped up once again to lend their support."

"This type of interaction between Nik and area students is a tremendous opportunity for our young people to learn more about the planning and hard work that it takes to successfully pull off an event of this magnitude," said Assemblyman John Ceretto (R,I-Lewiston). "This global event will help put Niagara Falls back on the entertainment map and will bolster the region's tourism industry and, most importantly, create new jobs."