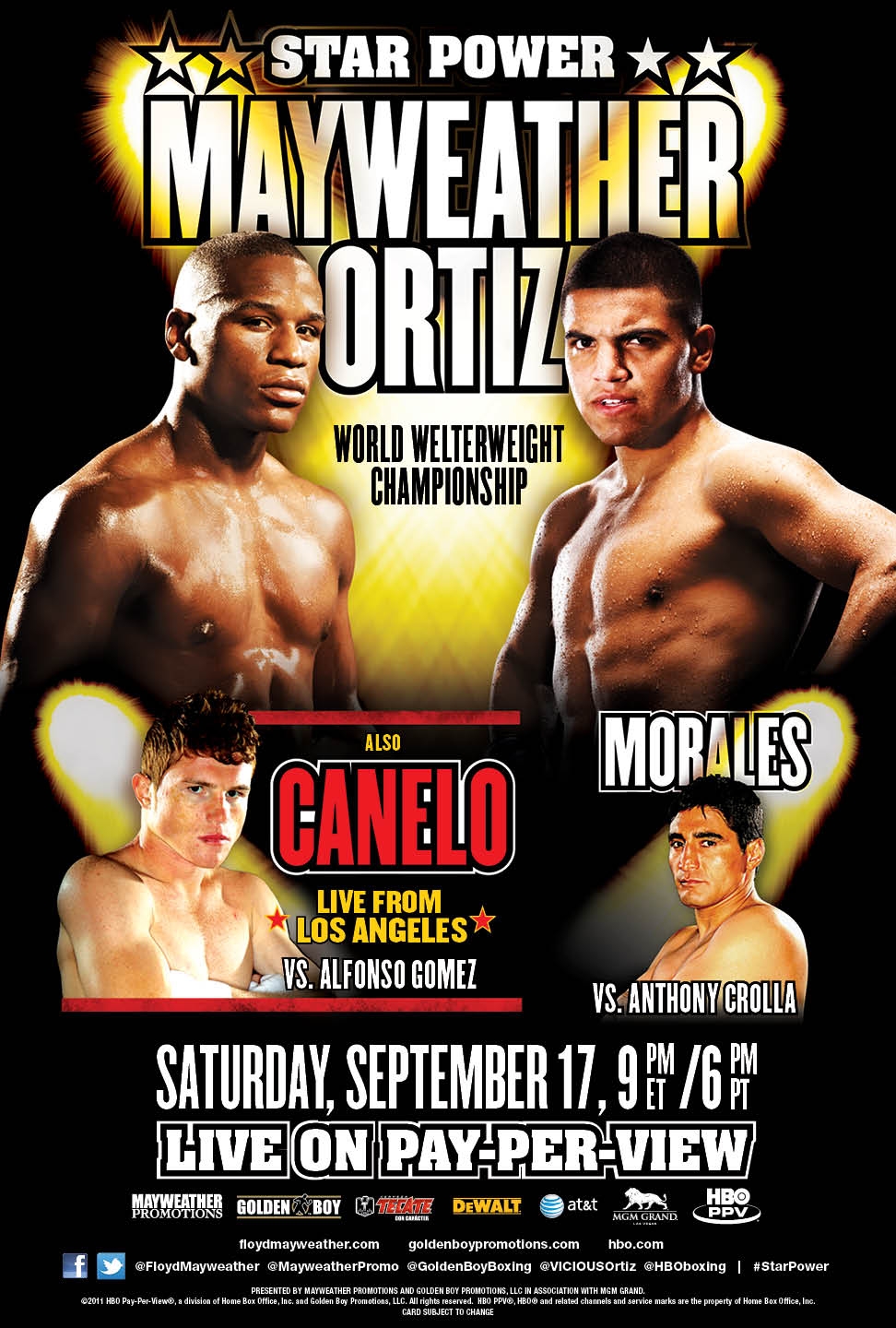 This Mexican Independence Day weekend, the best and the brightest stars of boxing will fight on one action-packed night, from two spectacular sites. Time Warner Cable customers on Saturday have the opportunity to watch "Star Power/Poder Estelar" showcasing Floyd Mayweather, described as boxing's biggest star, and Victor Ortiz, boxing's newest star, as they battle it out for the World Welterweight Championship. Mayweather and Ortiz will compete live from the MGM Grand in Las Vegas, Nevada, on Saturday, Sept. 17 at 8 p.m. CT.

The Super Lightweight Championship will take place before the main event in Las Vegas and will feature Erik Morales vs. Lucas Matthysse. The Super Welterweight Championship will be broadcast live from Los Angeles's Staples Center and will feature Canelo Alvarez vs. Alfonso Gomez.

Time Warner Cable customers can catch the action with a front row seat Saturday night on Pay-Per-View, also available in HD in most markets. Time Warner Cable customers with a digital set top box can now order the fight for $59.99 by calling 888-TWC-8585 or with their remote control in the following Time Warner Cable service areas:

Time Warner Cable market: PPV Channel, HD PPV Channel
Austin: 951, 1650
Eagle Pass, Del Rio, Uvalde: 921, n/a
Corpus Christi: 921, 973
Dallas: 900, 810
El Paso: 921, 973
Beaumont/Orange: 921, 973
Greenville: 900, n/a
Kerrville: 921, 973
Laredo/Harlingen/McAllen/Brownsville: 921, 973
San Antonio: 501, 499
Columbus/Gonzales: 921, n/a
Waco/Temple/Killeen: 262, 1015
Wichita Falls: 921,973

Before the fights, watch the critically acclaimed 24/7 series on HBO and HBO On Demand channels to see how these boxing rivals prepared for the fight of their lives. The 24/7 series chronicles behind the scenes action of each boxer's training camps and preparations leading up to the Sept. 17 matchup. The final episode of 24/7 which will feature fight week activities in Las Vegas will air Friday, Sept. 16 at 8 p.m. CT on HBO. Episodes 1, 2 and 3 are currently available on HBO On Demand.

About Time Warner Cable
Time Warner Cable Inc. (NYSE: TWC) is among the largest providers of video, high-speed data and voice services in the United States, connecting more than 14 million customers to entertainment, information and each other. Time Warner Cable Business Class offers data, video, and voice services to businesses of all sizes, cell tower backhaul services to wireless carriers and, through its NaviSite subsidiary, enterprise-class hosting, managed application, messaging and cloud services. Time Warner Cable Media, the advertising arm of Time Warner Cable, offers national, regional and local companies innovative advertising solutions. More information about the services of Time Warner Cable is available at www.timewarnercable.com, www.twcbc.com, www.navisite.com, and www.twcmedia.com.