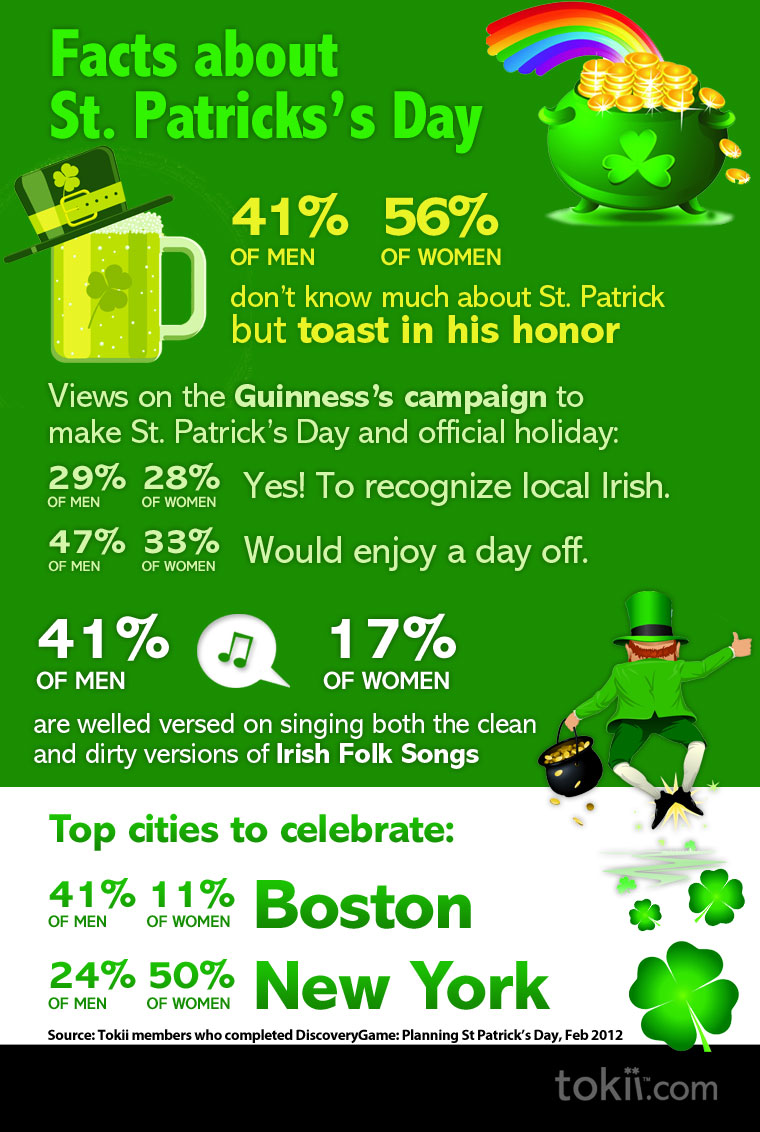 Toronto, ON/ March 6, 2012 - Fans of Tokii.com had the chance to weigh in on the meaning of St. Patrick's Day.
Tokii.com recently unveiled its Planning for St. Patrick's Day DiscoveryGame on its site and couples took part in the interactive game which generated some interesting results. The biggest finding from the world's most relied upon relationship management platform website for couples revealed that most men feel that St. Patrick's Day should be a day off from work. As well, both men and women support the Shamrock fanfare as the definitive occasion to recognize St. Patrick and Irish culture.
Here is a breakdown of the highlights from the data collected from members of Tokii.com who took part in the Planning for St. Patrick's Day DiscoveryGame.
Facts About St. Patrick's Day:
29% of men, 28% of women say "Yes" to recognize local Irish.
47% of men, 33% of women would enjoy a day off.
41% of men, 17% of women are well versed on singing both the clean and dirty version of Irish Folk Songs
41% of men, 56% of women don't know much about St. Patrick but toast in his honor
Top Cities to Celebrate:
41% of men, 11 % of women: Boston
24% of men, 50% of women: New York
Men versus Women on the History of St. Patrick:
54% of men, 39% of women knew that St. Patrick was canonized by the Catholic Church for banishing snakes from Ireland
When St. Patrick's Day falls on a Friday, the local Bishop can grant a dispensation of the diocese from abstinence:
38% of men, 28% of women would take advantage of the day off from lent
More Neat Facts:
Under 20% of men and women knew that St. Patrick used the shamrock to explain the Holy Trinity to the pagan Irish and therefore associating green with St. Patrick's Day
62% of men, 44% of women agree that "Everybody's Irish on St. Patrick's Day
Presently, couples now have the chance to play a new online DiscoveryGame, The History of St. Patrick
Karla Stephens-Tolstoy, Founder and CEO of Tokii.com, knew that the Planning for St. Patrick's DiscoveryGame would generate a lot of interest from members.
"St. Patrick's Day is a big event and so many couples enjoy celebrating the occasion with green beer and cheers," laughs Tolstoy.
She adds, "It's interesting to know that there is a movement among our membership which proves that men want the day off to soak up some Irish fun. As well, in all, our members revealed that St. Patrick's Day is the official day of the year to acknowledge the Irish."
Tolstoy indicates that the DiscoveryGames offered on Tokii.com is a unique way to measure how couples feel and interpret special occasions and topics of interest. Tokii.com has been providing a variety of DiscoveryGames since launching its website only a year ago.
"As our membership grows, we are seeing more and more couples participating in our online DiscoveryGames," she says. "It's fascinating to learn what people are thinking and the results we share with our members, the general public, and the mass media serves as a unique educational tool on many levels."
Tokii.com is a 'made in Canada' initiative and now thousands of couples rely on the site as a beneficial tool in learning more about relationships and love.
For more information, visit http://tokii.com
For media interviews, please email us: ceo@tokii.com