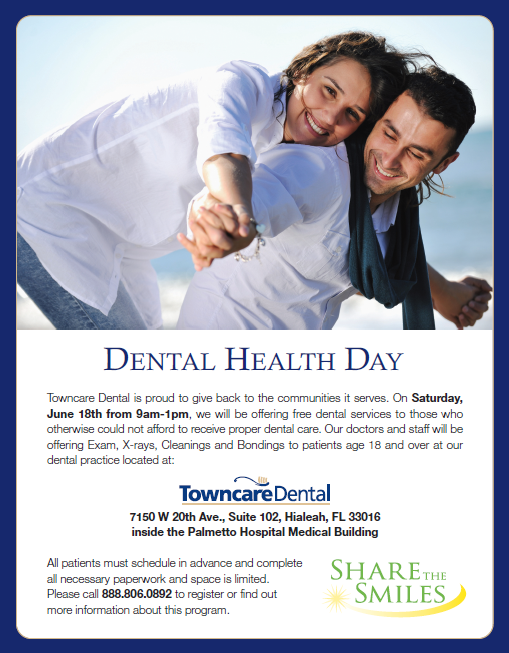 Towncare Dental (
www.towncaredental.com
), a collaborative team of dental professionals serving patients in private neighborhood practices throughout Florida, announces Share the Smiles Dental Health Day on Saturday, June 18, offering free dental services to adults who otherwise could not afford care.
WHO:
A team of six doctors and nearly 20 staff from area Towncare Dental practices will provide services to an estimated 100 adults from Miami-Dade who may not have the means to afford proper dental care.
WHAT:
Towncare's Share the Smiles Free Dental Health Day offers desperately-needed dental services to local qualifying adults who otherwise do not receive dental care due to limitations of cost or access. A team of Towncare dentists and staff will be on hand to offer complete exams, x-rays, cleanings and bondings to a limited number of patients age 18 and over. This event is part of
Towncare Dental's
Share the Smiles volunteer initiative to give back to the communities it serves.
WHEN:
Saturday, June 18, 2011; 9:00 a.m. to 1:00 p.m. Pre-register by June 15.
WHERE:
Towncare Dental, 7150 W 20th Ave., Suite 102, Hialeah, FL 33016, located inside the Palmetto Hospital Medical Building.
WHY:
Oral health is integral to overall health, and poor oral health has been linked to other health problems such as heart disease, stroke and preterm low-birth weight infants. According to the Centers for Disease Control (CDC), adults 18-64 years of age were more likely than children or older adults to report having unmet dental health care needs because they could not afford care. The same report indicated that since 1999, there has been a significant increase in the percentage of adults reporting unmet dental healthcare needs due to cost. The CDC's Health Statistics 2010 Report expresses concern with these trends, stating that, "poor oral health and its consequences may affect people's daily lives by interfering with eating, sleeping, working, and learning."
CONTACT:
Due to the number of people expected, participants must be schedule in advance and complete all necessary paperwork prior to the event. Registration closes June 15. Call 888.806.0892 to register or find out more about the Dental Health Day program.