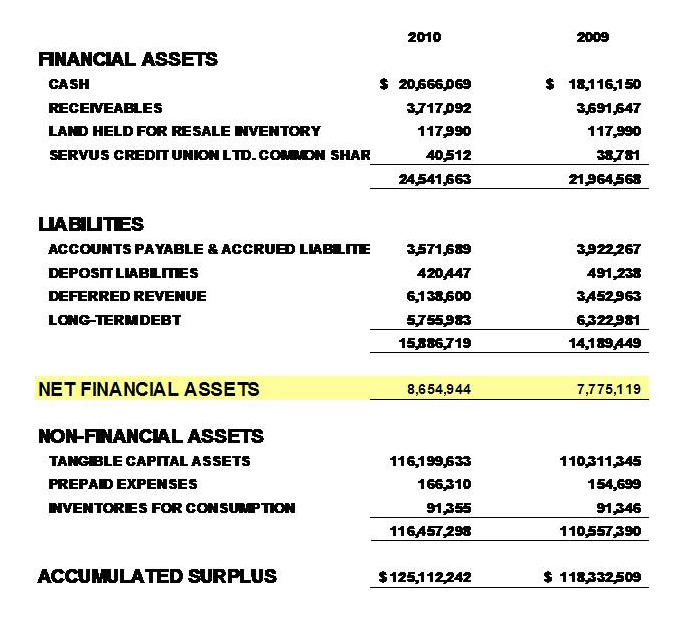 STONY PLAIN, AB - When it comes to the financial records of the Town of Stony Plain, the Municipality is in good shape, an independent auditor has confirmed.

"Overall, the Town is in good financial health," Phil Dirks, a chartered accountant with Hawkings Epp Dumont LLP, told Town Council at the regular Council meeting on Apr. 26, 2011. "The Town's financial records are accurate, clear and well-kept."

Dirks was in Council Chambers last Tuesday to present the results of his audit of the Town's 2010 financials and to express his professional opinion of the Town's financial statements.

Dirk's report, which follows the Canadian Auditing Standards (CAS) - used for audits of financial statements and which constitute Generally Accepted Auditing Standards (GAAS) for audits - revealed that the Town has low debt, healthy/moderate reserves, low taxes and controlled spending.

The audit showed the Town had net financial assets of $8,654,944 at the end of 2010, an increase of $879,825 from 2009. The Town also had total capital and operating reserves of $10,350,547 and $3,385,547, respectively.

The Town has relatively negligible long-term debt - only $5,755,983, as of Dec. 31- and is well within its borrowing limit ($35,557,485), set by the Province, in accordance with the Municipal Government Act.

General revenues - sourced principally from net municipal property tax, sales and user charges and Provincial transfers/grants - totaled $23,709,740, while total expenses posted $22,782,822.

Dirks complimented the Town's recordkeeping, noting he found no major errors, omissions or discrepancies nor any major concerns or recommendations. He also noted that he faced no difficulties throughout the audit process itself. Both Dirks and Mayor Ken Lemke credited the Town's director of finance and administration and manager of finance for their due diligence in maintaining accurate and honest financial records and being good stewards of the Town's financial resources.

"Despite the recent economic downturn, the Town of Stony Plain remains in a solid financial position for a local government of its size and complexity," said Lemke. "Council is very pleased with the findings in this report and that it contains no surprises. Being wise stewards of the Town's financial resources is a top priority."

A copy of the audit report is posted on the Town's website (www.stonyplain.com) and is also available for review at the Town Administration Building during regular business hours.