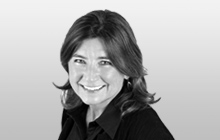 San Francisco – Traackr, Inc., the web's leading influencer discovery platform, welcomes to its advisory board Andrea "Andy" Cunningham, president of Bite Communications North America, and founder and president of Series C.

"We are very excited to have Andy serve on our advisory board," said Traackr CEO, Pierre-Loic Assayag. "Her expertise on building high-tech brands and insights about the industry we serve is second to none, and we look forward to her guidance helping us shape the next generation of what has already proven to be an invaluable service to the communication industry."

Cunningham has a strong history of creating and executing strategic communications programs that advance corporate reputation, increase shareholder value and accelerate business growth.

Since she came to Silicon Valley in 1983 to help launch the Apple Macintosh, Cunningham has developed branding and launch strategies for game-changing technologies and companies ever since, including desktop publishing with Adobe, Aldus and Apple; video games with Atari and Electronic Arts; digital imaging with Kodak; RISC microprocessors with IBM and Motorola; software as a service with HP; very light jets with Eclipse Aviation; and clean tech investing with VantagePoint Venture Partners.

Always looking for 'the next big thing,' Cunningham is an entrepreneur and an innovator, keen on leading the paradigm shift in branding and communication.

"New technologies and social media have forever changed marketing and communication," explains Cunningham. "For brands and leaders to win in the marketplace, they must now create—and manage—the biggest digital footprint possible. That's why I believe that Traackr will become one of the building blocks for the new era of communication."

Cunningham continued, "Traackr's technology is solving an important problem by surfacing the people and conversations online I need to pay attention to. I look forward to bringing my expertise in shaping technology brands and knowledge of the communication industry to Traackr, and help develop this important solution for our industry."

Traackr's additional three advisors include Barbara Bates, CEO, Eastwick; Joe Caruso, TEDxBoston and HBS AB; Laurent Liscia, Executive Director, Oasis.

ABOUT BITE COMMUNICATIONS
With 14 locations around the world, Bite Communications is an integrated marketing communications consultancy with a proven methodology that helps clients develop differentiated positions, build digital footprints and win in the marketplace. Our business- and tech-saavy communication professionals work with progressive companies who are innovating in their fields, disrupting markets and changing the world. We attack every challenge with insight, analytics, methodology and creativity to drive hard-core business results. For more information, please visit: www.bitecommunications.com.

ABOUT SERIES C
The newest venture of Bay Area marketing expert Andy Cunningham, Series C is a marketing consultancy that offers interim marketing leadership to growing companies. We scale your CEO and boost your growth by developing positioning and messaging, brand architectures, and an integrated marketing or go-to-market plan and then execute it. For more information, please visit www.seriesc.net.