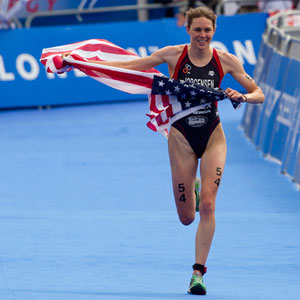 Lafayette, CO – March 20, 2012 - Gwen Jorgensen, the first female US triathlete to qualify for the 2012 London Olympics, has selected TrainingPeaks to be her official training software platform as she prepares for the Olympics this summer.

Jorgensen has used the software for her triathlon training since her first triathlon in March 2010, and has recently signed an agreement to be officially sponsored by TrainingPeaks. As part of the agreement, Jorgensen will provide select training files to be viewed by the public on her profile page at TrainingPeaks.com. Jorgensen will also be contributing occasional articles to the TrainingPeaks blog.

"TrainingPeaks has allowed me to track my progress from my very first season to now as I train for the Olympics. We've used it since day one and it is a huge asset," said Jorgensen, who trains under the guidance of coach Cindi Bannink, recently named USA Triathlon's 2011 Coach of the Year. "TrainingPeaks is an effective way for me to communicate with my coach, even when we're in different cities."

Jorgensen has taken the elite triathlon field by storm since she entered her first competitive triathlon in March 2010 at USA Triathlon's Elite Development Race in Clermont, FL. Though she had been a strong collegiate runner and swimmer at the University of Wisconsin, Jorgensen had to get on a road bike for her first time to train for this race. Nonetheless, she finished eighth overall and earned her pro card on the same day. Less than a year and a half later, she placed second in the ITU World Championship Series, setting the record finish time for an American woman. This automatically qualified her for the 2012 London Olympics, making her the first female to qualify for the 2012 US triathlon team.

TrainingPeaks CEO Gear Fisher says, "Qualifying for the Olympics within your first 18 months of entering the sport is nothing short of incredible, and we were beyond excited when we found out Gwen and her coach Cindi had been using TrainingPeaks along the entire journey. We think Gwen's story is one that will motivate many aspiring triathletes, and we can't wait to share her training data and blog articles with our customers."

Jorgensen and Bannink will use TrainingPeaks to monitor and analyze Jorgensen's triathlon training throughout 2012, and assess her fitness progress over time.
About TrainingPeaks
Founded in 1999 by athletes and coaches, TrainingPeaks is the leading brand of endurance training software. TrainingPeaks' suite of products include the world's premier web based fitness training log TrainingPeaks.com accessed online and through iOS and Android applications; PC desktop analysis software, WKO+; and a family of GPS activity tracking apps for iPhones including Run Tracker Pro, Cycle Tracker Pro and Walk Tracker Pro.

TrainingPeaks customers in more than 120 countries include endurance coaches, triathletes, cyclists, runners and swimmers from beginner to elite athletes. More than 90 hardware devices including Garmin, Timex, SRM, Quarq, CycleOps and Polar as well as mobile applications such as Active Forecast, Digifit®, and Distance Meter are compatible with TrainingPeaks.

TrainingPeaks products are developed and owned by Peaksware, LLC and together provide co-branded solutions to manufacturers such as Timex; events such as the Rock 'n' Roll Marathon Series; and publishers including Runner's World, Triathlete and Outside Magazine.

More information can be found at www.TrainingPeaks.com and blog.trainingpeaks.com.

About Gwen Jorgensen

Gwen Jorgensen is a professional triathlete from Waukesha, Wisconsin. She earned the honor of becoming the first woman to qualify for the United States Olympic 2012 Triathlon Team after placing second at the London Triathlon, only 18 months after completing her first triathlon. In 2010 she was named USAT Rookie of the Year and USAT Elite Duathlete of the year after her remarkable first year as a pro.

Gwen competed on the track and field, cross country and swim teams at the University of Wisconsin, earning All-American status on both track and cross-country. She has a Master's in accounting and is a Certified Public Accountant. Gwen is represented by Octagon and is sponsored by Hincapie, Specialized, Oakley, David Hobbs Honda, CycleOps, HED, Citi, TrainingPeaks and the New York Athletic Club.

For more information on Gwen Jorgensen visit her website or follow her on Twitter.

TrainingPeaks Media Contact
David Criswell
TrainingPeaks
(303) 408-9767
dave@trainingpeaks.com

Gwen Jorgensen Media Contact
Heather Novickis
Octagon
(303) 517-0624
heather.novickis@octagon.com