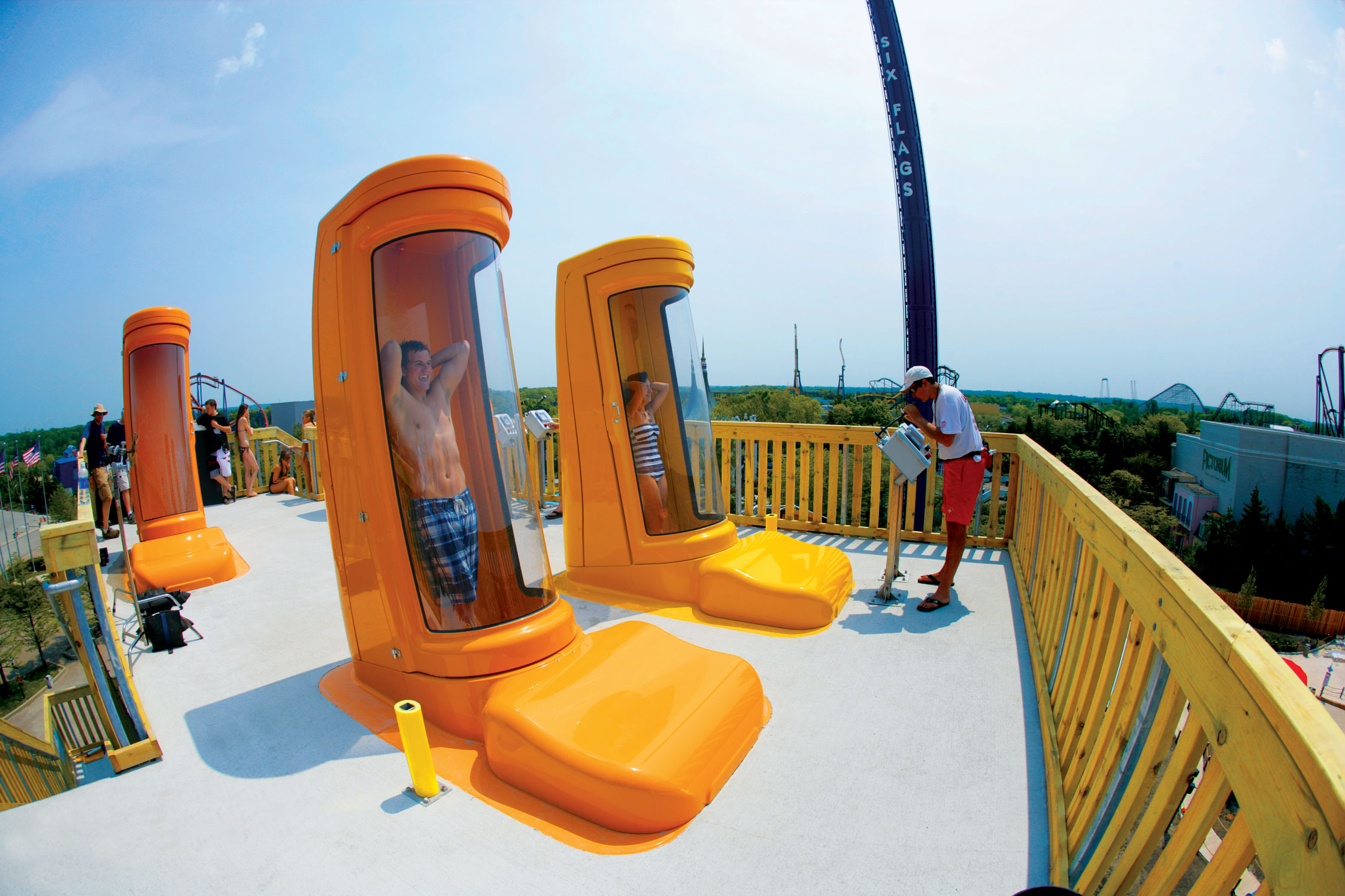 Super Loop SkyBox slide, photo courtesy Kalahari Resorts

Super Loop SkyBox slide, photo courtesy Kalahari Resorts

Rendering of Little Chute Windmill, photo courtesy Little Chute Windmill, Inc.

Rendering of Little Chute Windmill, photo courtesy Little Chute Windmill, Inc.
MADISON, Wis. (Feb. 14, 2012) – Tourism in Wisconsin is all about keeping it fresh – expanding on old favorites and introducing new things for travelers to experience. So here's our countdown of 12 new events and attractions to look for in 2012 – one for each month of the year.
JANUARY (and all year!)
100th Anniversary of Yellowstone Trail
2012 marks the 100th anniversary of the Yellowstone Trail, the first transcontinental auto highway in the United States. The trail itself stretches all the way from Plymouth Rock to the Puget Sound and 409 miles of that route is through Wisconsin. To celebrate this early industrial feat, follow the historic route through Wisconsin from Kenosha to Hudson and make a trip of it (an online guide maps the route). In May, the city of Hudson will hold its annual Yellowstone Trail Heritage Days event. With a car show, silent movies and tours around the area highlighting the trail's history, the event will focus around the anniversary. Other events will be announced throughout the year.
FEBRUARY
Houdini exhibit appears at Madison Museum of Contemporary Art
He escaped from strait jackets and handcuffs, made an elephant vanish into thin air, and even disappeared through a brick wall – so much for your esteemed card trick. Harry Houdini will be honored this spring at the Madison Museum of Contemporary Art's exhibit, Houdini: Art and Magic. Born in Budapest, Hungary, Houdini and his family immigrated to Appleton in 1878 and then later to New York City. The exhibit includes works in a variety of media from contemporary artists who were influenced by the great Houdini. Visitors can also expect to see rarities such as Houdini's personal diaries, historic photographs, Art-nouveau-era posters and even some of his magic equipment like handcuffs and shackles. Hurry because the exhibit disappears May 13, 2012.
MARCH
Castle Rock Museum in Alma: Dangerously cool new museum
We think the most complete arms and armor display in the Midwest is pretty cool and worth a visit. The grand opening of the Castle Rock Museum in Alma is scheduled for this spring and takes you through 2,000 years of history and hundreds of pieces of arms and armor. Start with Rome, make your way through the Dark Ages, Crusades and the Renaissance. The pieces are displayed to illustrate the evolution of arms and armor in the context of art and history. They are not meant for you to try on – specifically the "Knight in Shining Armor" full suit armor display – but can be rented out for Halloween parties… kidding, of course.
While you're in Alma, make a weekend out of it and stay at the Blue Door Inn. With renovations just about complete, Blue Door Inn will open the first weekend of May and is housed in one of Alma's oldest buildings on the National Historic Register. Stay in the 1853 one-room stone house built into the bluff, the 1856 old blacksmith shop, or 1875 old hardware store. Chances are slim that you'll get lost but just in case – look for the blue door.
APRIL
Opening of Children's Museum in Green Bay (with a mini Lambeau Leap area)
The last thing you'll find at the Children's Museum of Green Bay are signs that say "don't touch," "keep off" or "for display only." Scheduled to open in April, the new 15,000-square-foot museum is being built with help from the nation's best exhibit designers and fully encourages learning by playing, climbing and having fun. Some cool exhibits to expect – a miniature restaurant and store where kids can try their hand at the restaurant business; a lighthouse and beach scene to explore; an 18-foot-tall tree to climb; a make-believe human digestive system to crawl through; and even a mini-Lambeau Leap area (after all, it's Green Bay).
MAY
New waterslides multiply in the Dells
Here are two awesome waterpark additions that you've got to check out this year. Kalahari has added three new waterslides to its indoor waterpark and two of the country's first-ever Super Loop waterslides. There's also a state-of-the-art Kid's Play Zone with children's slides and a number of interactive African animal figures for endless hours of water fun. Come opening day at Noah's Ark this summer Quadzilla will make its debut. This $1 million family mat racer slide stands 47-feet-tall with four lanes each 323-feet long. Get this – the lanes are actually braided and twisted together as the rider launches head first into the slide and eventually races head-to-head with the other lanes.
JUNE
Schoolhouse Artisan Cheese Shop
Celebrate June Dairy Month with a stop at the Schoolhouse Artisan Cheese Shop in Egg Harbor. Owners of School House Artisan Cheese and Savory Spoon Cooking School in Ellison Bay have opened a second location ... and it's so tasty that we couldn't leave it off our list. Labeled a "European Style" cheese shop, visitors to School House Artisan Cheese will find that the store is reminiscent of a small cheese shop you'd find in France or Italy – except that it's in Door County. With cut-to-order cheese wrapped in wax paper, this is the only artisan cheese shop in the state that sells strictly Wisconsin-made cheese.
JULY
Women rule at U.S. Women's Open at Blackwolf Run
In July 2012, the U.S. Women's Open returns to Blackwolf Run and promises to be unforgettable. One of course designer Pete Dye's crowning achievements, Blackwolf Run is a blend of beauty and peril — combining cozy meadows and rolling streams with deep valleys and charging ravines. Typically comprised of two 18-hole courses (River and Meadow Valleys) Blackwolf Run will return to its original single-course configuration — but only for the 2012 U.S. Women's Open. It's a course unlike any in America, the perfect stage for one of golf's greatest majors. The cool part: fans 17 and under attend free with a paid adult.

AUGUST

Frog Bay Tribal National Park open to the public
Big news for outdoor enthusiasts and nature lovers everywhere – the Red Cliff Chippewa will open Frog Bay Tribal National Park this year, making it the first tribal park ever to open to the public. With 89-acres of pristine forest, the reservation offers views of the Apostle Islands, a quarter mile of sandy beaches and a canopy full of rare trees as well as abundant wildlife. For bird watchers – expect to see nearly 90 species within the forest. Hiking trails will start being built in the spring and the official opening of the park is expected in August.
SEPTEMBER
Wisconsin Science Festival: bigger, better and more science-y
If Sir Isaac Newton or Galileo were still alive, they'd be heading to Madison in September for this festival. The Wisconsin Science Festival, September 27-30, 2012, is a fun-filled, educational celebration of science and art that takes place at multiple locations throughout Madison. Plans are underway for a variety of events, demonstrations, experiments, and lectures held around the festival's theme of innovation. The festival is designed for all ages and interests and most events are free.
OCTOBER
Little Chute opens a complete replica of 1850s windmill
In Little Chute, a part American, part Dutch windmill is under construction, fitting for the Dutch capital of Wisconsin. The Little Chute Windmill and Van Asten Visitor Center is scheduled to open in the fall in downtown Little Chute. With its base and tower built right on sight, and the top section and blades being constructed by master craftsmen in the Netherlands, the windmill is an authentic 1850s design. Come spring, craftsmen will come to Little Chute to put the final pieces together. When complete, the windmill will serve as a monument to Wisconsin's Dutch heritage and the visitor center will feature exhibits on the history of Dutch settlement in the Fox River Valley and northeast Wisconsin.
With an opening planned around September, the Little Chute Windmill coincides with the annual Kermis Dutch Festival on Sept. 15, 2012. What better way to celebrate Dutch heritage in Wisconsin than enjoying Dutch food, fun and entertainment at the festival, and checking out the new Windmill.
NOVEMBER
O'so Brewing Co.'s new location means O'so much more fun
This countdown wouldn't be complete without a mention of one of Wisconsin's greatest homemade products – you guessed it, craft beer. O'so Brewing Co. in Plover near Stevens Point has opened a new location. With nearly 12,000 square feet in the new facility, O'so has upped their production to a 30-barrel brew house. In addition to that, the new location also includes a large Brewing Tap House with 40 beers on tap; 10 O'so varieties and the remaining 30 all Wisconsin craft beers. Cheers to that!
DECEMBER
Wilmot Mountain's New 16-Lane Tubing Hill
Wilmot Mountain in Wilmot premiered its brand new, 16-lane snow tubing hill this winter. This no-skill-required sport is fun for everyone and even includes a "kiddie" sized tubing hill for the little ones. The best part – once you reach the bottom, all it takes to get back up is a ride on the "magic carpet" lift. Let the racing begin!
Travelers looking for year-round Wisconsin getaway ideas, travel planning, events and free guides can discover their own fun at TravelWisconsin.com. You can also choose to "Like" us at Facebook.com/TravelWisconsin or follow along on Twitter at Twitter.com/TravelWI. Bring all the fun Wisconsin has to offer right to your fingertips by downloading the free Travel Wisconsin™ iPhone or Android app. And, visit Travel Wisconsin's Facebook page to send your friends their very own Winter Break certificate.
# # #