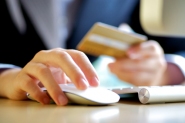 Credit card processing can be a confusing process for many business owners. Have you ever wondered what actually happens behind the scene when your customers use a credit or debit card for payment? At Trinity Merchant Group, we believe that an informed business owner is a successful business owner. So here is some background information about what actually takes place when you swipe your customer's credit cards.

Before we begin, please understand that your merchant services provider (also known as your credit card processing company) is what makes all of this possible. Without that relationship, you simply cannot accept electronic payments. So, here we go! After the card is swiped, the data from the customer's credit card is transmitted to a front-end authorization provider. This provider then sends a request to whatever credit card processing company the business is using. The request asks for authorization to process the transaction. From here, the credit card processing company sends the authorization request to the card issuer, usually a bank. If the card is approved, meaning the transaction is deemed valid, the bank sends an authorization code to the credit card processing company. That approval then winds all the way back to the front-end authorization provider. The provider sends the authorization back to the credit card terminal the customer is using. All of this should occur in just a few seconds.

So what does it mean for you as a business owner? With the wrong merchant services provider, customers could be forced to swipe their card multiple times to get a transaction authorized or they may have a delay in processing. If your merchant services provider is making your transactions more difficult than they need to be for both you and your customers, consider switching to Trinity Merchant Group. Not only does Trinity provide you the solutions your business needs, we also take the time to specifically customize a merchant services program for your business.

Whether your business is a single brick-and-mortar store or a chain of stores looking to expand online, trust Trinity with your credit card processing. We believe in informing our customers about how we operate behind the scenes as their merchant services provider. And with Trinity, you'll get accessible customer service even after your specially tailored credit card processing system has been installed. No more waiting around for your provider to call you back – Trinity's elite group of call specialists have an average wait time of less than 30 seconds per call, meaning your questions will be answered within minutes of their creation.

Credit card processing shouldn't be a mystery. Trinity Merchant Group can provide your business with the answers you seek. We're not just a merchant services provider – we're a partner and a resource that can help your business grow.