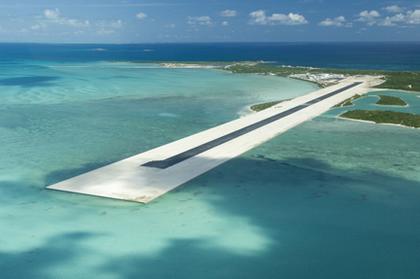 The

Turks & Caicos Sporting Club at Ambergris Cay
is a world-renowned destination for prize bonefishing. In fact, the developers of the Turks & Caicos Sporting Club at Ambergris Cay chose this location for this one-of-a-kind real estate venture in part because of this island's inordinately large numbers of these "grey ghosts." Members who may have never picked up a rod or tied a fly enjoy expert instruction and often find themselves reeling in these small but strong tropical fish on their very first trip. It is this focus on top-quality amenities, attention to detail and an intimate attention to the individual experience that has made this real estate venture an unquestionable success during an uncertain economic period.
Turks & Caicos Sporting Club at Ambergris Cay is an exclusive private island in the Turks & Caicos Islands home to a luxury real-estate development community offering individualistic luxury with no branded hotel or fractional ownership component. Attracting a global array of members, the exclusive island of Ambergris Cay caters to families, couples and singles alike looking to live
"Life, Well Played,"
a phrase that sums up the exclusive, relaxed beach at-mosphere filled with unspoiled nature, complete security, world-class outdoor pursuits, acclaimed service and a conservation mindset, lived by members, guests and Sporting Club staff.
A would-be angler can join an experienced pro and easily spot schools of bonefish numbering in the thousands. The sheer volume and size of the bonefish off the coast of The Turks & Caicos Sporting Club at Ambergris Cay are such that in 2008,
the world's largest bonefish in the Two Pound Tippet category
was caught at Ambergris Cay by Joanna Forszpaniak - a member of the Sporting Club. The full-time staff of naturalists and fishing guides regularly help members find prime fishing spots right off their front porches or along the world's second largest sand bar near Little Ambergris Cay.
The Turks & Caicos Sporting Club at Ambergris Cay founders place a strong emphasis on protecting the beauty of this little island and have vowed to leave 65 percent of the island undisturbed by development. To foster a sense of stewardship not only for members, but also for their children, the fishing guides inspire future generations of Ambergris Cay members with classes on how to master the art of tying flies and are happy to take children on their own or with parents on a private bonefish hunt. Allowing members, especially children, the chance to experience and master the art of bonefishing and even deepwater fishing, is central to the Turks & Caicos Sporting Club expe-rience.
This holistic approach to enjoying time away from the demands of work and school has paid off. Over half of the Sporting Club's available homes have been sold and even more have been going under contract as a result of an innovative new marketing campaign. Dubbed
"Affordable Housing For The Affluent,"
a prospective member can own a beachfront home for 1.4 Million dollars. This opens private-island living complete with five-star dining, spa and wellness services, an environmental learning center, the longest and lighted private jet strip in the Caribbean and of course, incredible bonefishing for less than the price of a home on Cape Cod. This concept of over-delivering services while remaining competitively priced has resulted in a unique value that has sustained it through the "great recession." When the world began its flight to quality, the Turks & Caicos Sporting Club at Ambergris Cay was ready with an airport that could accommodate a G5.
To learn more about bonefishing or the benefits of
membership
at the Turks & Caicos Sporting Club at Ambergris Cay, visit
lifeonthecay.com
.
Turks & Caicos Sporting Club at Ambergris Cay is an 1,100 acre private residential island created by DPS Sporting Club Devel-opment Company, LLC, developers of private, environmentally sensitive, residential sporting communities on unique properties committed to preserving their distinct character. Life, Well Played!
## END ##
Mai Moore
Local Marketing Representative
(649) 231-1663
mai@knowledgeablemarketingtci.com
Robert Rippee
Director of Communications
843.266.2120
rrippee@dpsdevelopment.com