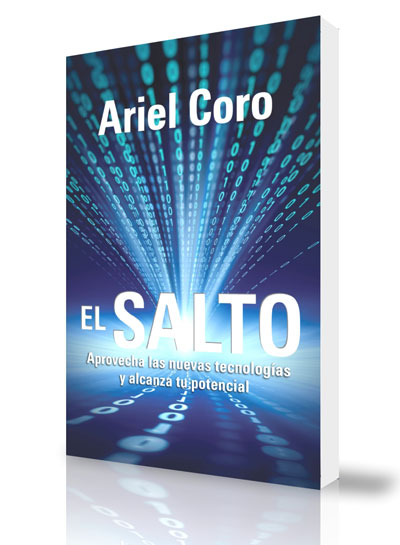 FOR IMMEDIATE RELEASE
Contact: Cosette Torres
(305) 741-2676
"I can't even imagine how all of us technophobes could begin to wrap our heads around this complex, yet essential new medium without the help of El Salto, and the brilliant and easy-to-comprehend writing of Ariel Coro."
—María Antonieta Collins, journalist, radio and TV personality and bestselling author
RANDOM HOUSE VINTAGE ESPAÑOL PUBLISHES #ELSALTO, THE FIRST MOTIVATIONAL BOOK ON TECHNOLOGY WRITTEN ESPECIALLY FOR HISPANICS
El Salto - Aprovecha las nuevas tecnologías y alcanza tu potencial
The Leap - Leverage the Latest Technologies to Reach Your Potential
Miami, FL, February 7, 2012: Hispanics could pay a very steep price for not knowing how to use the latest technologies to their fullest advantage. In El salto, Ariel Coro teaches us that we don't have to work, harder, only smarter, with technology on our side.
In his first book, through skillful narrative, fascinating case studies, and resources throughout, Coro opens up a whole new dynamic, interconnected world. The rules of the game have changed. Technology is changing our lives and the world around us at an almost incomprehensibly fast rate. El salto, is a survival guide for our digital times that will help us find a job, obtain an education, promote or finance a business, and even protect our families. In order to be successful, it is imperative that we understand how to use these new tools. "The cost of being left behind is higher than ever," Coro asserts. El salto, offers these essential tools and the perspective we'll need to get ahead, pushing us forward with resources and practical advice, all delivered in an easy-to-read, motivational and entertaining tone.
Coro shows us how to:
Find a job using the latest digital employment resources, and work virtually from anywhere on the planet.
Save money on everything, from shopping for appliances, family vacations, flights, hotels, services and even at the grocery store.
Protect our families from digital predators.
Attract investment, obtain financing and promote your business online—without ever setting foot in a bank.
Use mobile technologies to find our way, accept payments, make purchases, socialize, and much more.
Full of useful examples and free resources, El salto, shows us how to reap the greatest benefits from the latest technologies and get on the road to success.
About Ariel Coro
Ariel Coro is the most-recognized technology expert in the Hispanic community. Coro is a frequent collaborator on Univision television's number one morning show "Despierta America," where he educates Hispanic families on the latest advancements in technology. His educational message reaches millions of homes through television, radio, print and on the web. His weekly column appears in Los Angeles' La Opinion, the number one Spanish-language daily in the country, in New York's El Diario/La Prensa, and is syndicated across the country.
About Vintage Español
Vintage Español, a division of Random House, Inc., is one of the biggest Spanish-language publishers in the United States. Some of their authors are Gabriel García Márquez, Roberto Bolaño, Ken Follett, Isabel Allende, Junot Díaz and Dra. Isabel Gómez-Bassols, among many others.
El salto
Aprovecha las nuevas tecnologías y alcanza tu potencial
By Ariel Coro
ISBN: 978-0-307-94741-3 | 240 pages | $14.95 | Trade paper or ePub
Available February 7, 2012
Vintage Español
A division of Random House, Inc.
Please do not hesitate to contact us if you would like to interview the author—in person, through Skype or live to tape—or if you would like more information.
Cosette Torres, Tu Tecnología
(305) 741-2676 | cosette@tutecnologia.com
Vanessa López, Vintage Español
(212) 572-6115 | vlopez@randomhouse.com