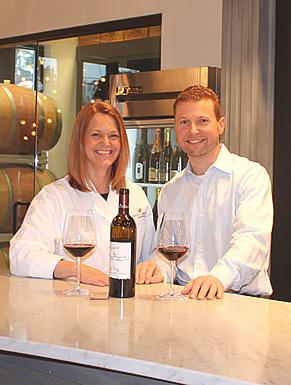 Casey Hickey and Mark Meissner, proprietors of Twenty Degrees Chocolates and Petit Philippe (respectively) in Charlotte, N.C.

Casey Hickey and Mark Meissner, proprietors of Twenty Degrees Chocolates and Petit Philippe (respectively) in Charlotte, N.C.
CHARLOTTE, N.C., February 29, 2012—Casey Hickey, owner of Charlotte's Twenty Degrees Chocolates, left corporate America to pursue her passion for chocolate. Moving across the country with her husband and two small children in the summer of 2010, Hickey could have no way of knowing that in just 14 months in business, the story of her mid-life career change to chocolatier/entrepreneur would be featured in O, The Oprah Magazine (O Magazine).
The "Live Your Best Life" section in February's O Magazine featured Hickey's early mid-life career change from development director to chocolatier/entrepreneur and how her dreams and passion combined with her talent to create "…something tangible…for people to indulge themselves or express their love."
"Being featured in O Magazine has been amazing. I've enjoyed connecting with new customers from across the country," said Hickey. "It also has been humbling. While I recognize that my chosen profession will not end hunger or cure cancer, I am humbled to think my story might inspire others to listen to their inner voices and pursue their dreams. In listening to our inner selves and following our passions and talents, we make our own contributions to the world, which I believe is significant in its own way."
Hickey, a native of Greensboro, N.C. and graduate of UNC-Chapel Hill in Chapel Hill, N.C., left her job as a fund-raiser with a San Francisco-based nonprofit organization in order to attend pastry school at Paris's renowned Le Cordon Bleu. She launched her formal studies thinking she was a "cake lady" and planning to hone her skills for artfully preparing this longtime culinary interest. Much to her surprise, however, she came out of Le Cordon Bleu having been wooed by chocolate, which she attributes to her instructor, Chef Nicolas Bernarde, whom she calls intense and passionate, as well as Paris's Salon du Chocolat and its chocolate fashion show.
Almost immediately upon graduating from the program, Hickey began dreaming about what she could do with her newfound interest in chocolate. She fantasized about creating artisan chocolates that were as pleasing to the eye as they were to the palate. She knew she wanted to combine high-quality, flavorful ingredients not commonly thought of as coexisting in order to create unusual yet memorable flavors. She and then-boyfriend and now-husband, Mark Meissner, envisioned his leaving corporate America also to combine his passion for wine with Hickey's aspirations. They continued to brainstorm and methodically began laying the groundwork to turn their dreams into reality.
Hickey earned a Professional Chocolatier certification from Ecole Chocolat in Vancouver, Canada and worked in several San Francisco Bay Area pastry kitchens, including SCHARFFEN BERGER Chocolate's Café Cacao in Berkeley, Calif. She also baked wedding cakes and experimented in her kitchen with an ever-growing list of ingredients that inspired her. Meissner studied wine-making and began his path to sommelier accreditation and ultimately made several reconnaissance missions to North Carolina, exploring three different metropolitan areasbefore deciding on Charlotte for its "market potential, close proximity to family, size, culture and amenities."
After marriage, two children and much research, Hickey and Meissner took the plunge: they left San Anselmo, Calif., in June 2010 to begin the journey toward opening Petit Philippe, a unique retail wine store, tasting room and current exclusive retailer for Twenty Degrees Chocolates.
Despite expected delays and unexpected challenges, including the theft of Hickey's laptop—which contained all of the recipes she had spent months creating and perfecting—Hickey and Meissner opened their shop in December 2010, just in time for holiday shopping.
On any given day, visitors to the shop may decide among approximately 20 different types of chocolate and caramel creations, some traditional and others unexpected, along with seasonal confections. They may also find Hickey in her on-site kitchen experimenting with new ingredient combinations. Some of her current selections include Kashmir Pear, a pear, saffron and wine-poached cardamom in white chocolate, The Highlander, a single malt scotch in milk chocolate ganache and Sweet Heat, fresh and dried chilis combined with tropical fruits.
Bolstered by the enthusiasm and encouragement of her local customers, Hickey plans to begin selling in gourmet food markets and select grocers throughout the Southeast in the coming months. In the meantime, customers may find Twenty Degrees Chocolates' products by visiting Petit Philippe in Charlotte (2820 Selwyn Ave., Suite 160) or by placing a phone order at (704) 332-9910.
ABOUT PETIT PHILIPPE & TWENTY DEGREES CHOCOLATES
Petit Philippe & Twenty Degrees Chocolates are partner companies offering boutique and premium wines and hand-made, artisan chocolates. The businesses share a retail space in Charlotte, N.C. under the Petit Philippe brand and online through their shared web store (currently in progress). Both the wine and chocolate may be shipped throughout the U.S.
Petit Philippe boasts more than 700 bottles of wine, including some brands not available elsewhere in Charlotte. The shop is open daily for tastings as well as for wine dinners and other events. The name "Petit Philippe" is a nod to the owners' longtime French friend by the same name; a person who embodies all that they wanted to give to their customers through their shop and products: adventure, charm, generosity and warmth.
Twenty Degrees Chocolates confections are made from the finest French couverture chocolates and created by hand using traditional European techniques and equipment. Customers may find around 30 different types of chocolate and caramel creations, some traditional and others unexpected, along with seasonal surprises.
The name "Twenty Degrees Chocolates" is derived from the region where the cacao tree grows, a small area only 20 degrees north and south of the equator. The tree requires the proper climate, soil and shade for growth and has an extremely small yield. The name conveys that chocolate, like its tree of origin, is prized and celebrated.
Petit Philippe & Twenty Degrees Chocolates are located in Tranquil Court at 2820 Selwyn Ave., Suite 160, Charlotte, N.C., 28209. Contact either shop's proprietor by phone at (704) 332-9910 or by email at casey@20DegreesChocolates.com or mark@PetitPhilippe.com.