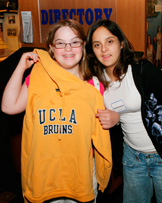 UCLA Extension's renowned Pathway certificate program will hold its first-ever expert chat for parents of university-bound young adults with autism and similar developmental or intellectual disabilities. The free half hour live video chat, which is also open to parents, educators and advocates, will occur Wednesday, Nov. 16, beginning at 2 p.m. (PST).
The free online "UCLA Extension Expert Insights" will feature Pathway Executive Director Eric Latham and Pathway Advisory Board member Patricia E. Bauer, a journalist and founding member. They will speak about the Pathway two-year residential certificate program that promotes independent living through a blend of educational, social and vocational experiences.
"UCLA Extension is among the handful of successful programs across the country giving these young adults both a college experience and the real-world skills for life after college," Latham said. "We realize parents of these children have many questions, such as supervision, the course structure, housing, costs and more. A live video chat provides an easy, discreet and comfortable setting to pose questions and hear what's on the minds of other parents.
"What's more, parents will be able to receive information simultaneously from both a practical and program perspective and from the view of one of our founders who also is a parent," Latham said.
Event registration is required. Parents and others interested in joining the discussion can RSVP by registering at the event website, http://uclaexlivechat.eventbrite.com/. Early sign-up is recommended, submit questions in advance to livechat@uclaextension.edu.
Pathway at UCLA Extension combines an academic course of study with social and recreational opportunities on the UCLA campus. Pathway's inclusive living and learning environment provides opportunities for young adults ages 18-25 to improve skills for independent living and employment; pursue educational enrichment and growth; and develop friendships and self-confidence.
Higher continuing education programs like Pathway are considered essential given a rise in the number of intellectually and developmentally challenged children and young adults who are capable of leading independent lives. With one in every 110 children today diagnosed with autism, for example, there is a corresponding increase need for programs and services to help transition these children into self-sufficiency when possible. More information about Pathway can be found at: www.uclaextension.edu/pathway and http://youtu.be/C4Uwn6OicDo.
The live chat occurs at a time when parents are considering post-high school options for their children. Enrollment applications to begin Pathway in fall 2012 are due by February 1, 2012.
The "UCLA Extension Expert Insights" chat represents the continuing higher education program's latest initiative to reach the post-secondary and post-bachelorette community with information and tools to enrich their lives or advance their careers.
About UCLA Extension
UCLA Extension is the continuing education division of the University of California at Los Angeles (UCLA). We offer courses evenings and weekends in Westwood and downtown Los Angeles, plus online classes available around the globe. Courses include business, arts, engineering, information technology, entertainment studies, public policy, public health, the humanities and more. Explore UCLA Extension: uclaextension.edu.