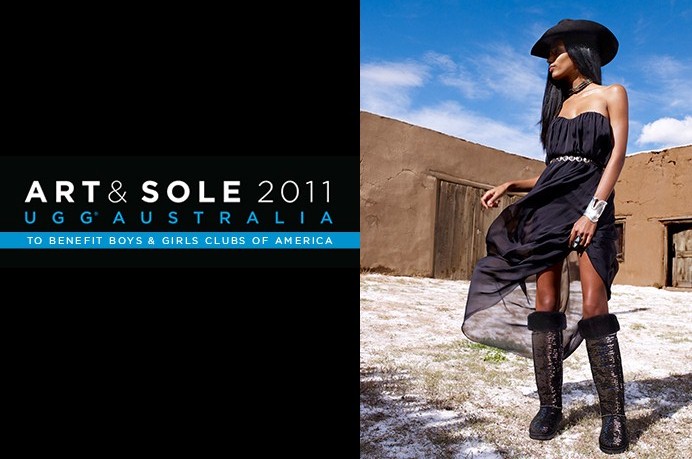 (New York, NY) January 18, 2012 - UGG® Australia is excited to announce Buket Pamuk as the winner of the 2011 Art and Sole charitable contest. The competition, which began this past November, called for artists to unleash their creativity on a pair of signature UGG boots and submit one-of-a-kind designs via social media.
Chosen by UGG Australia's V.P Creative Director Leah Larson, Pamuk's winning design was inspired by children, and depicts intersecting puzzle pieces, with an overlaying message of hope. Larson states, "We are inspired by Ms. Pamuk's design and her creativity behind it. Her vision immediately spoke to us and we are happy to make it a reality."
"When putting each puzzle piece together I imagined each child in our world coming together as one. I want to give off this idea that no child is alone and that we are all together", said Pamuk. "My message in this design is that none of these children are hopeless". Hailing from Turkey, Pamuk is currently a design student and plans to use the $5,000 prize towards furthering her education and to help children in need.
Pamuk is braced for global exposure, with her design serving as inspiration for a limited edition boot which will be produced and sold in UGG Australia domestic retail locations and online in 2012. A portion of the proceeds from the sale of the boots will benefit Boys & Girls Clubs of America (BGCA). Donations collected to date total over $126,000 from UGG Australia concept stores and a company match program.
The ninth annual Art and Sole campaign had over 900 submissions, 800,000 engagements and reached over 9.8 million people.
ABOUT ART & SOLE:
Art & Sole is a nationwide initiative created by UGG® Australia in 2003 to benefit a different charity each year. Manolo Blahnik, Ellen DeGeneres, Jennifer Garner, Liv Tyler, Betsey Johnson, Mariah Carey, Ashton Kutcher, Stuart Weitzman, Janet Jackson and many other top actors, musicians and designers have put their artistic skills to work for UGG® Australia's annual Art & Sole. Participants have used their creativity to make one-of-a-kind UGG boots of which proceeds are donated to a charity. Past charities have included St. Jude Children's Research Hospital, VH1's Save the Music Foundation, The Michael J. Fox Foundation and Oceania.
ABOUT BOYS AND GIRLS CLUBS OF AMERICA:
For more than 100 years, Boys & Girls Clubs of America (GreatFutures.org) has enabled young people most in need to achieve great futures as productive, caring, responsible citizens. Today, nearly 4,000 Boys & Girls Clubs serve some 4 million children and teens through Club membership and community outreach. Clubs are located in cities, towns, public housing and on Native American lands throughout the country, and serve military families in BGCA-affiliated Youth Centers on U.S. military installations worldwide. Clubs provide a safe place, caring adult mentors, fun and friendship, and high-impact youth development programs on a daily basis during critical non-school hours. Priority programs emphasize academic success, good character and citizenship, and healthy lifestyles. In a Harris Survey of alumni, 57 percent said the Club saved their lives. National headquarters are located in Atlanta. Learn more at bgca.org/facebook and bgca.org/twitter.
ABOUT TALENTHOUSE:
The cutting-edge social media technology platform, Talenthouse, launched in October 2009, utilizing social media to engage consumers and gain reach through life-changing, creative contests. In just two years, Talenthouse has developed more than 150 creative invites, integrating social media technology to aid emerging and established brands and artists gain recognition and virally grow their audiences.
Deckers Outdoor Corporation is a premier lifestyle marketer that builds niche brands into global market leaders by designing and marketing innovative, functional and fashion-oriented footwear developed for both high performance outdoor activities and everyday casual lifestyle use. Teva®, Sanuk®, UGG® Australia, TSUBO®, Ahnu® and MOZO® are registered trademarks of Deckers Outdoor Corporation.
# # #