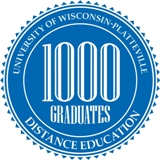 PLATTEVILLE, Wis. -- The University of Wisconsin-Platteville's Distance Education programs (UW-Platteville Online) has surpassed 1,000 graduates. From its beginning as an innovative correspondence service, the program now reaches more than 2,500 students worldwide.
"We're not scrambling to reach 100,000 students. And that's OK, because we understand that there's a real person behind every degree we grant," said Dawn Drake, executive director of alternative delivery systems. "Our student service representatives, advisors, and faculty know our students by name, guide them when they're uncertain and keep them on a path to graduation."
The distance learning program began in 1978, offering a single bachelor's degree: business administration and its first graduating class numbered five in 1981. UW-Platteville launched its first completely online program in 1999 with a master's degree in project management. The first online graduating class consisted of 13 people in 2001. Today, UW-Platteville Online provides eight degrees at both the graduate and undergraduate levels, including new master's degrees in organizational change leadership and integrated supply chain management. And on Saturday, Dec. 17, 70 online students are eligible for graduation.
"It's been fun seeing those numbers grow," Drake said.
Support and perseverance is the essence of UW-Platteville's Distance Education programs. Outreach Specialist Amy Griswold, who is working on her own online master's program, knows firsthand how important encouragement is for an online learner. "Sometimes that support doesn't come in the form of a cheerleader or a motivational life coach, but from the people we are with every day, who are proud of us and want to see us succeed."
That's one reason why Scott Brown chose UW-Platteville Online for his bachelor's degree in criminal justice. "The online courses were a blessing because you don't have to compete with 200 people in one classroom to have your voice heard."
An accredited pioneer in distance learning for the last 34 years, UW-Platteville was recently ranked among the top schools in the nation for affordable online business and criminal justice degrees.
"The value of higher education has never been greater," Drake said. "So, it's vital to ensure programs remain accessible to a broad range of working adults. One way of doing that is keeping tuition affordable."
Nationally, more than 6.1 million students were taking at least one online course during the fall 2010 term, an increase of 560,000 students over the previous year, according to the Sloan Consortium. In addition, 18.2 million students are expected to enroll in an online degree program by 2013, according to the National Center for Education Statistics.
Visit www.GoUWP.com, call (800) 362-5460 or email disted@uwplatt.edu to learn more about UW-Platteville Online.