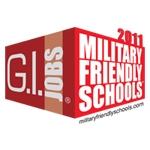 PLATTEVILLE, Wis. – The University of Wisconsin-Platteville, and its Distance Learning Center, have been designated a Military Friendly School® for the third year in a row by G.I. Jobs Magazine, a journal covering higher education for the 8 million military members and veterans seeking a school. The list includes the top 20 percent of colleges, universities and trade schools that do the most for America's veterans when they transition to students.

"We're honored to receive the distinction and be able to provide a valuable service to the nation's most deserving heroes," said Karen Adams, director of corporate marketing for the Distance Learning Center. "They have unique educational challenges and it's important that universities help them overcome those obstacles."

Criteria included academic strength, on-campus and online advice, support provided to veterans and their families, and the effectiveness of a school's distance learning programs. The final list, which included UW-Platteville, was compiled from a survey of more than 8,000 schools.

"The competition was fierce and as a result we raised the already stringent criteria to a higher benchmark," said Rich McCormack, publisher of G.I. Jobs magazine. "Veterans need a trusted friend to help them decide where to get educated. The Military-Friendly Schools list is that trusted friend."

The designation comes on the heels of UW-Platteville being named the Best School for Online Education by Corporate Report Wisconsin.

The UW-Platteville provides eight online degrees entirely online. Visit www.GoUWP.com, call (800) 362-5460 or email disted@uwplatt.edu to learn more.