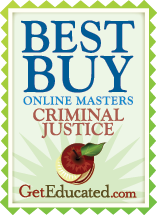 PLATTEVILLE, Wis. – The University of Wisconsin-Platteville and its Distance Learning Center have reached a top 20 spot in GetEducated.com's "Best Buys" for an online master's degree in criminal justice. It's the second time in less than five months that UW-Platteville Online has earned a Best Buy designation.
"The value of higher education, especially in criminal justice, has never been greater," said Dr. Cheryl Banachowski-Fuller, program director for the university's master's program in criminal justice. "So, it's vital to ensure programs remain accessible by keeping tuition affordable."
GetEducated.com, an online consumer watchdog and advocate for prospective distance education students, rates and compares online schools and degrees based on cost and quality, student satisfaction and credibility. The Best Buy designation indicates that UW-Platteville Online provides a master's degree in criminal justice for under $45,000.
GetEducated.com's rankings were calculated by analyzing tuition and distance learning fees at 39 regionally-accredited online criminal justice schools that offer 56 distance bachelor degrees in criminal justice, homeland security, law, and legal studies. UW-Platteville ranked 17th. Colleges don't pay to be listed.
In September 2011, UW-Platteville Online earned a top 25 spot in GetEducated.com's "Best Buy" list for its bachelor's program in criminal justice. At about that same time, UW-Platteville introduced a Child Advocacy Studies certificate to graduate students. The certificate is designed for those interested in professions that work directly with or among maltreated children. It also meets the mission of the National Child Protection Training Center.
UW-Platteville Online provides eight web-based degrees. Visit www.GoUWP.com, call (800) 362-5460 or email disted@uwplatt.edu to learn more.