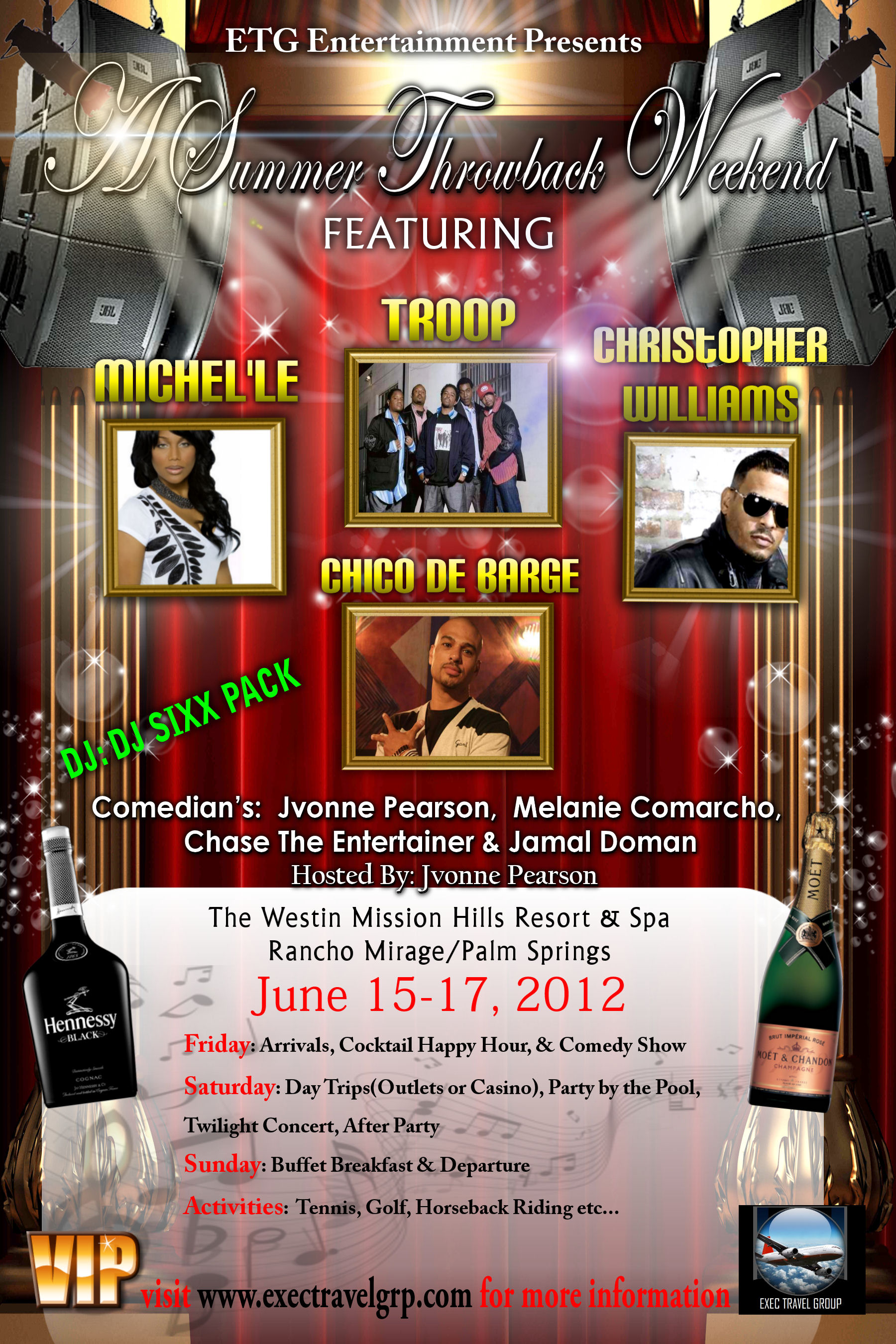 (Palm Spring, CA- March 26, 2012)-The stars are set to align during ETG Entertainment's A Summer's Throwback Weekend June 15- 17, 2012 in Palm Springs, California. Packing in 72 hours of music, good spirits, and entertainment, the ETG hosted weekend will take place at The Westin Mission Hills Resort and Spa in Rancho Mirage/Palm Springs. This year's schedule of events is guaranteed to give guests a flashback to their favorite hits from the 90's. Performing at this year's event are chart-topping artists who include "Oh No!" crooner, Chico Debarge, award-winning singer/actor Christopher Williams, "No More Lies" artist, Michel'le, and R&B superstar group, Troop. The event also hosts a multitude of celebrity comedians including host of BET Comic View; Jvonne Pearson, Melanie Comarcho, Chase The Entertainer, and Jamal Doman.
The weekend gets underway on Friday, June 15 with a Pink and Black Happy Hour followed by a Pink and Black Throwback Comedy Show. The opening night ends with a celebratory Pink and Black Birthday Bash with a special surprise guest.
ETG weekend guests will be able to rise and enjoy specialized day trips which include a day of amazing shopping or trying their luck at the local casino. Other day activities include sporting around on the Westin's property with their picturesque golf amenities and/or unwinding in the Westin's tranquil spa at discounted rates for the Summer Throwback guests. The party starts again at 3:00 p.m. with a Mid-day Party by the Pool after which familiar grooves will fill the air at 10:00 p.m. with the Twilight Throwback Concert featuring the celebrity performers. At 12:00 a.m. party-goers will enjoy a Concert After-Party until 3:00 a.m.
On Sunday, June 17, 2012 guests will dine on a grand American buffet breakfast with magnificent home-style foods. The culmination of weekend events will allow Throwbackers to relax and get ready for the 2013 events.
Travel arrangements can be made through Exec Travel Group where guests can choose from Standard and VIP packages. To reserve your weekend package there is a $25 fee per person. Standard room deposit of $100 and VIP room deposit of $200 are both due by April 14, 2012. A second room deposit is due by May 4, 2012 and the final payments will be due by June 1, 2012. Please note that reservation fees and room deposits are non-refundable.
For sponsorship opportunities, price inquiries, and reservations, please visit www.exectravelgrp.com or call 1 888.871.1641, ext 10