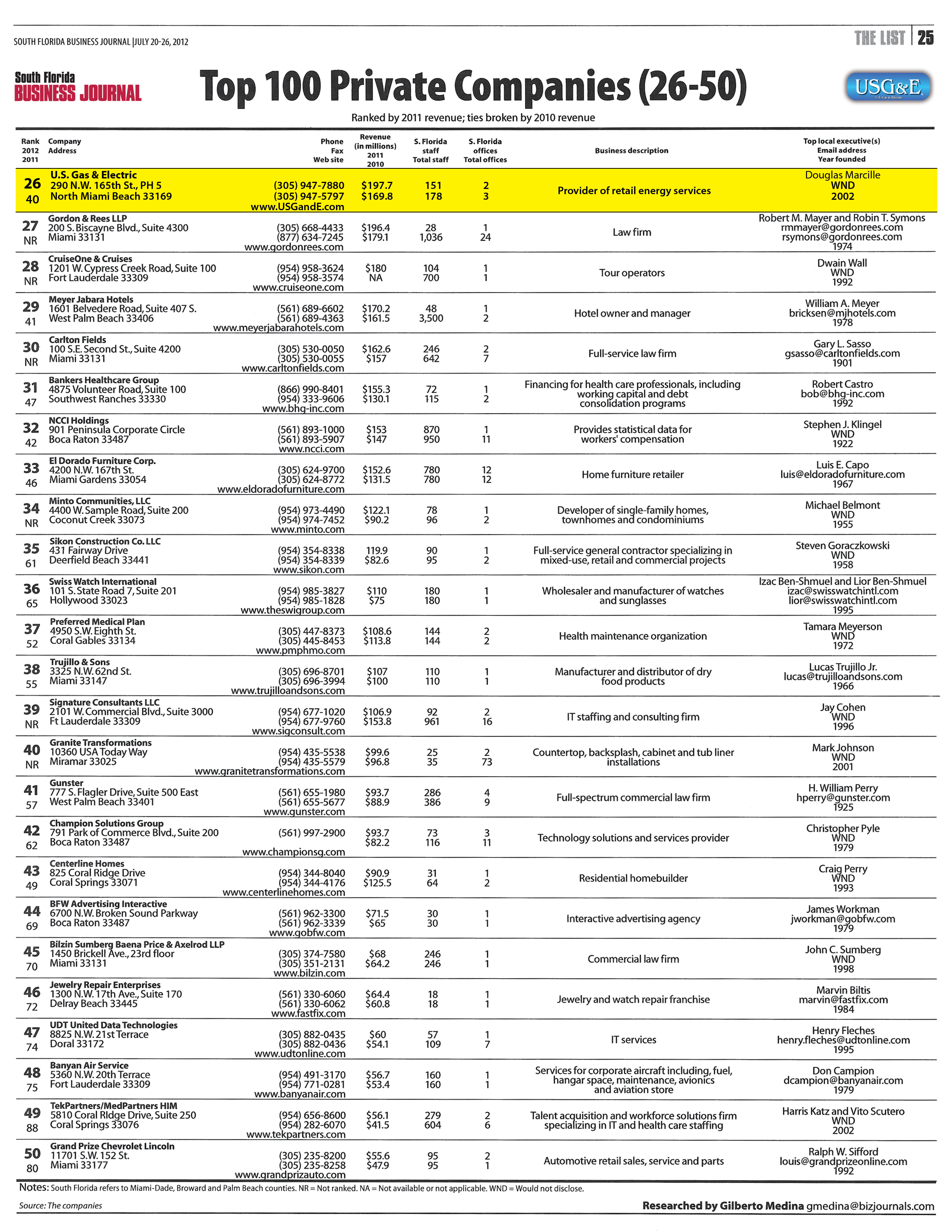 July 25, 2012 (Miami, FL) – U.S. Gas & Electric, its subsidiaries and family of companies ("USG&E"), a provider of natural gas and electricity to commercial and residential consumers in a growing number of states, has been recognized by the South Florida Business Journal as one of the Top 100 Private Companies in Florida.
As the company continues to excel and maintain its position as a leader in the energy sector, USG&E ranks #26 for 2012, which places the organization higher than last year's #40 position. Each year, the South Florida Business Journal publishes a list of the region's Top 100 Private Companies based on revenue growth.

"This great achievement demonstrates the dedication and commitment of the entire organization," stated Doug Marcille, Director, CEO and President of USG&E. "We are proud to be included among other great companies and having our efforts recognized and rewarded."

The South Florida Business Journal provides an annual listing for businesses headquartered in Florida that have shown significant increased total revenue over the previous year. The top 10 companies on this year's list each had 2011 revenue of at least $1 billion. This year, the list was topped by a company that reported $9.5 billion in revenue in 2011.

ABOUT U.S. GAS & ELECTRIC
U.S. Gas & Electric, its subsidiaries and family of companies ("USG&E"), is a leading retail energy supplier to commercial and residential customers in Connecticut, Illinois, Indiana, Kentucky, Maryland, Massachusetts, Michigan, New Jersey, New York, Ohio, and Pennsylvania. USG&E provides energy to customers with wide ranges of energy usage patterns and requirements and gives them the benefit of being a part of a large wholesale buying pool. The company relies on their market knowledge, internal efficiencies, and core capabilities to provide customers with the best possible pricing plans for the energy they provide. To date, USG&E has saved more than 200,000 customers over $39 million on their natural gas and electricity supply. For more information, visit www.USGandE.com.