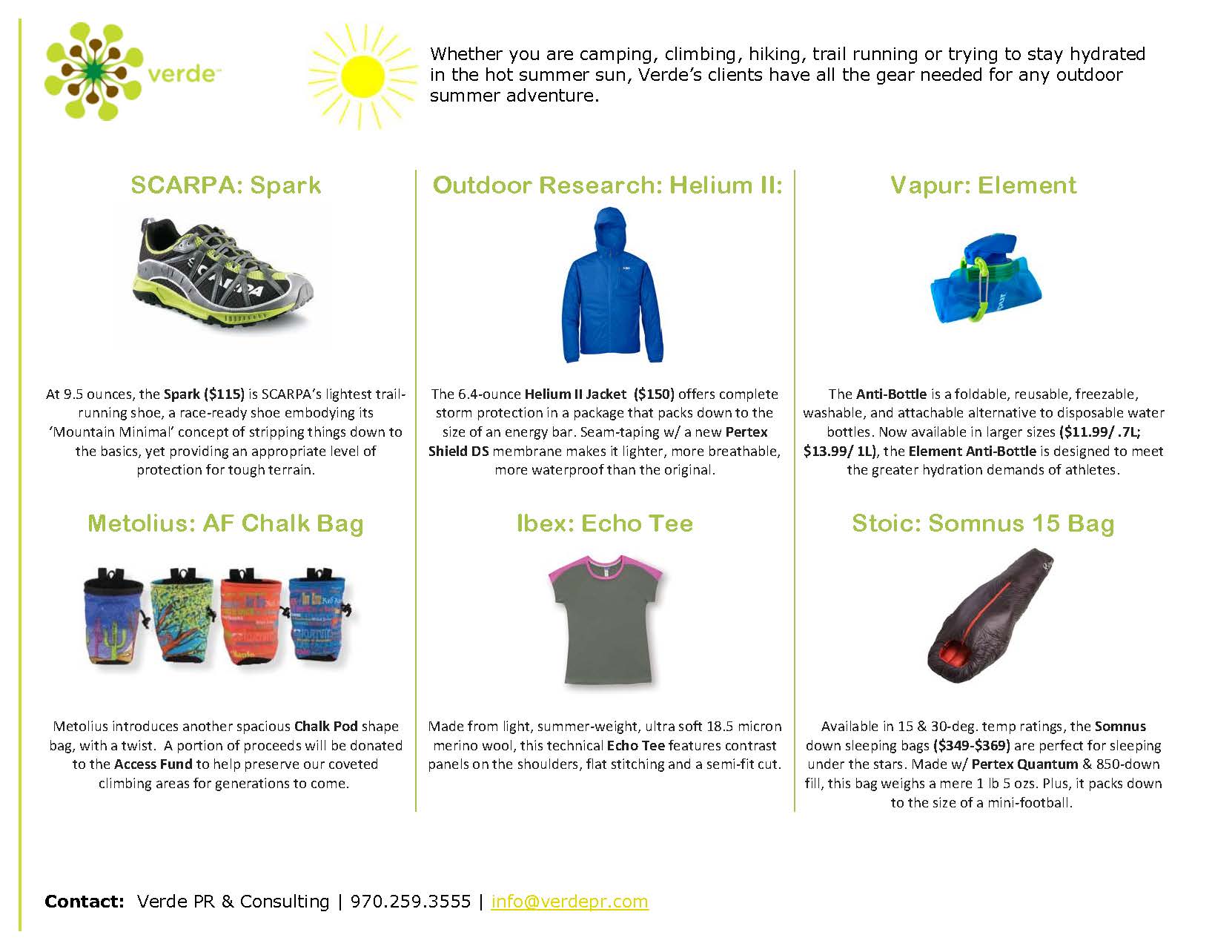 Whether you are camping, climbing, hiking, trail running or trying to stay hydrated in the hot summer sun, Verde's clients have all the gear needed for any outdoor summer adventure.
Client Products:
Ibex - Echo Tee
Metolius - Access Fund Chalk Bag
Outdoor Research - Helium II
Pertex Shield DS - waterproof membrane
SCARPA - Spark trail running shoes
Stoic - Somnus 15 down sleeping bag
Vapur - Element Anti-Bottle
Interested in these products or other summer gear from Verde PR's clients? Contact Tessa Sibbet at Tessa@VerdePR.com
To download the full PDF, click here.
About Verde PR & Consulting
With offices in Durango and Boulder, Colo. and Jackson, Wyo., Verde PR & Consulting is a full-service traditional and digital public relations, marketing, branding, and consulting agency, with an emphasis in sustainability. Verde's clients are rooted in the outdoor, bike, and snowsports industries, as well as the health and wellness and Lifestyles of Health and Sustainability (LOHAS) markets. For more, visit:www.VerdePR.com
Our client list includes: Atlas Snowshoes, Backcountry.com, BioLogic cycling products, Confluence Watersports, Drift, Freenotes Harmony Park, G3, Ibex, Julbo, Madshus, Metolius, Mountain Mama, Nikwax, Outdoor Research, Pertex, PrimaLoft Insulation, Princeton Tec, SCARPA, SOLIO, Stoic, Tern Bicycles, Teko Socks, Tubbs Snowshoes, Vapur, Zuke's Pet Treats, and Conservation Alliance