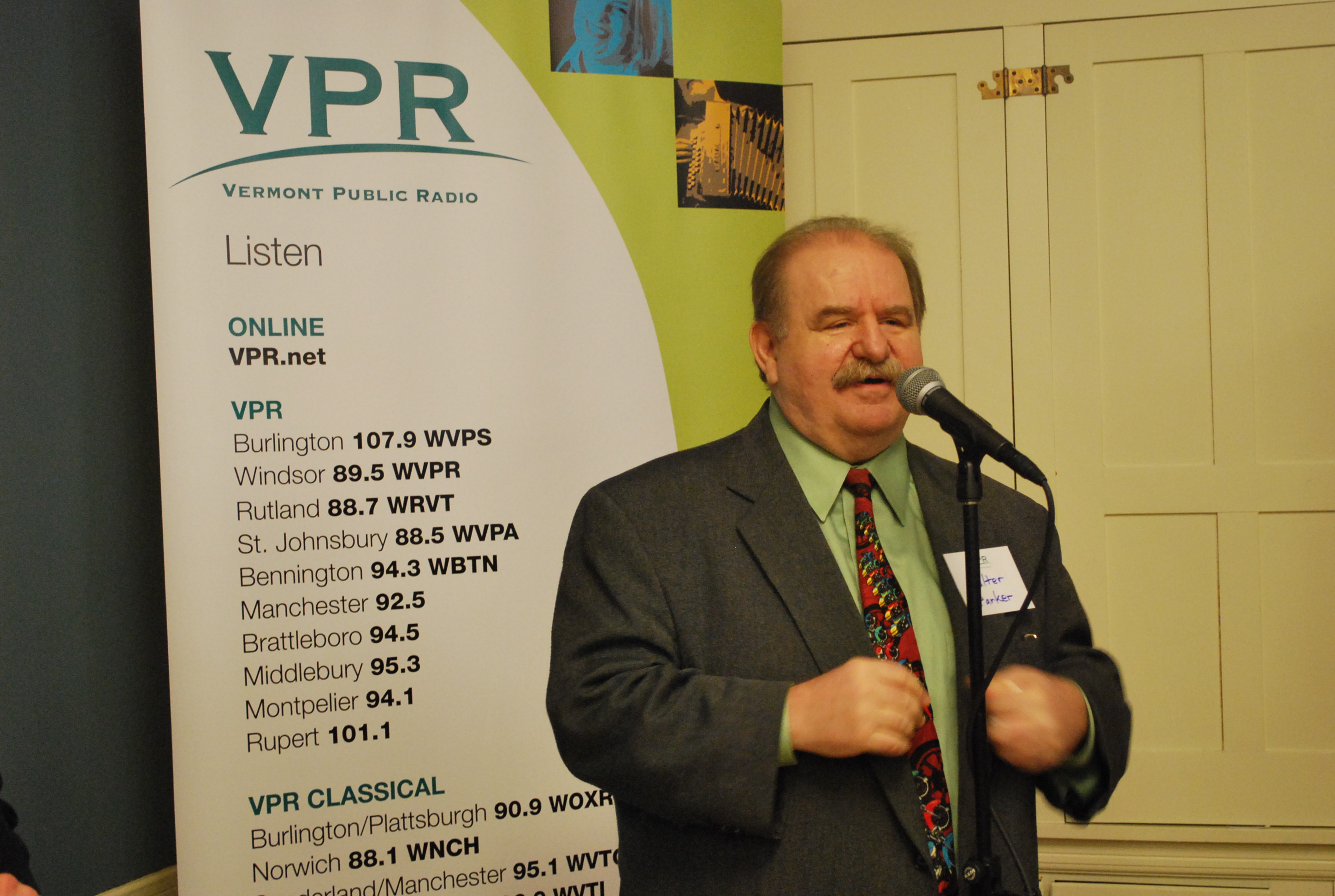 VPR Classical Host Walter Parker addresses the crowd.

VPR Classical Host Walter Parker addresses the crowd.
Vermont Public Radio has announced a $300,000 campaign to fund the purchase and maintenance of VPR Classical's station at WVXR 102.1 FM, which serves 92,000 people in central Vermont.

VPR kicked off the public phase of its campaign at reception last weekend at Chandler Center for the Performing Arts in Randolph, prior to a concert by pianist and Beaux Arts Trio founding member Menahem Pressler.

During the reception, VPR announced to the 110 guests in attendance, a special community challenge to build on the campaign's momentum: When VPR Classical listeners come together to raise $50,000 for WVXR, two local supporters will contribute an additional $25,000 to the campaign.

"This generous couple loves and supports arts and culture in the region and have stepped forward in a significant way to encourage others to join this effort," said Brendan Kinney, vice president for development and marketing. "Together with them and wonderful partners like Chandler Center for the Performing Arts, we are confident that the community will come together to support this important campaign. This opportunity may make it possible to wrap up the campaign by the end of the calendar year."

In 2010, Vermont Public Radio purchased 102.1 FM to bring classical music to central Vermont. Based in Randolph, the station reaches about 92,000 Vermonters across a large swath of central Vermont, from Berlin to Woodstock north to south and from Route 100 to Interstate 91 from east to west.

Last summer, WVXR underwent a major antenna upgrade that allowed VPR to consistently operate the station at full power, resulting in a stronger, higher-quality signal for the WVXR coverage area. With the addition of WVXR, VPR Classical can now be heard all along I-89 in Vermont, from north of Burlington all the way into New Hampshire.

VPR has a history of successful campaigns to expand VPR Classical. In the past several years, communities in the Upper Valley and Addison County have come together to bring VPR Classical to the airwaves in their area

"Vermont Public Radio is dedicated to the preservation, celebration, and promotion of classical music in our region," said VPR President Robin Turnau. "At a time when commercial classical stations are disappearing, the ongoing expansion of VPR Classical shows that Vermonters share our passion for classical music and want it to be available for this generation and generations to come."

To date, $191,000 has been raised for the WVXR campaign. For information on how to help with this campaign, contact Retta Huttlinger at 1-800-639-2192.

About VPR Classical
VPR Classical is Vermont's only classical music network featuring local hosts throughout the day. Walter Parker and Joe Goetz share their extensive knowledge and passion for the music Monday through Friday. Other highlights include A Passion For Opera with Peter Fox Smith, Performance Today, Sunday Baroque, From the Top, and weekly concerts by the Boston Symphony Orchestra.

A growing audience counts on VPR Classical as a hub for Vermont's diverse arts and cultural community. Statewide, the VPR Classical network serves approximately 70% of Vermont's population, with more expansion opportunities being pursued.