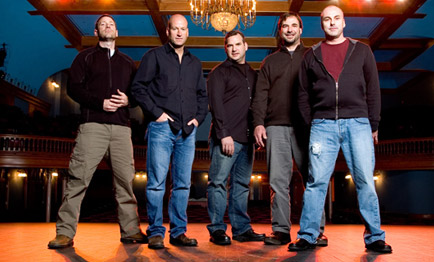 April at Viper Alley: The North Shore's newest concert venue

Saturday, April 2, 8:15 pm
Dennis DeYoung: The Music of Styx Unplugged
Come sail away at VIPER ALLEY - experience the music you love in a whole new way, as Dennis DeYoung, lead guitarist and vocalist of Styx and now a successful solo artist, performs the band's classic hits unplugged. Chicago native DeYoung is a founding member of Styx, best known for hits such as "Lady," "Babe," "Come Sail Away," "Mr Roboto" and four multi-platinum albums, "The Grand Illusion," "Pieces of Eight," "Cornerstone," and "Paradise Theatre." The multi-talented DeYoung has released eight solo albums, and his songs have been featured in dozen of films, TV shows and commercials.

Saturday, April 9, 8:15 pm
Freddy Jones Band
Freddy Jones Band is back after a 10-year hiatus! Check out these roots rock legends at Viper Alley. The band, originally based in Chicago, was formed in the late 80s and has built an enthusiastic cult following. Freddy Jones Band's most recent release is Time Well Wasted (2008).

Friday, April 15, 8:15 pm
The Prince Experience
If you love the outrageousness and great music of Prince, check out The Prince Experience, a masterful recreation-- theatrics, costumes and all.

Friday, April 22, 9:15 pm
Arturo Sandoval
Don't miss jazz icon and Dizzy Gillespie protégé Arturo Sandoval when he takes the stage April 22 at Viper Alley. The Cuban-born Sandoval, now a US citizen, was the first to introduce Latin influences into American jazz back in 1949. Not only is he a master at jazz trumpet and flugelhorn, but he is also a renowned classical artist, pianist and composer. Sandoval has won four Grammy awards, six Billboard awards and an Emmy Award.

Saturday, April 23, 8:15 pm
Infinity
Love the music of Bon Jovi, Journey, Boston, REO Speedwagon and Van Halen? Infinity plays their hits.and much more!

Friday, April 29, 8:15 pm
Soul Asylum
Platinum-selling rock stars Soul Asylum climbed to the top from their start as a teenage garage band. Best known for their top 10 singles "Runaway Train" and "Black Gold," Soul Asylum became a household name, even performing at President Clinton's 1992 inauguration. Catch them performing all their hits this April at VIPER ALLEY.

Saturday, April 30, 8:15 pm
Edwin McCain
Best known for his emotional ballads, Edwin McCain is a platinum-selling singer-songwriter whose style blends equal parts folk, rock and soul. His top-ten hit, "I'll Be" was voted "Best Wedding Song" by over one million viewers on the Dr. Phil Show.

About Viper Alley
Viper Alley is a dynamic new boutique concert venue and nightclub from the creator of Chicago's award-winning theWit Hotel. Located in Lincolnshire, IL, Viper Alley offers the ultimate year-round entertainment experience for up to 500 guests, in the heart of Chicago's suburban North Shore. The venue, which includes a lounge and bowling, offers live music Wednesday through Saturday and DJs Thursday until midnight and Friday and Saturday until 2 am. Food and drink at Viper Alley includes small plates, sandwiches, desserts and gourmet pizza from Reverb Kitchen, as well as a full bar with handcrafted cocktails. Tickets to concerts at Viper Alley may be purchased online at www.ticketweb.com. For more information, visit www.viper-alley.com.