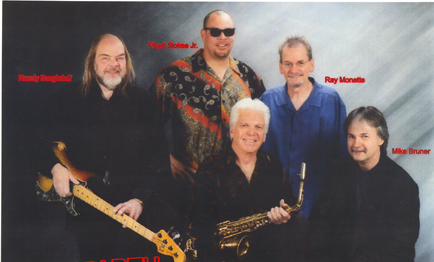 Whether it's jazz greats like the incomparable Rachelle Ferrell, legendary blues artists like Ronnie Baker Brooks or iconic rock bands like Rare Earth or Little River Band, Viper Alley offers an immersive musical experience in an intimate setting.
Enjoy top quality sound, pre-show dining, fine wines and beers and handcrafted cocktails.
Tickets are available at www.viper-alley.com and through Ticketweb.com.
Friday, Dec. 23, 8:30 pm
Triadd
$5 cover
Come join us for this great acoustic trio to warm you up for the holidays!
*Rick Jacob had one of the first Music Videos on MTV, performed on American Bandstand, Solid Gold and The Merv Griffin Show. Rick toured with The Who, Hall & Oates and opened for other great acts such as Kansas, John Cougar, Night Ranger, Eddie Money, Huey Lewis and The News, Peter Frampton, Jefferson Starship, Rick Derringer, Billy Squire, Missing Persons and Joan Jett. Rick plays: acoustic, lead and bass guitars, sings lead and back-up vocals.
*Tim McGovern played lead guitar for several years with Chicago based group "JAMBOUY BAND" Tim plays: acoustic guitar, electric guitar, lead and bass guitar, lead and back-up vocals.
*Steve Moss Among Steve's accomplishments, played with "JAMBOUY BAND" with Tim McGovern and a widely used studio drummer for many recording Chicago acts. He's a singer/songwriter, plays guitar, keyboards and is a studio engineer/ producer in his own right. Steve plays drums, percussion and sings lead and back-up vocals.
Singing songs from...
Beatles, Eagles, Crosby, Stills, Nash & Young, Jason Mraz, Bon Jovi, Doobie Bros., The Who and so many more!
Saturday, Jan. 7, 9 pm
Evolution
Tickets: $10-$15
Evolution, Chicago's new premier rock band, has evolved from the ashes of Hi Infidelity. The three founding members of HiFi, Virgil Neace, Brad Hollands and Gary Scofield-- have formed a new band in the same style of their previous band that enjoyed much success over the past 20 years. You would be hard-pressed to find any venues in the Chicago music scene the three have not played, from clubs to outdoor festivals to casinos plus corporate and private events.
The three new members (Shawn Anthony, Troy Grandt and Dan DiCaro) were selected from the many musicians that auditioned for this new project. Many of those who auditioned were exceptional, and we thank them for their interest. Shawn, Troy and Dan, however, stood out among them, completing the band's special dynamic. After a few months of rehearsing, the band sounds tight, crisp, powerful, and ready to go beyond their past achievements.
Evolution covers Bon Jovi, R.E.O Styx, Boston, Journey and all the songs you still love to hear.
The band's sound is incredibly dynamic and unique with the twin lead guitars of Virgil and Gary. Brad and Troy create a rhythm section that is second to none, holding down the foundation. On keys, Dan prides himself on replicating the original sound of each song we cover. Last, but far from least, Shawn has the ability to cover various vocal styles with an innate, melodic sense. Each member has spent most of their musical life playing this genre of music, which is evident in their performances. (Fans themselves, they love this music! Evolution hails from the Chicago suburbs,) where they play all the local clubs and fests. So come on out to a show, have some fun, and let the music carry you away!!!
Thursday, Jan. 12, 8 pm
Rare Earth
Tickets: $15-$40
RARE EARTH has been an established name in the music industry for over two decades, and now they are back performing with the same unique and recognizable sound that has always been their own!
These individuals guarantee the audience an evening of the greatest musicianship and singing ever to be heard! Needless to say, everyone walks away excited and with the warm feeling that they have gotten their money's worth. It is truly an exhilarating experience!
Recently, Rare Earth decided to tour again – much to the applause of their many fans across the country. Rare Earth has their audiences up and out of their seats dancing and singing along with their million selling classics such as "Get Ready", "Hey Big Brother", "Losing You", "Born to Wander", and "I Just Want to Celebrate" creating an atmosphere reminiscent of the Madison Square Garden Concert in 1970, the Atlantic Pop Festival in 1971 or the California Jam which was one of their most memorable concerts broadcast nationally in 1974.
Rare Earth has an amazing track record over 3,000 concerts with such performances as the Ed Sullivan Show, The David Frost Show, Dick Clark's American Bandstand and Don Kirshner's Rock Concert. Rare Earth performed on the very first Midnight Special where they set the precedent in performing live instead of lip synchronization to a record. They have been asked back a total of three times by the producers of Midnight Special. Rare Earth – definitely crowd pleasers!
They have performed with Jimi Hendrix, Sly and the Family Stone, and Ike and Tina Turner. Some acts that have opened a Rare Earth concert are Earth, Wind, and Fire, Steely Dan, and the Doobie Brothers. Among those activities, including performances in Alaska, Hawaii and a concert tour of South America, they were commissioned to do the title song of the move "Generation" starring Kim Darby and David Jansen.
Out of the nine albums released by Rare Earth, two have gone Double Platinum ("Get Ready" and "Rare Earth in Concert"); one Platinum ("One World")' and three Gold ("Ecology", "Willie Remembers", and "Ma") along with several million selling singles. The group tours Europe annually with rave reviews. In 1994 they released their first studio recorded album in 17 years called "Different World" on the Koch Int. label.
Rare Earth has always been the "People's Band" and the thirst for performing for a live audience has brought them back to touring the country – performing WITH the audience, not at them.
Rare Earth is great! At the climax of their show, the audience is always on their feet – some of those feet on chairs and tables – with the audience demanding an encore, which is acknowledged with another show stopping "million seller" by the incomparable Rare Earth.
Saturday, Jan. 14, 9 pm
Blues Legend: Ronnie Baker Brooks with Howard and the White Boys
Tickets: $10-$30
When he debuted with GOLDDIGGER in 1998, much of the blues world was already familiar with Ronnie Baker Brooks via his long apprenticeship as bandleader for living legend patriarch, Lonnie Brooks. His primal effort helped him earn a WC Handy Award nomination for "Best New Blues Artist" and enough encouragement from fans and media to light the runway for takeoff of a successful solo career.
His career since has successfully navigated a path through the heaving landscape of independent music marketing, revealing how today's talented artist can achieve unprecedented self-determination in their careers with hard work, intelligent marketing and grass roots loyalty.
"You won't hear me singing songs about working in the fields or trying to move up from out of the Delta, because those aren't my experiences…" Ronnie says, "but you will hear songs about growing up on the south side of Chicago and the things you see in the ghetto as a kid. They're different experiences, so I might sing about them a different way, but it's still the blues."
Made up entirely of original material, most of the new songs were recorded in Memphis with the same Chicago-based ensemble that has backed Ronnie on the road these past several years. Several others were recorded in Minneapolis where Ronnie enlisted members of another band that knows well how to keep up with a funky front man, Chance Howard and Michael Bland of Prince's New Power Generation.
Friday, January 20, 9 pm
Mr. Blotto: Recreating Pink Floyd
Tickets: $10-$15
Mr. Blotto was born in Chicago as an off-night vehicle for musicians who loved each others playing but were in different bands at the time. The only rule was that they would only play what they loved. That philosophy continues today and has led Mr. Blotto into unique musical situations.
Mr. Blotto takes the Jam band asthetic into areas unfamiliar to the standard Jam Scene. They have been known to cover entire albums by Led Zeppelin and the Who as well as perform entire shows of Country and Reggae. Artists as diverse as the Grateful Dead, the Flaming Lips, Willie Nelson and The Velvet Underground have seen their material interpreted by Mr. Blotto in the 2000+ shows the band has performed in the last 15 years, yet covers only pepper the bands hefty catalog of original material stemming from five studio albums and other unreleased crowd favorites.
Thursday, January 26, 8 pm
Little River Band
Tickets: On sale 12/6 at noon
Little River Band was formed in Melbourne, Australia in 1975. It was originally a blend of musicians who had enjoyed success in other Australian acts. Their new focus was to get airplay on American radio, and they achieved that goal with good songwriting, powerful vocals, and guitar harmonies. They immediately claimed their place as one of the great vocal bands of the '70s…and the '80s.
Between 1976 and 1983, chart success in America includes the following singles:It's a Long Way There, Help Is on Its Way, Happy Anniversary, Reminiscing, Lady, Cool Change, Lonesome Loser, The Night Owls, Take It Easy On Me, Man On Your Mind, We Two, and The Other Guy.
Little River Band is considered to be one of Australia's most significant bands. Worldwide album and CD sales now top 30 million. They also set a record for having Top 10 hits for 6 consecutive years…the first band to achieve that mark. And according to BMI, Reminiscing has garnered rare status with over 5 million airplays on America radio…and Lady is close behind with over 4 million airplays. LRB was rightfully inducted into the Australian Recording Industry Association (ARIA) Hall of Fame at the 18th Annual ARIA Music Awards of 2004.
The current lineup brings new energy and arrangements to the classic hits, making new memories for the audience out of each live performance. It's always fun to watch as people are swept up by the show's vitality and the volume of hits from LRB's history. You'll see plenty of people mouthing the words..."I love this song...I forgot it was one of Little River Band's hits!"
Wednesday, February 22, 7 pm
Rehab
Tickets: On sale Jan 11 at noon
The Atlanta-based quintet breaks new ground and addresses new challenges on its latest album, Graffiti the World. The collection is truly the work of combined contributions from each individual member of the band. "It's five people getting' together and trying to do the music that they want to hear," says front man Danny Alexander. "Everybody contributed. You always have a vision of what you want to do and it never really comes out the way you plan it, but the end result is really good. You're just constantly trying to put out what you feel." The final result of their combined efforts evokes a more positive and inspired feeling to the record. Formed in the late '90s, pioneering mash-ups of scorching rock and searing rap, Rehab released its debut album, Southern Discomfort in 2000, filled with an array of guest stars including Cee-Lo, Goodie Mob and Cody Chestnutt. The album spun off the top 15 modern rock hit "It Don't Matter" and sold over 140 thousand units. This success enabled the band to kick off a 2 year national tour supporting the Vans Warped Tour and bands like Kotton Mouth Kings and Linkin Park. Then, three years ago, in the wake of diverging creative, personal and financial points of view, the group splintered. While facing down his own personal demons, Danny brought together a new version of the band, which has delivered, Graffiti the World. "I did a lot of observing and lyrically sat down for a while and thought about what was going on around me, what I wanted to do and where I wanted to do it," Danny says. This album is a documentary of the station you are in life and trying to get to the next area or stop."
Saturday, March 3, 6 pm and 9:30 pm
An Evening with Rachelle Ferrell
Tickets On Sale Dec. 6 at noon
Composer, lyricist, arranger, musician, and vocalist Rachelle Ferrell is a recent arrival on the contemporary jazz scene, but her visibility on the pop/urban contemporary scene has boosted her audience's interest in her jazz recordings.
Ferrell's debut, "First Instrument," was released in 1990 in Japan only. Recorded with bassist Tyrone Brown, pianist Eddie Green, and drummer Doug Nally, an all-star cast of accompanists also left their mark on her record. They include trumpeter Terrence Blanchard, pianists Gil Goldstein and Michel Petrucciani, bassists Kenny Davis and Stanley Clarke, tenor saxophonist Wayne Shorter, and keyboardist Pete Levin. Her unique take on now-standards like Sam Cooke's "You Send Me," Cole Porter's "What Is This Thing Called Love," and Rodgers & Hart's "My Funny Valentine," captured the hearts and souls of the Japanese jazz-buying public.
In 1995, Blue Note/Capitol released her Japanese debut for U.S. audiences, and the response was similarly positive. Her 1992 self-titled U.S. debut, a more urban pop/contemporary album, was released on Capitol Records. Ferrell was signed to a unique two-label contract, recording pop and urban contemporary for Capitol Records and jazz music for Blue Note Records.
For four consecutive years in the early '90s, Ferrell put in festival-stopping performances at the Montreaux Jazz Festival. Although Ferrell has captured the jazz public's attention as a vocalist, she continues to compose and write songs on piano and violin. Ferrell's work ethic has paid off, and Gillespie's predictions about her becoming a "major force" in the jazz industry came true.
Her prolific songwriting abilities and ability to accompany herself on piano seem only to further her natural talent as a vocalist. "Some people sing songs like they wear clothing, they put it on and take it off," she explains in the biographical notes accompanying First Instrument. "But when one performs four sets a night, six nights a week, that experience affords you the opportunity to present the song from the inside out, to express its essence. In this way, a singer expresses the song in the spirit in which it was written. The songwriter translates emotion into words. The singer's job is to translate the words back into emotion."
About Viper Alley
Viper Alley is a dynamic boutique concert and dining venue from the creator of Chicago's award-winning theWit Hotel. Located in Lincolnshire, IL, Viper Alley offers an immersive music experience and the ultimate in year-round entertainment for up to 500 guests in the heart of Chicago's suburban North Shore.

Media contact: Toni Antonetti, PR Chicago, 847-949-0097, toni@prchicago.com; Marcy Manning, PR Chicago, 847-398-1388, marcy@prchicago.com