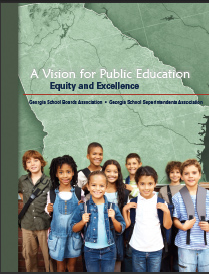 ATLANTA -- The Georgia School Boards Association and the Georgia School Superintendents Association partnered to create a new vision for public education in Georgia. The partnership included superintendents, school board members and a cadre of university and school district level education experts. Input from citizens all over Georgia helped the team with its work.

Phase 1 of the project is complete. This phase included work on transforming the way Georgia plans for, delivers, sustains, and provides public education for children from birth through the completion of high school. A report was developed after two years of work and includes recommendations that are organized into seven education system components:

Early Learning and Student Success
Teaching and Learning
Teaching and Learning Resources
Human and Organizational Capital
Governance, Leadership, and Accountability
Culture, Climate, and Organizational Efficacy
Financial Resources

The full report of Phase 1 of the work of the team is now available on the vision project website: www.visionforpubliced.org. The report is the primary product of the two-year undertaking, which involved a planning team composed of 15 local school superintendents and 15 local board of education members. Eleven facilitators and 30 college, university, and K-12 research associates provided ongoing support for the project. The planning team represents 25 local school districts that enroll approximately 25 percent of the students in Georgia's public schools.

Nine community conversations were conducted over the state along with four student conversations to solicit the views of citizens and secondary school students about the current state of public education and their hopes for the future.

Phase 2 includes dissemination of the information, study of the recommendations by local districts and their communities, and finally implementation.

Complete information on the vision project can be found at www.visionforpubliced.org.