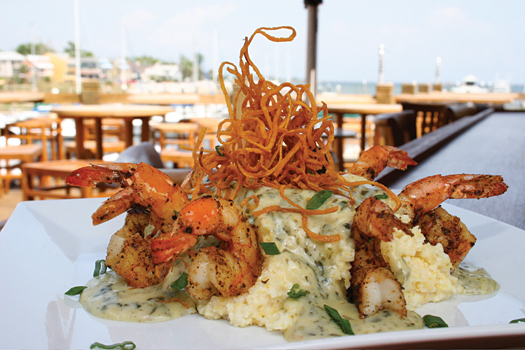 From grits to grouper, Florida is a foodie's paradise. This weekend in New Orleans, Chef John Minas of the Governor's Mansion is defending the Sunshine State's title in the Great American Seafood Cookoff. With that event in mind, the timing seemed right for a reminder that
www.VISITFLORIDA.com
is a rich resource for information about Florida's fine dining and award-winning chefs. Further, from now until Sept. 2, Florida chefs are sharing recipes on VISITFLORIDA's official
Facebook
page.
Here's how to eat your way from north to south.
On Pensacola Bay, just steps away from Historic Seville Square, the Fish House reels in tourists with Chef Jim Shirley's Grits a Ya Ya. Locally-ground grits, smoked gouda from Baldwin County's Sweet Home Farms, Ocheesee dairy cream, house-smoked bacon and Gulf shrimp. The Pensacola Seafood Festival Sept. 23 - Sept. 25, showcases seafood dishes from local chefs.
In Rosemary Beach in Northwest Florida, Restaurant Paradis menu focuses on coastal cuisine that matches the season, like snapper in the summer. Chefs Mark Eichin and Shaun O'Brien use locally-grown ingredients to create the Paradis Crab Cake, a pan-seared jumbo lump crab cake over creamed Silver Queen corn. Nov. 4 - 6, Beaches of South Walton hosts Taste of the Beach.
The Jacksonville dining scene blends elegance and Southern comfort. Chef Ted Peters combines European, Caribbean and Latin American flavors for Azurea, the AAA Four-Diamond Award winner at One Ocean Resort Hotel & Spa. Jacksonville's Eat Up Downtown is Aug. 15 - Aug. 28. Participating restaurants feature three-course meals for $25.
Orlando, famous for theme parks, is also a destination with a noteworthy culinary community, pastries in particular. Orlando boasts two award-winning pastry chefs. Laurent Branlard of the Walt Disney World Swan and Dolphin Resort is the only person to win the World Pastry Team Championship twice. Rosen Shingle Creek's David Ramirez, well-known for his dark chocolate truffles, will be among the celebrity chefs in attendance at the Epcot International Food & Wine Festival from Sept. 30 - Nov. 13.
Chef Erin Van Zandt Guggino combines Latin and Asian flavors to create the menu Kon Tiki at the Tahitian in Tampa. In Clearwater Beach, Rusty's Bistro's Chef John Harris specializes in creating "Floribbean" cuisine, a combination of Floridian and Caribbean flavors. Aug. 19 - Sept. 2 is Dine Tampa Bay Restaurant Week. Participating restaurants feature three-course meals for $25, $35 or $45.
Anna Maria Island has beautiful beaches, and according to Zagat, one of the "Top Restaurants in America." One of the most popular dishes at Chef Sean Murphy's Beach Bistro is the "Two Rim" Grilled Jumbo Shrimp.
At Longboat Key's Euphemia Haye Restaurant, Chef Raymond Arpke's Roasted Duckling is filled with bread stuffing and served with a seasonal fruit sauce.
Sea Salt, Chef Fabrizio Aielli's restaurant in the Third Street South Old Naples historic district, uses seasonal ingredients, organic and local produce, wild caught seafood and naturally-raised poultry and meat.
In Palm Beach, The Omphoy Ocean Resort's Chef Michelle Bernstein focuses on fresh seafood, with most dishes reflecting a clean Mediterranean flavor. Her signature cuisine integrates the finest seafood available and quality cuts of meat, paired with crisp greens. At Flavor Palm Beach, which runs the month of September, participating restaurants offer three-course lunches for $20 and three-course dinners for $30.
Greater Fort Lauderdale is home to the 2010 King of American Seafood, Chef Dean Max. His menu at 3030 Ocean features stone crab ravioli and Mediterranean-style fish soup. Dine Out Lauderdale, Oct. 1 - Nov. 10, features 35 of the area's top restaurants offering a three-course menu for $35.
Chef E. Michael Reidt uses fresh seafood from the coast and seasonal ingredients to create a tropical fusion menu at Area 31. Miami Spice takes place now until Sept. 30, where participating restaurants feature three-course lunch menus for $22 and three-course dinner menus for $35.