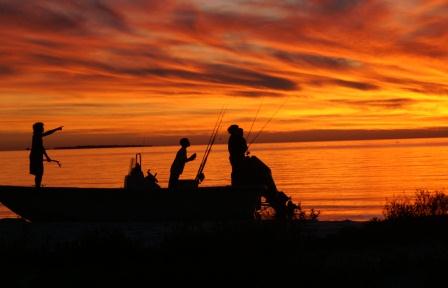 TALLAHASSEE, FLA. (June 21, 2011) - Families that have long loved Florida for its enduring beauty and classic vacation amusements keep adding new reasons to migrate here each summer -- such as this year's new Cheetah Hunt high-speed launch coaster and SeaWorld's enormous "One Ocean" undersea experience.
It's why the summertime vacation in Florida is a family heirloom that makes young and old dream about it in winter and race to get here in summer.
"In January, my daughter (Kelly, 16) starts asking me when we're going on vacation this year," said Denise McQuade, of Mansfield, Ohio. "We've been going to Marco Island since before she was born. `Going on vacation' means going to Florida. We love it so much, we feel like if we go somewhere else, we'll be disappointed."
The McQuades are hooked.
"It's the beach, the sun, the sand, the sunsets - everything we don't get here," she said. "The last seven months in Ohio have been brutal: snow and cold, rain and cold. We have 51 weeks a year of anxiety.
"But for that one week in Florida, we can just let go . and we always come back with a tan."
Jill Martin, a Miami native and
VISIT FLORIDA's family travel expert
, said Florida's beauty and the diversity of its vacation opportunities call to families.
"You can do it all, or do nothing at all," Martin said. "Great moments can happen any time."
Start with the nation's best beaches - 825 miles of them. So say the experts.
In May, Dr. Stephen Leatherman, widely known as "Dr. Beach," named Siesta Key Beach, near Sarasota, the
best beach in America
for 2011. St. George Island State Park, near Apalachicola in northwest Florida, and Bill Baggs Cape Florida State Park, in south Florida's Key Biscayne, also made this year's Top 10.
In June, Parents magazine named Fort De Soto Park's North Beach, near St. Petersburg/Clearwater, the best family beach in the nation. Parents also named Siesta Key Beach and Coquina Beach, near Bradenton, among its top 12 for families.
Martin, who travels with her two sons and their cousins, raves about Florida's beaches as well as: Kennedy Space Center - "it will give you goose bumps and make you so proud of what of we've accomplished"; tubing on the Itchetucknee River - "one of my fondest memories" ; relaxing on the islands of Sanibel and Captiva - "the sea shells are incredible"; and flats fishing in the Everglades - "I can't push it enough; it's the cure for everything, and perfect for families."
Martin tried out the brand-new Cheetah Hunt launch coaster on opening day and had this to say about it: "Aaiieeee! Fantastic! This rocked!"
The McVey family from Granite Falls, N.C., is seeing its Florida vacation tradition take hold in its younger generations. For decades, Kathy and Kevin McVey, formerly of Long Island, New York, have vacationed in Punta Gorda with their family, usually in May. The annual migration hass grown to include Kevin's three brothers, Kathy's best friend and the McVeys' five grandchildren.
"Come January, when there's snow to the rooftop, we just can't wait," Kathy McVey said. "My husband was a New York detective. It takes a lot to make him happy. He's happy in Punta Gorda. The wildlife, the beaches, the friendliness of the people -- we truly love it." A registered nurse, Kathy McVey says she jokes with friends and colleagues that it's exactly what the doctor ordered.
Barbara Hiser's clan of 100-plus, spanning five generations, meets every other year in Florida, most recently in Fort Myers Beach.
"It has everything we need, and something for everyone," from the wide beach to the tiki bar where the adults raise toasts to the sunsets, said Hiser, of Titusville. "Since the `70s, we've gotten together in various places: River Ranch, South Miami, Melbourne, Cape Coral, always in Florida."
The Hisers, McVeys and McQuades said their summer migrations to Florida are a tradition that younger generations are glad to embrace, finding both old favorites and new adventures each year they return together.
"My daughter loves it the same as we do," Denise McQuade said. "Even when she's off to college and even when she's married with children of her own, she'll want to go to Marco Island with us for summer vacation."
"Sunshine Moments" Family Photo Sweepstakes
View favorite photos from family vacations in the
Sunshine Moments
gallery on VISIT FLORIDA's Facebook page. The grand prize for the most popular photo includes a Florida vacation, a Mazda CX-7, and a Kodak PlayTouch video camera. The runners up will receive Kodak cameras and photo-book vouchers.
To learn about Florida's countless vacation opportunities this summer, go to
www.VISITFLORIDA.com
to find destinations, travel planning tools, and tips from VISIT FLORIDA "Insiders." Also tap into VISIT FLORIDA's Facebook page and Twitter feed to see what Florida visitors say about the Sunshine State.
COMING SOON: Florida "Hot Wax" playlist, the sound track to your summer vacation.
For additional information, contact Laura Cassels at (850) 205-3839 or at
lcassels@VISITFLORIDA.org
.